Abstract
Thromboembolic events, primarily stroke, might complicate transcatheter aortic-valve implantation (TAVI) procedures in 3–5 % of cases. Thus, it is common to administer aspirin and clopidogrel pharmacotherapy for 3–6 months following TAVI in order to prevent those events. The biologic response to the dual anti platelet treatment (DAPT) is heterogeneous, e.g. low response, known as high on treatment platelet reactivity (HTPR) may be associated with adverse thromboembolic events. Little is known about the prevalence of HTPR among patients undergoing TAVI. To assess the variability in response and rates of residual platelet reactivity in patients undergoing TAVI. We examined platelet reactivity in response to clopidogrel and aspirin in 40 consecutive patients (mean age 81.7 ± 6.5 years, 66.7 % women) who underwent successful TAVI using the VerifyNow P2Y12 assay and the multiple electrode aggregometry assay (Multiplate analyzer) in response to adenosine diphosphate and arachidonic acid respectively, at different time points before and following TAVI. Before TAVI, the majority of patients were on antiplatelet therapy (68.5 % aspirin, 12.5 % clopidogrel, 12.5 % DAPT). Following the procedure all patients were on DAPT or clopidogrel and warfarin. Among analyzed patients, 41 % had HTPR for clopidogrel and 12.5 % for aspirin at baseline, which did not significantly change 1-month following the procedure (p = 0.81 and p  = 0.33, respectively). In conclusion, patients undergoing TAVI for severe aortic stenosis and treated with DAPT have high rates of residual platelet reactivity during the peri-procedural period and up to 1-month thereafter. These findings may have clinical implications for the anti-platelet management of TAVI patients.
This is a preview of subscription content, log in to check access.
Access options
Buy single article
Instant access to the full article PDF.
US$ 39.95
Price includes VAT for USA
Subscribe to journal
Immediate online access to all issues from 2019. Subscription will auto renew annually.
US$ 99
This is the net price. Taxes to be calculated in checkout.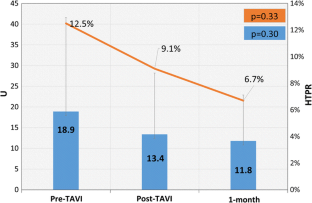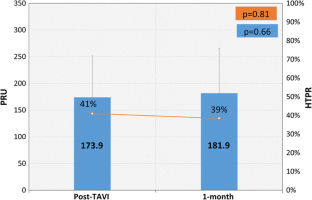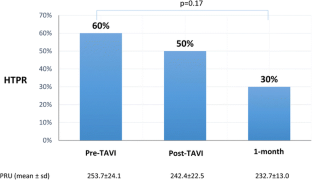 Abbreviations
ADP:

Adenosine diphosphate

AS:

Aortic stenosis

DAPT:

Dual anti-platelet treatment

HTPR:

High on treatment platelet reactivity

TAVI:

Transcatheter aortic-valve implantation

OAC:

Oral anticoagulation

PRU:

P2Y12 reaction units
References
1.

Lefevre T, Kappetein AP, Wolner E et al (2011) One year follow-up of the multi-centre European PARTNER transcatheter heart valve study. Eur Heart J 32:148–157

2.

Rodés-Cabau J, Webb JG, Cheung A et al (2010) Transcatheter aortic valve implantation for the treatment of severe symptomatic aortic stenosis in patients at very high or prohibitive surgical risk: acute and late outcomes of the multicenter Canadian experience. J Am Coll Cardiol 55:1080–1090

3.

Piazza N, Grube E, Gerckens U et al (2008) Procedural and 30-day outcomes following transcatheter aortic valve implantation using the third generation (18 Fr) CoreValve ReValving system: results from the multicentre, expanded evaluation registry 1-year following CE mark approval. EuroIntervention 4:242–249

4.

Eltchaninoff H, Prat A, Gilard M, FRANCE Registry Investigators et al (2011) Transcatheter aortic valve implantation: early results of the FRANCE (French Aortic National CoreValve and Edwards) registry. Eur Heart J 32:191–197

5.

Eggebrecht H, Schmermund A, Voigtländer T, Kahlert P, Erbel R, Mehta RH (2012) Risk of stroke after transcatheter aortic valve implantation (TAVI): a meta-analysis of 10,037 published patients. EuroIntervention 8:129–138

6.

Hynes BG, Rodés-Cabau J (2012) Transcatheter aortic valve implantation and cerebrovascular events: the current state of the art. Ann N Y Acad Sci 1254:151–163

7.

Stortecky S, Windecker S, Pilgrim T et al (2012) Cerebrovascular accidents complicating transcatheter aortic valve implantation: frequency, timing and impact on outcomes. EuroIntervention 8:62–70

8.

Nombela-Franco L, Webb JG, De Jaegere PP et al (2012) Timing, predictive factors, and prognostic value of cerebrovascular events in a large cohort of patients undergoing transcatheter aortic valve implantation. Circulation 126:3041–3053

9.

Rodes-Cabau J, Dauerman HL, Cohen MG, Mehran R, Small EM, Smyth SS, Becker RC (2013) Antithrombotic treatment in transcatheter aortic valve implantation: insights for cerebrovascular and bleeding events. J Am Coll Cardiol 62:2349–2359

10.

Holmes DR Jr, Mack MJ, Kaul S et al (2012) 2012 ACCF/AATS/SCAI/STS expert consensus document on transcatheter aortic valve replacement. J Am Coll Cardiol 59:1200–1254

11.

Webb J, Rodés-Cabau J, Fremes S, Pibarot P, Ruel M, Ibrahim R, Welsh R, Feindel C, Lichtenstein S (2012) Transcatheter aortic valve implantation: a Canadian Cardiovascular Society position statement. Can J Cardiol 28:520–528

12.

Brar SS, ten Berg J, Marcucci R et al (2011) Impact of platelet reactivity on clinical outcomes after percutaneous coronary intervention. A collaborative meta-analysis of individual participant data. J Am Coll Cardiol 58:1945–1954

13.

Mayer K, Bernlochner I, Braun S et al (2014) Aspirin treatment and outcomes after percutaneous coronary intervention: results of the ISAR-ASPI registry. J Am Coll Cardiol 64:863–871

14.

Silvain J, Cayla G, Hulot JS et al (2012) High on thienopyridine platelet reactivity platelet reactivity in elderly coronary patients: the SENIOR-PLATELET study. Eur Heart J 33:1241–1249

15.

Roques F, Michel P, Goldstone AR, Nashef SA (2003) The logistic Euroscore. Eur Heart J 24:881–882

16.

STS National Database (2000) STS US cardiac surgery database: 1997 aortic valve replacement patients: preoperative risk variables. Chicago: Society of Thoracic Surgeons http://www.ctsnet.org/doc/3031. Accessed 10 May 2006

17.

Leon MB, Piazza N, Nikolsky E et al (2011) Standardized endpoint definitions for transcatheter aortic valve implantation clinical trials: a consensus report from the Valve Academic Research Consortium. Eur Heart J 32:205–217

18.

Kappetein AP, Head SJ, Généreux P et al (2012) Updated standardized endpoint definitions for transcatheter aortic valve implantation: the Valve Academic Research Consortium-2 consensus document. J Am Coll Cardiol 60:1438–1454

19.

Bonello L, Tantry US, Marcucci R, Working Group on High On-Treatment Platelet Reactivity et al (2010) Consensus and future directions on the definition of high on-treatment platelet reactivity to adenosine diphosphate. J Am Coll Cardiol 56:919–933

20.

Tantry US, Bonello L, Aradi D, Working Group on On Treatment Platelet Reactivity et al (2013) Consensus and update on the definition of on treatment platelet reactivity to adenosine diphosphate associated with ischemia and bleeding. J Am Coll Cardiol 62:2261–2273

21.

Al-Azzam SI, Alzoubi KH, Khabour O, Alowidi A, Tawalbeh D (2012) The prevalence and factors associated with aspirin resistance in patients premedicated with aspirin. Acta Cardiol 67:445–448

22.

Steinhubl SR, Berger PB, Mann JT 3rd, Fry ET, DeLago A, Wilmer C, Topol EJ, CREDO Investigators (2002) Clopidogrel for the Reduction of Events During Observation. Early and sustained dual oral antiplatelet therapy following percutaneous coronary intervention: a randomized controlled trial. JAMA 288:2411–2420

23.

Nijenhuis VJ, Bennaghmouch N, van Kuijk JP, Capodanno D, Ten Berg JM (2015) Antithrombotic treatment in patients undergoing transcatheter aortic valve implantation (TAVI). Thromb Haemost 113:674–685

24.

Ussia GP, Scarabelli M, Mule M, Barbanti M, Sarkar K, Cammalleri V, Tamburino C (2011) Dual anti platelet therapy versus aspirin alone in patients undergoing transcatheter aortic valve implantation. Am J Cardiol 108:1772–1776

25.

Stabile E, Pucciarelli A, Cota L, Sorropago G, Tesorio T, Rubino P (2014) SAT-TAVI (single anti platelet therapy for TAVI) study: a pilot randomized study comparing double to single antiplatelet therapy for transcatheter aortic valve implantation. Int J Cardiol 174:624–627

26.

Rade JJ (2012) Platelet function testing in patients with coronary artery disease: is the who and the when any clearer than the what and the what then? Circulation 125:3073–3075

27.

Geisler T, Grass D, Bigalke B, Stellos K, Drosch T, Dietz K, Herdeg C, Gawaz M (2008) The residual platelet aggregation after deployment of intracoronary stent (PREDICT) score. J Thromb Haemost 6:54–61

28.

Fontana P, Berdagué P, Castelli C et al (2010) Clinical predictors of dual aspirin and clopidogrel poor responsiveness in stable cardiovascular patients from the ADRIE study. J Thromb Haemost 8:2614–2623

29.

Tousek P, Kocka V, Sulzenko J, Bednar F, Linkova H, Widimsky P (2013) Pharmacodynamic effect of clopidogrel in patients undergoing transcatheter aortic valve implantation. Biomed Res Int 2013:386074

30.

Polzin A, Schleicher M, Seidel H, Scharf RE, Merx MW, Kelm M, Zeus T (2015) High on-treatment platelet reactivity in transcatheter aortic valve implantation patients. Eur J Pharmacol 751C:24–27

31.

Dimitrow PP, Hlawaty M, Undas A, Sniezek-Maciejewska M, Sobień B, Stepień E, Tracz W (2009) Effects of aortic stenosis on hemostasis is independent from vascular atherosclerotic burden. Atherosclerosis 204:e103–e108

32.

Panzer S, Badr Eslam R, Schneller A et al (2010) Loss of high-molecular-weight von Willebrand factor multimers mainly affects platelet aggregation in patients with aortic stenosis. Thromb Haemost 103:408–414

33.

Sucu M, Davutoglu V, Sari I, Ozer O, Aksoy M (2010) Relationship between platelet indices and aortic valve sclerosis. Clin Appl Thromb Hemost 16:563–567

34.

Varol E, Arslan A, Yucel H, Ozaydin M, Erdogan D, Dogan A (2011) Increased mean platelet volume in patients with aortic stenosis. Clin Appl Thromb Hemost 17:E17–E20

35.

Leetmaa T, Hansson NC, Leipsic J et al (2015) Early aortic transcatheter heart valve thrombosis: diagnostic value of contrast-enhanced multidetector computed tomography. Circ Cardiovasc Interv 8(4):e001596
About this article
Cite this article
Orvin, K., Eisen, A., Perl, L. et al. Platelet reactivity in patients undergoing transcatheter aortic valve implantation. J Thromb Thrombolysis 42, 11–18 (2016). https://doi.org/10.1007/s11239-015-1322-3
Keywords
TAVI

HTPR

Verifynow

Multiplate analyzer