Abstract
Nine patients (average age 8.3 years, range 20 days to 17 years; average weight 31 kg, range 2.7–79 kg) with catheter-associated UE-DVT underwent upper extremity venous thrombolysis with the goal of access salvage. Catheter directed therapy with alteplase (tPA), balloon angioplasty, and mechanical thrombectomy was used in all cases. The mean total dose of TPA was 15 mg (range 1–40 mg). Venous access was ultimately preserved in all patients. No stents or superior vena cava filters were used. There was one episode of symptomatic clinically suspected pulmonary embolism managed by systemic tPA and heparin without long term sequaele. Mean imaging and clinical follow-up was 351 ± 208 and 613 ± 498 days respectively. Endovenous thrombolysis for catheter-associated upper-extremity DVT in children may be safe and effective and could be considered particularly in patients in whom long-term venous access is needed.
This is a preview of subscription content, log in to check access.
Access options
Buy single article
Instant access to the full article PDF.
US$ 39.95
Price includes VAT for USA
Subscribe to journal
Immediate online access to all issues from 2019. Subscription will auto renew annually.
US$ 99
This is the net price. Taxes to be calculated in checkout.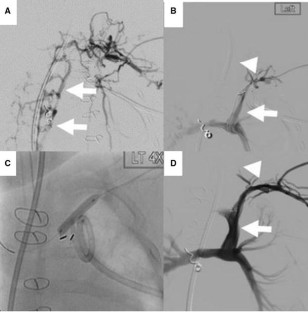 References
1.

Temple M, Williams S, John P et al (2005) Percutaneous treatment of pediatric thrombosis. Eur J Radiol 53:14–21

2.

Tolbert J, Carpenter SL (2013) Common acquired causes of thrombosis in children. Curr Probl Pediatr Adolesc Health Care 43:169–177

3.

Raffini L, Huang YS, Witmer C et al (2009) Dramatic increase in venous thromboembolism in children's hospitals in the United States from 2001 to 2007. Pediatrics 124:1001–1008

4.

Manco-Johnson MJ (2006) How I treat venous thrombosis in children. Blood 107:21–29

5.

Massicotte MP, Dix D, Monagle P et al (1998) Central venous catheter related thrombosis in children: analysis of the Canadian registry of venous thromboembolic complications. J Pediatr 133:770–776

6.

Avila ML, Duan L, Cipolla A et al (2014) Postthrombotic syndrome following upper extremity deep vein thrombosis in children. Blood 124:1166–1173

7.

Kukreja KU, Lungren MP, Patel MN et al (2014) Endovascular venous thrombolysis in children younger than 24 months. J Vasc Interv Radiol 25:1158–1164

8.

NKF-DOQI clinical practice guidelines for vascular access (1997) National kidney foundation-dialysis outcomes quality initiative. Am J Kidney Dis 30:S150–191

9.

Vo JN, Hoffer FA, Shaw DW (2010) Techniques in vascular and interventional radiology: pediatric central venous access. Tech Vasc Interv Radiol 13:250–257

10.

Shah PS, Shah VS (2008) Continuous heparin infusion to prevent thrombosis and catheter occlusion in neonates with peripherally placed percutaneous central venous catheters. Cochrane Database Syst Rev CD002772

11.

Pianta MJ, Thomson KR (2011) Catheter-directed thrombolysis of lower limb thrombosis. Cardiovasc Interv Radiol 34:25–36

12.

Raffini L (2009) Thrombolysis for intravascular thrombosis in neonates and children. Curr Opin Pediatr 21:9–14

13.

Laiho MK, Oinonen A, Sugano N et al (2004) Preservation of venous valve function after catheter-directed and systemic thrombolysis for deep venous thrombosis. European J Vasc Endovasc Surg 28:391–396

14.

Albisetti M (2006) Thrombolytic therapy in children. Thromb Res 118:95–105

15.

Monagle P, Chan AK, Goldenberg NA et al (2012) Antithrombotic therapy in neonates and children: antithrombotic therapy and prevention of thrombosis, 9th ed: American college of chest physicians evidence-based clinical practice guidelines. Chest 141:e737S–801S

16.

Jaff MR, McMurtry MS, Archer SL et al (2011) Management of massive and submassive pulmonary embolism, iliofemoral deep vein thrombosis, and chronic thromboembolic pulmonary hypertension: a scientific statement from the American Heart Association. Circulation 123:1788–1830

17.

Goldenberg NA, Donadini MP, Kahn SR et al (2010) Post-thrombotic syndrome in children: a systematic review of frequency of occurrence, validity of outcome measures, and prognostic factors. Haematologica 95:1952–1959

18.

Goldenberg NA, Durham JD, Knapp-Clevenger R et al (2007) A thrombolytic regimen for high-risk deep venous thrombosis may substantially reduce the risk of postthrombotic syndrome in children. Blood 110:45–53

19.

Kukreja K GR, Chima R, Ristagno R, Racadio J (2013) Developing a pediatric endovascular thrombolysis program: a single-center experience. Pediatr Radiol 48(3):1024–1029

20.

Vedantham S, Grassi CJ, Ferral H et al (2009) Reporting standards for endovascular treatment of lower extremity deep vein thrombosis. J Vasc Interv Radiol 20:S391–408

21.

Mitchell LG, Goldenberg NA, Male C et al (2011) Definition of clinical efficacy and safety outcomes for clinical trials in deep venous thrombosis and pulmonary embolism in children. J Thromb Haemost 9:1856–1858

22.

David M, Andrew M (1993) Venous thromboembolic complications in children. J Pediatr 123:337–346

23.

Goldenberg NA, Bernard TJ (2010) Venous thromboembolism in children. Hematol Oncol Clin North Am 24:151–166

24.

Vu LT, Nobuhara KK, Lee H et al (2008) Determination of risk factors for deep venous thrombosis in hospitalized children. J Pediatr Surg 43:1095–1099

25.

Koury JP, Burke CT (2011) Endovascular management of acute upper extremity deep venous thrombosis and the use of superior vena cava filters. Semin Interv Radiol 28:3–9

26.

Maher KO, Clay MA, Kim D et al (2011) Utility of bedside angiography in the evaluation of vascular obstruction in the pediatric intensive care patient. Pediatr Crit Care Med 12:442–444

27.

Anton N, Cox PN, Massicotte MP et al (2009) Heparin-bonded central venous catheters do not reduce thrombosis in infants with congenital heart disease: a blinded randomized, controlled trial. Pediatrics 123:e453–458

28.

Sandoval JA, Sheehan MP, Stonerock CE et al (2008) Incidence, risk factors, and treatment patterns for deep venous thrombosis in hospitalized children: an increasing population at risk. J Vasc Surg 47:837–843

29.

Gurgey A, Aslan D (2001) Outcome of noncatheter-related thrombosis in children: influence of underlying or coexisting factors. J Pediatr Hematol Oncol 23:159–164

30.

Gokce M, Altan I, Unal S et al (2012) Recurrent pediatric thrombosis: the effect of underlying and/or coexisting factors. Blood Coagul Fibrinolysis 23:434–439

31.

Goldenberg NA (2005) Long-term outcomes of venous thrombosis in children. Curr Opin Hematol 12:370–376

32.

Revel-Vilk S, Brandao LR, Journeycake J et al (2012) Standardization of post-thrombotic syndrome definition and outcome assessment following upper venous system thrombosis in pediatric practice. J Thromb Haemost 10:2182–2185

33.

Enden T, Klow NE, Sandvik L et al (2009) Catheter-directed thrombolysis vs. anticoagulant therapy alone in deep vein thrombosis: results of an open randomized, controlled trial reporting on short-term patency. J Thromb Haemost 7:1268–1275
Conflicts of interest
All authors declare that they have no conflicts of interest.
About this article
Cite this article
Lungren, M.P., Ward, T.J., Patel, M.N. et al. Endovascular thrombolysis to salvage central venous access in children with catheter-associated upper extremity deep vein thrombosis: technique and initial results. J Thromb Thrombolysis 40, 274–279 (2015). https://doi.org/10.1007/s11239-015-1209-3
Keywords
Central venous access

Pharmacomechanical thrombolysis

Pediatric