Abstract
A 33-year-old Chinese man with 9-year history of Kimura's disease (KD) was admitted with a 1-month history of recurrent claudication. He did not have any clinical discomfort and had not taken any preventive medication in the past. He accepted percutaneous transluminal angioplasty and the pathologic diagnosis was reportedly consistent with necrotizing eosinophilic vasculitis. This is the rare reported case of KD associated necrotizing eosinophilic vasculitis presenting with recurrent peripheral arterial occlusive disease and the difficulties encountered in establishing an accurate diagnosis with unusual presentations. This case also highlights the possibility of recurrent complications without aggressive medical treatment in such unusual eosinophilic disorders.
This is a preview of subscription content, log in to check access.
Access options
Buy single article
Instant access to the full article PDF.
US$ 39.95
Price includes VAT for USA
Subscribe to journal
Immediate online access to all issues from 2019. Subscription will auto renew annually.
US$ 99
This is the net price. Taxes to be calculated in checkout.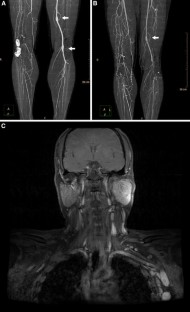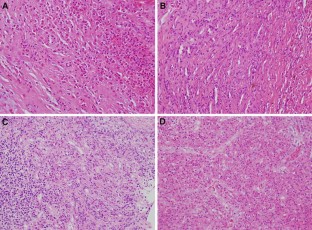 References
1.

Sun QF, Xu DZ, Pan SH, Ding JG, Xue ZQ, Miao CS, Cao GJ, Jin DJ (2008) Kimura's disease: review of the literature. Intern Med J 38:668–674

2.

Kapoor NS, O'Neill JP, Katabi N, Wong RJ, Shah JP (2012) Kimura's disease: diagnostic challenges and clinical management. Am J Otolaryngol 33:259–262

3.

Abuel-Haija M, Hurford MT (2007) Kimura's disease. Arch Pathol Lab Med 131:650–651

4.

Itami J, Arimizu N, Miyoshi T, Ogata H, Miura K (1989) Radiation therapy in Kimura's disease. Acta Oncol 28:511–514

5.

Googe PB, Harris NL, Mihm MC (1987) Kimura's disease and angiolymphoid hyperplasia with eosinophilia: two distinct histopathological entities. J Cutan Pathol 14:263–271

6.

Chun SI, Ji HG (1992) Kimura's disease and angiolymphoid hyperplasia with eosinophilia: clinical and histopathologic differences. J Am Acad Dermatol 27:954–958

7.

Danis R, Ozmen S, Akin D, Ozekinci S, Altintas A, Cil T, Pasa S, Kilinc I (2009) Thrombosis of temporal artery and renal vein in Kimura's disease related nephrotic syndrome. J Thromb Thrombolysis 27:115–118

8.

Barnhill RL, Bunsam KJ (1997) Vascular disease. In: Elder D, Elenitas R, Jaworsky C, Johnson B (eds) Lever's histopathology of the skin, 8th edn. Lippincott, Philadelphia, pp 199–202

9.

Lee MW, Bae JY, Choi JH, Moon KC, Koh JK (2004) Cutaneous eosinophilic vasculitis in a patient with Kimura's disease. J Dermatol 31:139–141

10.

Takahashi S, Ueda J, Furukawa T, Tsuda M, Nishimura M, Orita H et al (1996) Kimura's disease: CT and MR findings. AJNR Am J Neuroradiol 17:382–385

11.

Deshpande AH, Nayak S, Munshi MM, Bobhate SK (2002) Kimura's disease: diagnosis by aspiration cytology. Acta Cytol 46:357–363

12.

Iwai H, Nakae K, Ikeda K, Ogura M, Miyamoto M, Omae M et al (2007) Kimura's disease: diagnosis and prognostic factors. Otolaryngol Head Neck Surg Aug 137(2):306–311

13.

Chen H, Thomson LD, Aguilera NS, Abbondanzo SL (2004) Kimura's disease: a clinopathologic study of 21 cases. Am J Surg Pathol 28:505–513

14.

Masayuki S, Ayako K, Shinichi N (2005) Hematoserological analysis of Kimura's disease for optimal treatment. Otolaryngol Head Neck Surg 132:159–160
Conflict of interest
The authors hereby state that no conflicts of interest are present regarding the present manuscript.
About this article
Cite this article
Hsu, S., Chang, C., Su, T. et al. Kimura's disease associated necrotizing eosinophilic vasculitis presenting with recurrent peripheral arterial occlusive disease: a case report and review of the literature. J Thromb Thrombolysis 39, 144–147 (2015). https://doi.org/10.1007/s11239-014-1085-2
Keywords
Eosinophilia

Kimura's disease

Peripheral arterial occlusive disease

Vasculitis