Abstract
Abnormal cellular immunity induced by deranged Th1/Th2 profile has been revealed to play a critical role in the pathogenesis of immune thrombocytopenic purpura (ITP). Correction of the shifted Th1/Th2 balance represents a potential therapeutic approach to treat ITP. Here, we investigated the effects of IL-11 on the restoration of Th1/Th2 balance in the peripheral blood mononuclear cells (PBMCs) isolated from adult ITP patients. As shown here, we observed a higher ratio of T-bet/GATA-3 gene expression by quantitative real-time PCR in the PBMCs from ITP patients, consistent with the presence of an abnormally high Th1/Th2 ratio. Remarkably, upon IL-11 treatment, a reversal of T-bet/GATA-3 ratio in ITP was achieved and was shown to be responsible for the restoration of Th1/Th2 balance, with IL-11 at 100 ng/ml demonstrating the highest efficiency. T-bet and GATA-3 are the two transcriptional factors that have been indicated to be the master regulators for Th1 and Th2 lineage commitment, respectively. In the presence of 100 ng/ml IL-11, GATA-3 transcript abundance rose up to ~85-fold of that measured in untreated cells, whereas T-bet transcripts were lowered merely to ~41 %, suggesting that GATA-3 was the major contributor for the reversal of T-bet/GATA-3 ratio. Thus, our findings may very well encourage the development of novel medicines that specifically target and correct the T-bet/GATA-3 imbalance identified in ITP.
This is a preview of subscription content, log in to check access.
Access options
Buy single article
Instant access to the full article PDF.
US$ 39.95
Price includes VAT for USA
Subscribe to journal
Immediate online access to all issues from 2019. Subscription will auto renew annually.
US$ 99
This is the net price. Taxes to be calculated in checkout.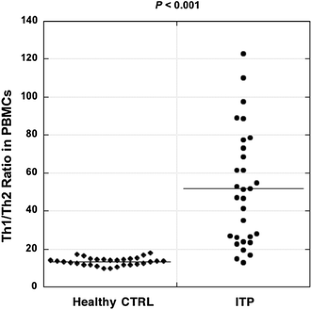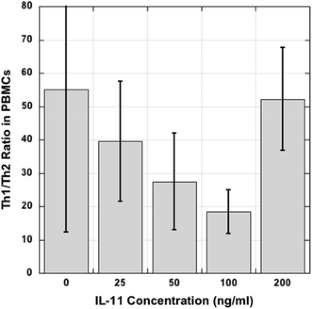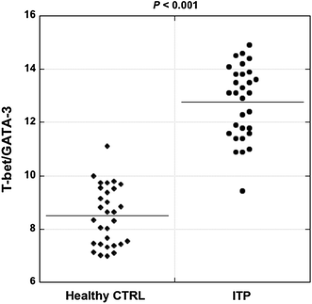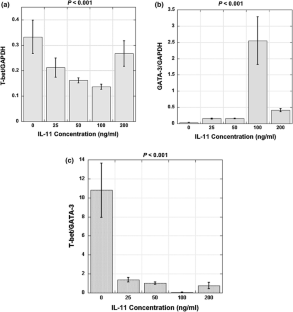 References
1.

McMillan R (2007) The pathogenesis of chronic immune thrombocytopenic purpura. Semin Hematol 44(4 Suppl 5):S3–S11

2.

Cines DB, Bussel JB, Liebman HA et al (2009) The ITP syndrome: pathogenic and clinical diversity. Blood 113(26):6511–6521

3.

Johnsen J (2011) Pathogenesis in immune thrombocytopenia: new insights. Hematol Am Soc Hematol Educ Program 2012:306–312

4.

Olsson B, Andersson PO, Jernas M et al (2003) T-cell-mediated cytotoxicity toward platelets in chronic idiopathic thrombocytopenic purpura. Nat Med 9(9):1123–1124

5.

Zhang F, Chu X, Wang L et al (2006) Cell-mediated lysis of autologous platelets in chronic idiopathic thrombocytopenic purpura. Eur J Haematol 76(5):427–431

6.

Zhang J, Ma D, Zhu X et al (2009) Elevated profile of Th17, Th1 and Tc1 cells in patients with immune thrombocytopenic purpura. Haematologica 94(9):1326–1329

7.

Sakakura M, Wada H, Tawara I et al (2007) Reduced Cd4+Cd25+ T cells in patients with idiopathic thrombocytopenic purpura. Thromb Res 120(2):187–193

8.

Yu J, Heck S, Patel V et al (2008) Defective circulating CD25 regulatory T cells in patients with chronic immune thrombocytopenic purpura. Blood 112(4):1325–1328

9.

Hu Y, Ma DX, Shan NN et al (2011) Increased number of Tc17 and correlation with Th17 cells in patients with immune thrombocytopenia. PLoS One 6(10):e26522

10.

Hu Y, Li H, Zhang L et al (2012) Elevated profiles of Th22 cells and correlations with Th17 cells in patients with immune thrombocytopenia. Hum Immunol 73(6):629–635

11.

Wang T, Zhao H, Ren H et al (2005) Type 1 and type 2 T-cell profiles in idiopathic thrombocytopenic purpura. Haematologica 90(7):914–923

12.

Panitsas FP, Theodoropoulou M, Kouraklis A et al (2004) Adult chronic idiopathic thrombocytopenic purpura (ITP) is the manifestation of a type-1 polarized immune response. Blood 103(7):2645–2647

13.

Guo C, Chu X, Shi Y et al (2007) Correction of Th1-dominant cytokine profiles by high-dose dexamethasone in patients with chronic idiopathic thrombocytopenic purpura. J Clin Immunol 27(6):557–562

14.

Shan NN, Ji XB, Wang X et al (2011) In vitro recovery of Th1/Th2 balance in PBMCs from patients with immune thrombocytopenia through the actions of IL-18BPa/Fc. Thromb Res 128(6):e119–e124

15.

Shier P, Hofstra CL, Ma XJ et al (2000) Tbt-1, a new T-box transcription factor induced in activated Th1 and CD8+ T cells. Immunogenetics 51(10):771–778

16.

Szabo SJ, Kim ST, Costa GL et al (2000) A novel transcription factor, T-bet, directs Th1 lineage commitment. Cell 100(6):655–669

17.

Zhang DH, Cohn L, Cohn L, Ray PB et al (1997) Transcription factor GATA-3 is differentially expressed in murine Th1 and Th2 cells and controls Th2-specific expression of the interleukin-5 gene. J Biol Chem 272(34):21597–21603

18.

Ouyang W, Ranganath SH, Weindel K et al (1998) Inhibition of Th1 development mediated by GATA-3 through an IL-4-independent mechanism. Immunity 9(5):745–755

19.

Farrar JD, Ouyang W, Lohning M, Assenmacher M, Radbruch A, Kanagawa O et al (2001) An instructive component in T helper cell type 2 (Th2) development mediated by GATA-3. J Exp Med 193(5):643–650

20.

Chakir H, Wang H, Lefebvre DE et al (2003) T-bet/GATA-3 ratio as a measure of the Th1/Th2 cytokine profile in mixed cell populations: predominant role of GATA-3. J Immunol Methods 278(1–2):157–169

21.

Paul SR, Bennett F, Calvetti JA et al (1990) Molecular cloning of a cDNA encoding interleukin 11, a stromal cell-derived lymphopoietic and hematopoietic cytokine. Proc Natl Acad Sci USA 87(19):7512–7516

22.

Vadhan-Raj S (2009) Management of chemotherapy-induced thrombocytopenia: current status of thrombopoietic agents. Semin Hematol 46(1 Suppl 2):S26–S32

23.

Schwertschlag US, Trepicchio WL, Dykstra KH et al (1999) Hematopoietic, immunomodulatory and epithelial effects of interleukin-11. Leukemia 13(9):1307–1315

24.

Trepicchio WL, Ozawa M, Walters IB et al (1999) Interleukin-11 therapy selectively downregulates type I cytokine proinflammatory pathways in psoriasis lesions. J Clin Invest 104(11):1527–1537

25.

Moreland L, Gugliotti R, King K et al (2001) Results of a phase-I/II randomized, masked, placebo-controlled trial of recombinant human interleukin-11 (rhIL-11) in the treatment of subjects with active rheumatoid arthritis. Arthritis Res 3(4):247–252

26.

Gurfein BT, Zhang Y, Lopez CB et al (2009) IL-11 regulates autoimmune demyelination. J Immunol 183(7):4229–4240

27.

Qin L, Yuan Z, Du XJ, Ma XH (2008) Curative effect of rhIL-11 on 26 patients with chromic idiopathic thrombocytopenic purpura. Zhongguo Shi Yan Xue Ye Xue Za Zhi 16(5):1219–1221

28.

Zhang XL, Cheng XZ, Ye X, Shi XJ (2010) Therapeutic effect of interleukin-11 on thrombocytopenia in patients with hematologic malignancies after chemotherapy. Zhonghua Zhong Liu Za Zhi 32(9):713–715

29.

Ragni MV, Jankowitz RC, Jaworski K et al (2011) Phase II prospective open-label trial of recombinant interleukin-11 in women with mild von Willebrand disease and refractory menorrhagia. Thromb Haemost 106(4):641–645

30.

Feinglass S, Deodhar A (2001) Treatment of lupus-induced thrombocytopenia with recombinant human interleukin-11. Arthritis Rheum 44(1):170–175

31.

Fontana V, Dudkiewicz P, Jy W et al (2008) Interleukin-11 for treatment of hepatitis C-associated ITP. Acta Haematol 119(2):126–132

32.

Bussel JB, Mukherjee R, Stone AJ (2001) A pilot study of rhuIL-11 treatment of refractory ITP. Am J Hematol 66(3):172–177

33.

Curti A, Ratta M, Corinti S et al (2001) Interleukin-11 induces Th2 polarization of human CD4(+) T cells. Blood 97(9):2758–2763

34.

Hill GR, Cooke KR, Teshima T et al (1998) Interleukin-11 promotes T cell polarization and prevents acute graft-versus-host disease after allogeneic bone marrow transplantation. J Clin Invest. 102(1):115–123

35.

Lazarevic V, Glimcher LH (2011) T-bet in disease. Nat Immunol 12(7):597–606

36.

Ji N, Sosa RA, Forsthuber TG (2011) More than just a T-box: the role of T-bet as a possible biomarker and therapeutic target in autoimmune diseases. Immunotherapy 3(3):435–441
Acknowledgments
This work was supported by the International High-Tech Collaboration Programs (Grant No. H20100059) sponsored by the Department of Technology Development, Wenzhou, China. Here, we would also like to thank Ms Wei Zhu for her excellent work in editing and proof reading.
About this article
Cite this article
Yao, R., Lin, Y., Li, Q. et al. Downregulation of T-bet/GATA-3 ratio induced by IL-11 treatment is responsible for Th1/Th2 balance restoration in human immune thrombocytopenic purpura (ITP). J Thromb Thrombolysis 38, 183–189 (2014). https://doi.org/10.1007/s11239-013-1036-3
Keywords
ITP

IL-11

T-bet

GATA-3

Th1

Th2