Abstract
The effect of intravenous thrombolysis (IVT) according to etiology and stroke severity in young patients with ischemic stroke (IS) has not been described previously. To analyze the effect of IVT in young patients with IS according to etiological subtype and stroke severity. Observational study with inclusion of IS patients under 55 years of age (2007–2012). Two groups were compared according to IVT treatment. Favorable outcomes were defined as 3 months modified Rankin Scale ≤2. Multivariate analyses were performed to determine those factors independently associated with favorable outcomes, and subgroup analyses were conducted to assess the effect of IVT according to etiological stroke subtype and severity on admission, adjusted for other prognostic variables. We evaluated 262 patients. 63 (24 %) received IVT. The mean age and the sex distribution were similar in the IVT treated and the non-treated groups. Multivariate analyses showed that IVT was associated with a higher probability of favorable outcome (OR, 95 % CI: 4.652, 1.294–16.722) whereas artery dissection (OR, 95 % CI: 0.191, 0.056–0.654) and NIHSS (OR, 95 % CI: 0.727, 0.664–0.797) were associated with a lower probability of a favorable outcome. The subgroup analysis showed that the beneficial effect of IVT on outcomes was significant in moderate-severe strokes (NIHSS ≥8) (OR, 95 % CI: 3.782, 1.095–13.069) and in cardioembolism (OR, 95 % CI: 41.887, 1.001–1751.596). In IS patients under 55 years of age, those with moderate-severe strokes benefit more from IVT than those with mild strokes. Cardioembolic infarctions may benefit more from IV tPA than other etiologies.
This is a preview of subscription content, log in to check access.
Access options
Buy single article
Instant access to the full article PDF.
US$ 39.95
Price includes VAT for USA
Subscribe to journal
Immediate online access to all issues from 2019. Subscription will auto renew annually.
US$ 99
This is the net price. Taxes to be calculated in checkout.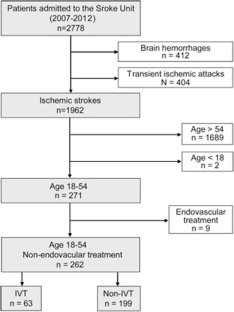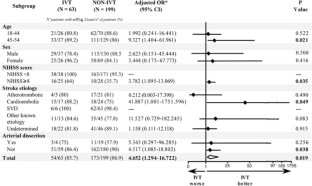 References
1.

Putaala J, Metso AJ, Metso TM et al (2009) Analysis of 1008 consecutive patients aged 15 to 49 with first-ever ischemic stroke: the Helsinki young stroke registry. Stroke 40:1195–1203

2.

Díaz-Guzmán J, Egido JA, Gabriel-Sánchez R, Barberá-Comes G, Fuentes-Gimeno B, Fernández-Pérez C, IBERICTUS Study Investigators of the Stroke Project of the Spanish Cerebrovascular Diseases Study Group (2012) Stroke and transient ischemic attack incidence rate in Spain: the IBERICTUS study. Cerebrovascular Dis 34:272–281

3.

Kissela BM, Khoury JC, Alwell K et al (2012) Age at stroke: temporal trends in stroke incidence in large, biracial population. Neurology 79:1781–1787

4.

The National Institute of Neurological Disorders and Stroke rt-PA Stroke Study Group (1995) Tissue Plasminogen activator for acute ischemic stroke. N Engl J Med 333:1581–1587

5.

Hacke W, Kaste M, Bluhmki E et al (2008) Thrombolysis with alteplase 3 to 4.5 h after acute ischemic stroke. N Engl J Med 359:1317–1329

6.

Lees KR, Bluhmki E, von Kummer R, ECASS, ATLANTIS, NINDS and EPITHET rt-PA Study Group et al (2010) Time to treatment with intravenous alteplase and outcome in stroke: an updated pooled analysis of ECASS, ATLANTIS, NINDS, and EPITHET trials. Lancet 15:1695–1703

7.

Galldiks N, Zaro-Weber O, Dohmen C et al (2010) Systemic thrombolysis with rt-PA in patients under 40 years of age: a subgroup analysis of the cologne stroke experience. Cerebrovasc Dis 30:514–518

8.

Putaala J, Metso TM, Metso AJ et al (2009) Thrombolysis in young adults with ischemic stroke. Stroke 40:2085–2091

9.

Toni D, Ahmed N, Anzini A, SITS investigators et al (2012) Intravenous thrombolysis in young stroke patients: results from the SITS-ISTR. Neurology 78:880–887

10.

Ji R, Schwamm LH, Pervez MA, Singhal AB (2013) Ischemic stroke and transient ischemic attack in young adults risk factors, diagnostic yield, neuroimaging, and thrombolysis. JAMA Neurol 70:51–57

11.

Wagner JC, Lutsep HL (2005) Thrombolysis in young adults. J Thromb Thrombolysis 20:133–136

12.

Poppe AY, Buchan AM, Hill MD (2009) Intravenous thrombolysis for acute ischaemic stroke in young adult patients. Can J Neurol Sci 36:161–167

13.

Ferro JM, Massaro AR, Mas JL (2010) Aetiological diagnosis of ischaemic stroke in young adults. Lancet Neurol 9:1085–1096

14.

Kristensen B, Malm J, Carlberg B et al (1997) Epidemiology and etiology of ischemic stroke in young adults aged 18 to 44 years in Northern Sweden. Stroke 28:1702–1709

15.

Mustanoja S, Maretoja A, Putaala J et al (2011) Outcome by stroke etiology in patients receiving thrombolytic treatment: descriptive subtype analysis. Stroke 42:102–106

16.

Fluri F, Hatz F, Rutgers MP et al (2010) Intravenous thrombolysis in patients with stroke attributable to small artery occlusion. Eur J Neurol 17:1054–1060

17.

Shobha N, Fang J, Hill MD. Do lacunar strokes benefit from thrombolysis? Evidence from the Registry of the Canadian Stroke Network. Int J Stroke. Published online first 11 December 2012. doi: 10.1111/j.1747-4949.2012.00932.x

18.

Cocho D, Belvís R, Martí-Fàbregas J et al (2006) Does thrombolysis benefit patients with lacunar syndrome? Eur Neurol 55:70–73

19.

Engelter ST, Rutgers MP, Hatz F et al (2009) Intravenous thrombolysis in stroke attributable to cervical artery dissection. Stroke 40:3772–3776

20.

Fuentes B, Masjuan J, de Alonso LM et al (2012) Benefits of intravenous thrombolysis in acute ischemic stroke related to extracraneal internal carotid dissection: dream or reality? Int J Stroke 7:7–13

21.

Zinkstok SM, Vergouwen MDI, Engelter ST et al (2011) Safety and functional outcome of thrombolysis in dissection-related ischemic stroke: a meta-analysis of individual patient data. Stroke 42:2515–2520

22.

Budimkić MS, Berisavac I, Beslać-Bumbaširević L et al (2012) Intravenous thrombolysis in the treatment of ischemic stroke due to spontaneous artery dissection. Neurologist 18:273–276

23.

Molina CA, Montaner J, Arenillas JF, Ribo M, Rubiera M, Alvarez-Sabín J (2004) Differential pattern of tissue plasminogen activator-induced proximal middle cerebral artery recanalization among stroke subtypes. Stroke 35:486–490

24.

Rocha S, Pires A, Gomes J et al (2011) Intravenous thrombolysis is more effective in ischemic cardioembolic strokes than in non-cardioembolic? Arq Neuropsiquiatr 69:905–909

25.

Fuentes B, Martínez-Sánchez P, De Alonso LM et al (2012) Efficacy of intravenous thrombolysis according to stroke subtypes: the Madrid Stroke Network data. Eur J Neurol 19:1568–1574

26.

Hsia AW, Sachdev HS, Tomlinson J, Hamilton SA, Tong DC (2003) Efficacy of IV tissue plasminogen activator in acute stroke: does stroke subtype really matter? Neurology 61:71–75

27.

Huisa BN, Raman R, Neil W, Ernstrom K, Hemmen TM (2012) Intravenous tissue plasminogen activator for patients with minor ischemic stroke. J Stroke Cerebrovasc Dis 21:732–736

28.

Mishra NK, Lyden P, Grotta JC, Lees KR, VISTA Collaborators (2010) Thrombolysis is associated with consistent improvement across baseline stroke severity. A comparison of outcome in patients from the Virtual International Stroke Trials Archive (VISTA). Stroke 41:2612–2617

29.

Fuentes B, Díez-Tejedor E, Ortega-Casarrubios MA, Martínez P, Lara M, Frank A (2006) Consistency of the benefits of stroke units over years of operation: an 8-year effectiveness analysis. Cerebrovasc Dis 21:173–179

30.

Bogousslavsky J, van Melle G, Regli F (1988) The lausanne stroke registry: analysis of 1000 consecutive patients with first stroke. Stroke 19:1083–1092

31.

Arboix A, Alvarez-Sabín J, Soler L (1998) Stroke classification and diagnostic criteria. Ad hoc Editorial Committee of the Task Force on Cerebrovascular Diseases of SEN. Neurología 13:3–10

32.

Stroke Therapy Academic Industry Roundtable II (2001) Recommendations for clinical trial evaluation of acute stroke therapies. Stroke 32:1598–1606

33.

Martínez-Martínez M, Cazorla-García R, Rodríguez Antonio LA, Martínez-Sánchez P, Fuentes B, Diez-Tejedor E (2010) Hipercoagulability and ischemic stroke in young patients. Neurología 25:343–348

34.

Martínez-Sánchez P, Martínez-Martínez M, Fuentes B et al (2011) Migraine and hypercoagulable states in ischemic stroke. Cephalalgia 31:1609–1617
Acknowledgments
This study is part of the Spanish collaborative research network RENEVAS (Carlos III Health Institute, Ministry of Science and Innovation, RD07/0026/2003) and co-financed by FEDER. We thank Juliette Siegfried and ServingMED.com for editorial assistance and Belén SanJosé in the Biostatistics Department at La Paz University Hospital.
Conflict of interest
All authors report no conflicts of interest.
Funding
None.
About this article
Cite this article
Prefasi, D., Fuentes, B., Martínez-Sánchez, P. et al. Intravenous thrombolysis in stroke patients under 55 years of age: is there a different effect according to etiology and severity?. J Thromb Thrombolysis 37, 557–564 (2014). https://doi.org/10.1007/s11239-013-0984-y
Keywords
Intravenous thrombolysis

Ischemic stroke

Young patients

Stroke etiology

Cardioembolism

Stroke severity