Abstract
Novel oral anticoagulants (NOAC) provide an effective and, in some cases, superior alternative to traditional, oral vitamin K antagonists such as warfarin. These drugs differ in their pharmacokinetic and pharmacodynamics profiles, which is important for selecting the right drug for the right patient. A concern among clinicians is a virtual absence of guidance from clinical trials for reversing the anticoagulant effects of these drugs in clinical settings such as life-threatening bleeding or a need for emergent procedures that carry bleeding risk. In this review, we discuss NOAC, the role of coagulation assays to assess their systemic anticoagulants effects, and the available data supporting strategies designed to reverse or attenuate these effects.
This is a preview of subscription content, log in to check access.
Access options
Buy single article
Instant access to the full article PDF.
US$ 39.95
Price includes VAT for USA
Subscribe to journal
Immediate online access to all issues from 2019. Subscription will auto renew annually.
US$ 99
This is the net price. Taxes to be calculated in checkout.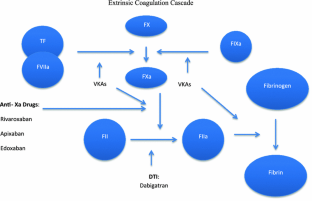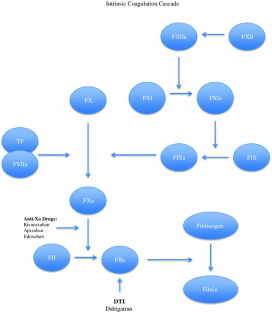 References
1.

Zehnder J, Katzung SM, Trevor A (2009) Basic and clinical pharmacology, 11th edn. McGraw-Hill Medical, New York

2.

Kamali F, Wynne H (2010) Pharmacogenetics of warfarin. Annu Rev Med 61:63–75

3.

Sanderson S, Emery J, Higgins J (2005) CYP2C9 gene variants, drug dose, and bleeding risk in warfarin-treated patients: a HuGEnet systematic review and meta-analysis. Genet Med 7:97–104

4.

Connolly SJ, Ezekowitz MD, Yusuf S et al (2009) Dabigatran versus warfarin in patients with atrial fibrillation. N Engl J Med 361:1139–1151

5.

Blech S, Ebner T, Ludwig-Schwellinger E, Stangier J, Roth W (2008) The metabolism and disposition of the oral direct thrombin inhibitor, dabigatran, in humans. Drug Metab Dispos 36:386–399

6.

Schulman S, Kearon C, Kakkar AK et al (2009) Dabigatran versus warfarin in the treatment of acute venous thromboembolism. N Engl J Med 361:2342–2352

7.

Pharm. BI (2011) PRADAXA (dabigatran etexilate): reducing risk of stroke from atrial fibrillation (Afib). Boehringer Ingelheim Pharmaceuticals, Inc, Ridgefield, CT

8.

Ordovás Baines JP, Climent Grana E, Jover Botella A, Valero Garcia I (2009) Pharmacokinetics and pharmacodynamics of the new oral anticoagulants dabigatran and rivaroxaban. Farm Hosp 33:125–133

9.

Hankey GJ, Eikelboom JW (2011) Dabigatran etexilate: a new oral thrombin inhibitor. Circulation 123:1436–1450

10.

Patel MR, Mahaffey KW, Garg J et al (2011) Rivaroxaban versus warfarin in nonvalvular atrial fibrillation. N Engl J Med 365:883–891

11.

AG BSP (2011) Xarelto: summary of product characteristics. Bayer Pharma AG, Berlin

12.

Kubitza D, Becka M, Voith B, Zuehlsdorf M, Wensing G (2005) Safety, pharmacodynamics, and pharmacokinetics of single doses of BAY 59-7939, an oral, direct factor Xa inhibitor. Clin Pharmacol Ther 78:412–421

13.

Fareed J, Thethi I, Hoppensteadt D (2012) Old versus new oral anticoagulants: focus on pharmacology. Annu Rev Pharmacol Toxicol 52:79–99

14.

Granger CB, Alexander JH, McMurray JJ et al (2011) Apixaban versus warfarin in patients with atrial fibrillation. N Engl J Med 365:981–992

15.

Carreiro J, Ansell J (2008) Apixaban, an oral direct Factor Xa inhibitor: awaiting the verdict. Expert Opin Investig Drugs 17:1937–1945

16.

Zafar MU, Vorchheimer DA, Gaztanaga J et al (2007) Antithrombotic effects of factor Xa inhibition with DU-176b: phase-I study of an oral, direct factor Xa inhibitor using an ex-vivo flow chamber. Thromb Haemost 98:883–888

17.

Favaloro EJ, Lippi G (2012) The new oral anticoagulants and the future of haemostasis laboratory testing. Biochemia medica : casopis Hrvatskoga drustva medicinskih biokemicara / HDMB 22:329–341

18.

Ng VL (2009) Prothrombin time and partial thromboplastin time assay considerations. Clin Lab Med 29:253–263

19.

Bates SM, Weitz JI (2005) Coagulation assays. Circulation 112:e53–e60

20.

Miyares MA, Davis K (2012) Newer oral anticoagulants: a review of laboratory monitoring options and reversal agents in the hemorrhagic patient. Am J Health Syst Pharm 69:1473–1484

21.

Tripodi A, van den Besselaar A (2009) Laboratory monitoring of anticoagulation: where do we stand? Semin Thromb Hemost 35:34–41

22.

Asmis LM, Alberio L, Angelillo-Scherrer A et al (2012) Rivaroxaban: quantification by anti-FXa assay and influence on coagulation tests: a study in 9 Swiss laboratories. Thromb Res 129:492–498

23.

Becker RC, Yang H, Barrett Y et al (2011) Chromogenic laboratory assays to measure the factor Xa-inhibiting properties of apixaban–an oral, direct and selective factor Xa inhibitor. J Thromb Thrombolysis 32:183–187

24.

Castellone DD, Van Cott EM (2010) Laboratory monitoring of new anticoagulants. Am J Hematol 85:185–187

25.

Colomina MJ, Diez Lobo A, Garutti I, Gomez-Luque A, Llau JV, Pita E (2012) Perioperative use of prothrombin complex concentrates. Minerva Anestesiol 78:358–368

26.

Dentali F, Marchesi C, Pierfranceschi MG et al (2011) Safety of prothrombin complex concentrates for rapid anticoagulation reversal of vitamin K antagonists: a meta-analysis. Thromb Haemost 106:429–438

27.

Hsia CC, Chin-Yee IH, McAlister VC (2008) Use of recombinant activated factor VII in patients without hemophilia: a meta-analysis of randomized control trials. Ann Surg 248:61–68

28.

Hardy JF, Belisle S, Van der Linden P (2008) Efficacy and safety of recombinant activated factor VII to control bleeding in nonhemophiliac patients: a review of 17 randomized controlled trials. Ann Thorac Surg 86:1038–1048

29.

Girolami A, Ruzzon E, Tezza F, Scandellari R, Vettore S, Girolami B (2006) Arterial and venous thrombosis in rare congenital bleeding disorders: a critical review. Haemophilia 12:345–351

30.

van Ryn J, Stangier J, Haertter S et al (2010) Dabigatran etexilate–a novel, reversible, oral direct thrombin inhibitor: interpretation of coagulation assays and reversal of anticoagulant activity. Thromb Haemost 103:1116–1127

31.

Holbrook A, Schulman S, Witt DM et al (2012) Evidence-based management of anticoagulant therapy: antithrombotic therapy and prevention of thrombosis, 9th ed: American College of Chest Physicians Evidence-Based Clinical Practice Guidelines. Chest 141:e152S–e184S

32.

Lubetsky A, Yonath H, Olchovsky D, Loebstein R, Halkin H, Ezra D (2003) Comparison of oral vs intravenous phytonadione (vitamin K1) in patients with excessive anticoagulation: a prospective randomized controlled study. Arch Intern Med 163:2469–2473

33.

Fredriksson K, Norrving B, Stromblad LG (1992) Emergency reversal of anticoagulation after intracerebral hemorrhage. Stroke 23:972–977

34.

Freeman WD, Brott TG, Barrett KM et al (2004) Recombinant factor VIIa for rapid reversal of warfarin anticoagulation in acute intracranial hemorrhage. Mayo Clin Proc 79:1495–1500

35.

Ageno W, Gallus AS, Wittkowsky A, Crowther M, Hylek EM, Palareti G (2012) Oral anticoagulant therapy: antithrombotic Therapy and Prevention of Thrombosis, 9th ed: American College of Chest Physicians Evidence-Based Clinical Practice Guidelines. Chest 141:e44S–e88S

36.

Samama MM, Guinet C (2011) Laboratory assessment of new anticoagulants. Clin Chem Lab Med 49:761–772

37.

Eerenberg ES, Kamphuisen PW, Sijpkens MK, Meijers JC, Buller HR, Levi M (2011) Reversal of rivaroxaban and dabigatran by prothrombin complex concentrate: a randomized, placebo-controlled, crossover study in healthy subjects. Circulation 124:1573–1579

38.

Chan HHW, Atkinson HM, Goncharenko M, Berry LR, Chan AKC (2011) Reversal of dabigatran using recombinant activated factor VII and activated prothrombin complex concentrates in thromboelastography assay. J Thromb Haemost 9:576–577 (Abstracts of the XXIII Congress of the International Society on Thrombosis and Haemostasis, 57th Annual SSC Meeting, 2011)

39.

Zhou W, Schwarting S, Illanes S et al (2011) Hemostatic therapy in experimental intracerebral hemorrhage associated with the direct thrombin inhibitor dabigatran. Stroke 42:3594–3599

40.

Marlu R, Hodaj E, Paris A, Albaladejo P, Crackowski JL, Pernod G (2012) Effect of non-specific reversal agents on anticoagulant activity of dabigatran and rivaroxaban: a randomised crossover ex vivo study in healthy volunteers. Thromb Haemost 108:217–224

41.

Siegal DM, Crowther MA (2013) Acute management of bleeding in patients on novel oral anticoagulants. Eur Heart J 34:489–498

42.

Escolar G, Arellano-Rodrigo E, Reverter JC et al (2012) Reversal of apixaban induced alterations of hemostasis by different coagulation factor concentrates: studies in vitro with circulating human blood. Circulation 126(4):520–521 (Abstract from the Emerging Science Series)

43.

Fukuda T, Honda Y, Kamisato C, Morishima Y, Shibano T (2012) Reversal of anticoagulant effects of edoxaban, an oral, direct factor Xa inhibitor, with haemostatic agents. Thromb Haemost 107:253–259

44.

Morishima Y, Honda Y, Kamisato C, Furugohri T, Shibano T (2011) Reversal agents for edoxaban, a factor Xa inhibitor: effects of factor VIIa, anti-inhibitor coagulant complex, prothrombin complex concentrate, fresh plasma, and vitamin K. J Thromb Haemost 9:135

45.

Lu GP, Luan P, Hollenbach S, Abe K, DeGuzman F, Siu G, Hutchaleelaha A, Inagaki M, Conley PB, Phillips DR, Sinha U (2009) Reconstructed recombinant factor Xa as an antidote to reverse anticoagulation by factor Xa inhibitors. J Thromb Haemost 7:309 (Abstracts of the XXIII Congress of the International Society on Thrombosis and Haemostasis, 57th Annual SSC Meeting, 2011)

46.

Van Ryn J, Litzenburger T, Waterman A (2011) CanadaK, Hauel N, Kroe-Barrett R, Singh S, Park J. Dabigatran anticoagulant activity is neutralized by an antibody selective to dabigatran in in vitro and in vivo models. J Am Coll Cardiol 57:E1130
About this article
Cite this article
Jackson, L.R., Becker, R.C. Novel oral anticoagulants: pharmacology, coagulation measures, and considerations for reversal. J Thromb Thrombolysis 37, 380–391 (2014). https://doi.org/10.1007/s11239-013-0958-0
Keywords
Novel oral anticoagulants

Coagulation measures

Pharmacology