Abstract
The occurrence of thrombosis in patients with congenital bleeding disorders represents an exceptional event. Hemophilia A and hemophilia B patients have been showed to present both arterial and venous thrombosis (85 cases of arterial thrombosis and 34 cases of venous thrombosis). The great majority of arterial thrombosis are myocardial infarction or other acute coronary syndromes, whereas the majority of venous thrombosis are deep vein thrombosis and/or pulmonary embolisms. However there are discrepancies in the proportion of arterial and venous thrombosis seen in hemophilia A versus hemophilia B. The ratio of arterial versus venous thrombosis in hemophilia A is 3.72 whereas that for hemophilia B is 1.12. This indicates that arterial thrombosis is more frequent in hemophilia A as compared to hemophilia B and the opposite is true for venous thrombosis. The potential significance of this discrepancy is discussed.
This is a preview of subscription content, log in to check access.
Access options
Buy single article
Instant access to the full article PDF.
US$ 39.95
Price includes VAT for USA
Subscribe to journal
Immediate online access to all issues from 2019. Subscription will auto renew annually.
US$ 99
This is the net price. Taxes to be calculated in checkout.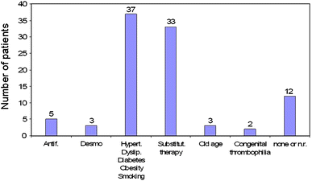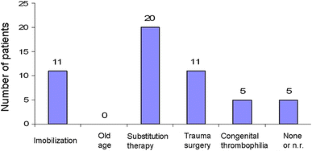 References
1.

Dolan G (2010) The challenge of an ageing haemophilic population. Haemophilia 16(Suppl 5):11–16

2.

Girolami A, Ruzzon E, Fabris F, Varvarikis C, Sartori R, Girolami B (2006) Myocardial infarction and other arterial occlusions in hemophilia a patients. A cardiological evaluation of all 42 cases reported in the literature. Acta Haematol 116:120–125

3.

Girolami A, Randi ML, Ruzzon E, Zanon E, Girolami B (2005) Myocardial infarction, other arterial thrombosis and invasive coronary procedures, in hemaophilia B: a critical evaluation of reported cases. J Thromb Thrombolysis 20:43–46

4.

Coppola A, De Simone C, Di Capua M, Tufano A, Cimino E, Conca P, Guida A, Morisco C, Di Minno G (2010) Acute coronary syndrome and severe haemophilia: an unusual association with challenging treatment. Thromb Haemost 103:1270–1272

5.

Chavin SI, Siegel DM, Rocco TA Jr, Olson JP (1988) Acute myocardial infarction during treatment with an activated prothrombin complex concentrate in a patient with factor VIII deficiency and a factor VIII inhibitor. Am J Med 85:245–249

6.

Dalldorf FG, Taylor RE, Blatt PM (1981) Arteriosclerosis in severe hemophilia. A postmortem study. Arch Pathol Lab Med 105:652–654

7.

Girolami A, Scandellari R, Zanon E, Sartori R, Girolami B (2006) Non-catheter associated venous thrombosis in hemophilia A and B. A critical review of all reported cases (Review). J Thromb Thrombolysis 21:279–284

8.

Bicer M, Yanar M, Tuydes O (2009) Spontaneous deep vein thrombosis in hemophilia A: a case report. Cases J 2:6390

9.

Eleftheriadis N, Makris P (2010) Portal vein thrombosis in a patient with HCV cirrhosis and combined hemophilia A and thrombophilia V Leiden. Ther Clin Risk Manag 6:539–541

10.

Eren A, Friedl R, Hannekum A, Gulbins H (2006) Cardiac surgery in a patient with haemophilia A. Thorac Cardiovasc Surg 54:212–214

11.

Ergelen M, Osmonov D, Gunaydin ZY, Sahin O, Isik T, Uyarel H (2009) Acute inferior myocardial infarction in a patient with severe haemophilia A disease. Ann Hematol 88:711–712

12.

Ferrario C, Renders F, Cairoli A, Vuffray A, Spertini O, Angelillo-Scherrer A (2007) Management of an acute coronary syndrome in a patient with severe haemophilia A. Haemophilia 13:763–765

13.

Forman MB, Kopelman HA, Gleaton JH, Janco RL, Perry JM (1986) Percutaneous transluminal coronary angioplasty in hemophilia. Am Heart J 111:169–172

14.

Guo Y, Zhang X, Huang D, Xi X, Liu Y, Zhu J (2010) Acute myocardial infarction in a Chinese patient with haemophilia A and risk factors for coronary artery disease: a case report with autopsy. Haemophilia 16:691–693

15.

Helft G, Metzger JP, Samama MM, Rothschild C, Batisse JP, Vacheron A (1997) Coronary stenting in a hemophilic patient. Thromb Haemost 77(5):1044–1045

16.

Hermans C, Hammer F, Lobet S, Lambert C (2010) Subclinical deep venous thrombosis observed in 10 % of hemophilic patients undergoing major orthopedic surgery. J Thromb Haemost 8:1138–1140

17.

Karayalcin G, Goldberg B, Cherrick I, Kurer C, Bierman F, Lanzkowsky P (1993) Acute myocardial infarction complicating prothrombin complex concentrate therapy in an 8-year-old boy with hemophilia A and factor VIII inhibitor (Review). Am J Pediatr Hematol Oncol 15:416–419

18.

Kashyap R, Sharma LM, Gupta S, Saxena R, Srivastava DN (2006) Deep vein thrombosis in a patient with severe haemophilia A. Haemophilia 12:87–89

19.

Krolick MA (2005) Successful percutaneous coronary intervention in a patient with severe haemophilia A using bivalirudin as the sole procedural anticoagulant. Haemophilia 11:415–417

20.

Lim MY, Pruthi RK (2011) Cardiovascular disease risk factors: prevalence and management in adult hemophilia patients. Blood Coagul Fibrinolysis 22:402–406

21.

Kim DK, Kim DI, Kim MS, Lee EJ, Kim YB, Cho HJ, Han YC, Kim U, Seal SH, Yang TH, Kim DK, Kim DS (2010) Successful percutaneous coronary intervention for acute coronary syndrome in a patient with severe Hemophilia A. Korean Circ J 40:527–529

22.

Pesaro AE, Gaz MV, Karbstein R, Perin M, Serrano CV, Damico E (2009) Coronary artery bypass surgery, angioplasty and long term anti-platelet treatment in a type B hemophilia patient. Clinics (Sao Paulo) 64:822–823

23.

Petrillo G, Cirillo P, Leosco D, Maresca F, Piscione F, Chiariello M (2011) Percutaneous coronary intervention in a patient with acute non-ST-elevation myocardial infarction and haemophilia A: a 'genous' experience. Haemophilia 17(1):e245–e246

24.

Quintero D, Biria M, Meyers DG (2008) Percutaneous coronary intervention in a patient with acute ST-elevation myocardial infarction and hemophilia A. J Invasive Cardiol 20:240–241

25.

Robinson KL, Savoia H, Street AM (2000) Thrombotic complications in two patients receiving NovoSeven® (Abstract). Haemophilia 6:349

26.

Scharfman WB, Rauch AE, Ferraris V, Burkart PT (1993) Treatment of a patient with factor IX deficiency (hemophilia B) with coronary bypass surgery. J Thorac Cardiovasc Surg 105:765–766

27.

Smolka G, Kulach A, Dabek J, Szulc A, Gasior Z (2007) Percutaneous coronary intervention with stent implantation in haemophilic A patient with unstable angina. Haemophilia 13:428–431

28.

Sullivan DW, Purdy LJ, Billingham M, Glader BE (1984) Fatal myocardial infarction following therapy with prothrombin complex concentrates in a young man with hemophilia A. Pediatrics 74:279–281

29.

Zanon E, Gentilomo C, Laverda A, Suppiej A, Saggiorato G, Manara R, Simioni P (2008) Cerebral sinus venous thrombosis with parenchymal infarcts in a newborn with severe haemophilia A and subdural haematomas. Haemophilia 14:1117–1121

30.

Sartori MT, Bilora F, Zanon E, Varvarikis C, Saggiorato G, Campagnolo E, Pagnan A, Cella G (2008) Endotelial disfunction in hemophilia patients. Haemophilia 14:1055–1062

31.

Zwiers M, Lefrandt JD, Mulder DJ, Smit AJ, Gans RO, Vliegenthart R, Brands-Nijenhuis AV, Kluin-Nelemans JC, Meijer K (2012) Coronary artery calcification score and carotid intima–media thickness in patients with hemophilia. J Thromb Haemost 10:23–29

32.

Goodnough L, Saito H, Ratnoff O (1983) Thrombosis and myocardial infarction in congenital clotting factor abnormalities and in chronic thrombocytopenia: a report of 21 patients and a review of 50 previously reported cases. Medicine 62:248–255

33.

Girolami A, Molaro G, Falomo R (1975) Factor X Friuli coagulation disorder. The demise of the index patient. Acta Haematol 54:120–125

34.

Vianello F, Belvini D, Dal Bello F, Tagariello G, Zanon E, Lombardi AM, Zerbinati P, Girolami A (2001) Mild bleeding diatesis in a boy with combined severe hemophilia B (C10400 > T) and heterozygous factor V Leiden. Haemophilia 7:511–514

35.

Lim MY, Pruthi RK (2012) Outcomes of management of acute coronary syndrome in patients with congenital bleeding disorders: a single center experience and review of the literature. Thromb Res 130(3):316–322

36.

Schutgens RE, Tuinenburg A, Roosendaal G, Guyomi SH, Mauser-Bunschoten EP (2009) Treatment of ischaemic heart disease in haemophilia patients: an institutional guideline. Haemophilia 15:952–958
Acknowledgments
This study was supported in part by the "Associazione per l'Emofilia ed altre Coagulopatie delle Tre Venezie".
About this article
Cite this article
Girolami, A., Bertozzi, I., de Marinis, G.B. et al. Discrepant ratios of arterial versus venous thrombosis in hemophilia A as compared with hemophilia B. J Thromb Thrombolysis 37, 293–297 (2014). https://doi.org/10.1007/s11239-013-0943-7
Keywords
Arterial

Venous

Thrombosis

Hemophilia A

Hemophilia B