Abstract
To investigate the relationship between the changes in the number and function of the late endothelial progenitor cells (EPC) in peripheral blood and the carotid artery stenosis. 60 cases were selected and were divided into the carotid artery stenosis group of 40 cases (mild stenosis in 20 cases, moderate/severe stenosis in 20 cases), normal control group of 20 cases with the global cerebral angiography. Extracted the blood of femoral artery from the patients during the global cerebral angiography, mononuclear cells were isolated from peripheral blood by density-gradient centrifugation and were cultured to 21 days when they were identified as late endothelial progenitor cells, counted the colony numbers of late EPC. Then the proliferation, migration and adherentce ability of late EPC were determined by the MTT assay, modified Boyden and the HFN culturing plates. The amount of the late EPC colonies(34.30 ± 4.90, 25.38 ± 6.33) were significantly reduced in the patients with carotid artery stenosis compared with the control group (46.00 ± 5.64) (P < 0.05); the function of proliferation, migration, adhesion of the late EPC in patiens with cerebral artery stenosis were significantly lower (P < 0.05), the number and function of late EPC decreased with the worsening of vascular stenosis (P < 0.05). The number of EPC in peripheral blood of patients with the carotid artery stenosis decreased, the function was impaired, and number and function changes of late EPC were negatively correlated with the degree of carotid artery stenosis.
This is a preview of subscription content, log in to check access.
Access options
Buy single article
Instant access to the full article PDF.
US$ 39.95
Price includes VAT for USA
Subscribe to journal
Immediate online access to all issues from 2019. Subscription will auto renew annually.
US$ 99
This is the net price. Taxes to be calculated in checkout.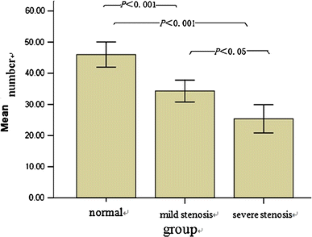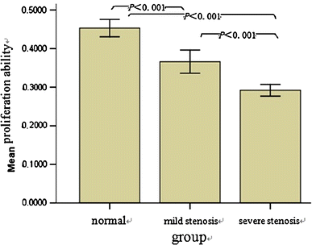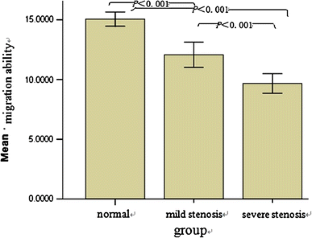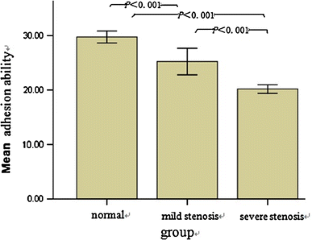 References
1.

Goldschmidt-Clermont PJ, Seo DM, Wang L et al (2010) Inflammation, stem cells and atherosclerosis genetics. Curr Opin Mol Ther 12(6):712–723

2.

Kocaman SA, Yalçın MR, Yağcı M et al (2011) Endothelial progenitor cells (CD34+ KDR+) and monocytes may provide the development of good coronary collaterals despite the vascular risk factors and extensive atherosclerosis. Anadolu Kardiyol Derg 11(4):290–299

3.

Asahara T, Murohara T, Sullivan A et al (1997) Isolation of putative progenitor endothelial cells for angiogenesis. Science 275(5302):964–967

4.

Yoon CH, Hur J, Park KW et al (2005) Synergistic neovascularization by mixed transplantation of early endothelial progenitor cells and late outgrowth endothelieal cells: the role of angiogenic cytokines and matrix metalloproteinases. Circulation 112(11):1618–1627

5.

North American Symptomatic Carotid Endarterectomy Trial Collaborators (1991) Beneficial effect of carotid endarterectomy in symptomatic patients with high grade carotid stenosis. N Engl J Med 325(7):445–453

6.

Hur J, Yoon CH, Kim HS et al (2004) Characterization of two types of endothelial progenitor cells and their different conributions to neovasculogenesis. Arterioscler Thromb Vasc Biol 24(2):288–293

7.

Sharifi BG, Zeng Z, Wang L et al (2006) Pleiotrophin induces transdifferentiation of monocytes into functional endothelial cells. Arterioscler Thromb Vasc Biol 26(6):1273–1280

8.

Verloop RE, Koolwijk P, van Zonneveld AJ et al (2009) Proteaes and receptors in the recruitment of enothelial progenitor cells in neovascularization. Eur Cytokine Netw 20(4):207–219

9.

MacEneaney OJ, Kushner EJ, Westby CM et al (2010) Endothelial progenitor cell function, apoptosis, and telomere length in overweight/obese humans (Silver Spring). Obesity 18(9):1677–1682

10.

Stamm C, Westphal B, Kleine HD et al (2003) Autologous bone-marrow stem-cell transplantation for myocardial regeneration. Lancet 361(9351):45–46

11.

Hill JM, Zalos G, Halcox JP et al (2003) Circulating endothelial progenitor cells, vascular function, and cardiovascular risk. N Engl J Med 348:593–600

12.

Heida NM, Muller JP, Cheng IF et al (2010) Effects of obesity and weight loss on the functional properties of early outgrowth endothelial progenitor cells. J Am Coll Cardiol 55(4):357–367
About this article
Cite this article
He, G., Zhang, H., Zhang, X. et al. The comparison of EPC count and function in the situation of vascular repair at early and late stage. J Thromb Thrombolysis 36, 271–276 (2013). https://doi.org/10.1007/s11239-012-0851-2
Keywords
Endothelial progenitor cells

Late endothelial progenitor cells

Carotid artery stenosis