Abstract
Recent literature describes methods to reduce "preventable" hospital-acquired venous thromboembolism; however, there is a paucity of data on "preventable" bleeding. While risk assessment models exist for both thrombosis and bleeding, these concepts should be differentiated from whether the event was preventable or non-preventable. Here we describe a protocol to identify, monitor, and evaluate anticoagulation-related preventable hospital-acquired major bleeds (PHAMB). This single-center, prospective observational study with retrospective chart review was conducted in 2009 and 2010 to identify anticoagulation-related major bleeding. Eligible anticoagulation-related hospital-acquired major bleeds (HAMB) were further classified as "preventable" or "non-preventable". A total of 229 major bleed episodes were identified of which 188 were excluded due to being community-acquired or non-anticoagulation related major bleeds. Over the 2 year period, five of the 41 HAMB were classified as preventable providing a total incidence of 13 % PHAMB. Three and two of the PHAMB were due to inappropriate dosing and administration of an anticoagulant when contraindications existed, respectively. PHAMB rates decreased from 0.06 in 2009 to 0.04 per 1000 patient days in 2010 (p = 0.62) although this difference was not statistically significant. Raw incidence utilizing Joint Commission methodology demonstrated a 16.7 % rate in 2009 and an 8.7 % rate in 2010. In hospitalized patients, intervention programs may minimize the incidence of anticoagulation-related PHAMB and may maintain similar rates of preventable bleeding over time. Similar programs should be explored prospectively on a larger scale to reduce harm from anticoagulants in the hospital setting.
This is a preview of subscription content, log in to check access.
Access options
Buy single article
Instant access to the full article PDF.
US$ 39.95
Price includes VAT for USA
Subscribe to journal
Immediate online access to all issues from 2019. Subscription will auto renew annually.
US$ 99
This is the net price. Taxes to be calculated in checkout.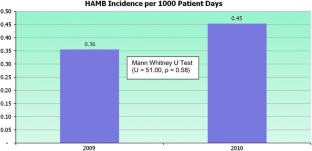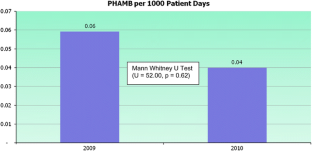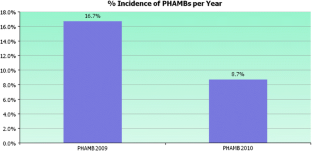 References
1.

Schulman S, Beyth RJ, Kearon C, Levine MN (2008) Hemorrhagic complications of anticoagulant and thrombolytic treatment: American College of Chest Physicians evidence-based clinical practice guidelines (8th edition). Chest 133(6 Suppl):257S–298S. doi:133/6_suppl/257S10.1378/chest.08-0674

2.

Mehran R, Pocock SJ, Stone GW, Clayton TC, Dangas GD, Feit F, Manoukian SV, Nikolsky E, Lansky AJ, Kirtane A, White HD, Colombo A, Ware JH, Moses JW, Ohman EM (2009) Associations of major bleeding and myocardial infarction with the incidence and timing of mortality in patients presenting with non-ST-elevation acute coronary syndromes: a risk model from the ACUITY trial. Eur Heart J 30(12):1457–1466. doi:ehp11010.1093/eurheartj/ehp110

3.

Ewen EF, Zhao L, Kolm P, Jurkovitz C, Fidan D, White HD, Gallo R, Weintraub WS (2009) Determining the in-hospital cost of bleeding in patients undergoing percutaneous coronary intervention. J Interv Cardiol 22(3):266–273. doi:JOIC43110.1111/j.1540-8183.2009.00431.x

4.

Maynard GA, Morris TA, Jenkins IH, Stone S, Lee J, Renvall M, Fink E, Schoenhaus R (2010) Optimizing prevention of hospital-acquired venous thromboembolism (VTE): prospective validation of a VTE risk assessment model. J Hosp Med 5(1):10–18. doi:10.1002/jhm.562

5.

Mahan CE, Hussein MA, Amin AN, Spyropoulos AC (2012) Venous thromboembolism pharmacy intervention management program with an active, multifaceted approach reduces preventable venous thromboembolism and increases appropriate prophylaxis. Clin Appl Thromb Hemost 18(1):45–58. doi:107602961140518610.1177/1076029611405186

6.

VTE core measures and preventable VTE definition. http://www.jointcommission.org/specifications_manual_for_national_hospital_inpatient_quality_measures.aspx Accessed 8 Aug 2012

7.

TJC's National Patient Safety Goals. http://www.jointcommission.org/standards_information/npsgs.aspx.Accessed 8 Aug 2012

8.

Schulman S, Angeras U, Bergqvist D, Eriksson B, Lassen MR, Fisher W (2010) Definition of major bleeding in clinical investigations of antihemostatic medicinal products in surgical patients. J Thromb Haemost 8(1):202–204. doi:JTH367810.1111/j.1538-7836.2009.03678.x

9.

Schulman S, Kearon C (2005) Definition of major bleeding in clinical investigations of antihemostatic medicinal products in non-surgical patients. J Thromb Haemost 3(4):692–694. doi:JTH120410.1111/j.1538-7836.2005.01204.x

10.

Bullano MF, Willey V, Hauch O, Wygant G, Spyropoulos AC, Hoffman L (2005) Longitudinal evaluation of health plan cost per venous thromboembolism or bleed event in patients with a prior venous thromboembolism event during hospitalization. J Manag Care Pharm 11(8):663–673

11.

Bates DW, Cullen DJ, Laird N, Petersen LA, Small SD, Servi D, Laffel G, Sweitzer BJ, Shea BF, Hallisey R et al (1995) Incidence of adverse drug events and potential adverse drug events. Implications for prevention. ADE Prevention Study Group. JAMA 274(1):29–34

12.

http://www.jointcommission.org/venous_thromboembolism/ Accessed 10 Feb 2012

13.

National Voluntary Consensus Standards for Prevention and Care of Venous Thromboembolism: additional performance measures. http://www.qualityforum.org/Publications/2008/10/National_Voluntary_Consensus_Standards_for_Prevention_and_Care_of_Venous_Thromboembolism__Additional_Performance_Measures.aspx Accessed 10 Feb 2012

14.

CMS Factsheet. August 2011. "Improving Quality Of Care During Inpatient Hospital Stays." http://www.cms.gov/apps/media/press/factsheet.asp?Counter=4040&intNumPerPage=10&checkDate=&checkKey=&srchType=1&numDays=3500&srchOpt=0&srchData=&keywordType=All&chkNewsType=6&intPage=&showAll=&pYear=&year=&desc=false&cboOrder=date Accessed 8 Aug 2012

15.

Mahan CE, Spyropoulos AC (2010) Venous thromboembolism prevention: a systematic review of methods to improve prophylaxis and decrease events in the hospitalized patient. Hosp Pract (Minneap) 38(1):97–108

16.

Chopard P, Dorffler-Melly J, Hess U, Wuillemin WA, Hayoz D, Gallino A, Bachli EB, Canova CR, Isenegger J, Rubino R, Bounameaux H (2005) Venous thromboembolism prophylaxis in acutely ill medical patients: definite need for improvement. J Intern Med 257(4):352–357. doi:JIM145510.1111/j.1365-2796.2005.01455.x

17.

Khalili H, Dashti-Khavidaki S, Talasaz AH, Mahmoudi L, Eslami K, Tabeefar H (2010) Is deep vein thrombosis prophylaxis appropriate in the medical wards? A clinical pharmacists' intervention study. Pharm World Sci 32(5):594–600. doi:10.1007/s11096-010-9412-y

18.

Decousus H, Tapson VF, Bergmann JF, Chong BH, Froehlich JB, Kakkar AK, Merli GJ, Monreal M, Nakamura M, Pavanello R, Pini M, Piovella F, Spencer FA, Spyropoulos AC, Turpie AG, Zotz RB, Fitzgerald G, Anderson FA (2010) Factors at admission associated with bleeding risk in medical patients: findings from IMPROVE. Chest. doi:chest.09-308110.1378/chest.09-3081

19.

Pisters R, Lane DA, Nieuwlaat R, de Vos CB, Crijns HJ, Lip GY (2010) A novel user-friendly score (HAS-BLED) to assess one-year risk of major bleeding in atrial fibrillation patients: the Euro Heart Survey. Chest. doi:chest.10-013410.1378/chest.10-0134

20.

Ansell J, Hirsh J, Hylek E, Jacobson A, Crowther M, Palareti G (2008) Pharmacology and management of the vitamin K antagonists: American College of Chest Physicians evidence-based clinical practice guidelines (8th edition). Chest 133(6 Suppl):160S–198S. doi:133/6_suppl/160S10.1378/chest.08-0670

21.

Fox KA, Antman EM, Montalescot G, Agewall S, SomaRaju B, Verheugt FW, Lopez-Sendon J, Hod H, Murphy SA, Braunwald E (2007) The impact of renal dysfunction on outcomes in the ExTRACT-TIMI 25 trial. J Am Coll Cardiol 49(23):2249–2255. doi:S0735-1097(07)01072-80.1016/j.jacc.2006.12.049

22.

White HD, Braunwald E, Murphy SA, Jacob AJ, Gotcheva N, Polonetsky L, Antman EM (2007) Enoxaparin vs. unfractionated heparin with fibrinolysis for ST-elevation myocardial infarction in elderly and younger patients: results from ExTRACT-TIMI 25. Eur Heart J 28(9):1066–1071. doi:ehm08110.1093/eurheartj/ehm081

23.

Stone GW, McLaurin BT, Cox DA, Bertrand ME, Lincoff AM, Moses JW, White HD, Pocock SJ, Ware JH, Feit F, Colombo A, Aylward PE, Cequier AR, Darius H, Desmet W, Ebrahimi R, Hamon M, Rasmussen LH, Rupprecht HJ, Hoekstra J, Mehran R, Ohman EM (2006) Bivalirudin for patients with acute coronary syndromes. N Engl J Med 355(21):2203–2216. doi:355/21/220310.1056/NEJMoa062437

24.

Kastrati A, Neumann FJ, Mehilli J, Byrne RA, Iijima R, Buttner HJ, Khattab AA, Schulz S, Blankenship JC, Pache J, Minners J, Seyfarth M, Graf I, Skelding KA, Dirschinger J, Richardt G, Berger PB, Schomig A (2008) Bivalirudin versus unfractionated heparin during percutaneous coronary intervention. N Engl J Med 359(7):688–696. doi:359/7/68810.1056/NEJMoa0802944

25.

Lincoff AM, Bittl JA, Harrington RA, Feit F, Kleiman NS, Jackman JD, Sarembock IJ, Cohen DJ, Spriggs D, Ebrahimi R, Keren G, Carr J, Cohen EA, Betriu A, Desmet W, Kereiakes DJ, Rutsch W, Wilcox RG, de Feyter PJ, Vahanian A, Topol EJ (2003) Bivalirudin and provisional glycoprotein IIb/IIIa blockade compared with heparin and planned glycoprotein IIb/IIIa blockade during percutaneous coronary intervention: REPLACE-2 randomized trial. JAMA 289(7):853–863. doi:joc22311

26.

Mismetti P, Laporte-Simitsidis S, Tardy B, Cucherat M, Buchmuller A, Juillard-Delsart D, Decousus H (2000) Prevention of venous thromboembolism in internal medicine with unfractionated or low-molecular-weight heparins: a meta-analysis of randomised clinical trials. Thromb Haemost 83(1):14–19. doi:00010014

27.

Linkins LA, Choi PT, Douketis JD (2003) Clinical impact of bleeding in patients taking oral anticoagulant therapy for venous thromboembolism: a meta-analysis. Ann Intern Med 139(11):893–900. doi:139/11/893

28.

Lincoff AM, Bittl JA, Kleiman NS, Sarembock IJ, Jackman JD, Mehta S, Tannenbaum MA, Niederman AL, Bachinsky WB, Tift-Mann J 3rd, Parker HG, Kereiakes DJ, Harrington RA, Feit F, Maierson ES, Chew DP, Topol EJ (2004) Comparison of bivalirudin versus heparin during percutaneous coronary intervention (the randomized evaluation of PCI linking angiomax to reduced clinical events [REPLACE]-1 trial). Am J Cardiol 93(9):1092–1096. doi:10.1016/j.amjcard.2004.01.033S0002914904001237

29.

Rao AK, Pratt C, Berke A, Jaffe A, Ockene I, Schreiber TL, Bell WR, Knatterud G, Robertson TL, Terrin ML (1988) Thrombolysis in myocardial infarction (TIMI) trial–phase I: hemorrhagic manifestations and changes in plasma fibrinogen and the fibrinolytic system in patients treated with recombinant tissue plasminogen activator and streptokinase. J Am Coll Cardiol 11(1):1–11. doi:0735-1097(88)90158-1
Acknowledgments
We would like to thank Dr. Lisa Marr-Lyon, PhD, for her statistical guidance and efforts for this study.
Disclosures
None.
About this article
Cite this article
Caraballo, D., Spyropoulos, A.C. & Mahan, C.E. Identifying, monitoring and reducing preventable major bleeds in the hospital setting. J Thromb Thrombolysis 36, 7–13 (2013). https://doi.org/10.1007/s11239-012-0819-2
Keywords
Preventable

Major bleeds

Hospital-acquired

Anticoagulation-related