Abstract
Cancer patients are at higher risk for venous thromboembolism (VTE). Anticoagulants, when used for prophylaxis, had successfully reduced the incidence of VTE in high risk patients. Nevertheless, many registry studies have shown low compliance rate with published prophylaxis guidelines. From January 2004 through June 2008, hospital database was searched for all discharge diagnoses of cancer with deep vein thrombosis (DVT) and/or pulmonary embolism (PE). Prophylaxis rate for the whole group and for subgroups in relation to recent hospitalization, duration of cancer diagnosis and number of other coexisting risk factors were studied. Two hundred patients were identified; majority (91.8%) had advanced-stage cancer at time of VTE diagnosis. In addition to cancer, many patients had multiple coexisting risk factors for VTE with 137 (68.5%) patients had at least three while 71 (35.5%) had four or more. Overall, 111(55.5%) patients developed lower-extremity DVT while 52 (26%) patients developed PE, other sites accounted for 18%. Majority of the patients (72%) had VTE diagnosed within the first 12 months following cancer diagnosis. Almost three quarters of the patients (73.5%) had not received any antecedent prophylaxis. Prophylaxis rate was 23% among patients with ≥3 risk factors and 50% among the highest risk group with ≥5 risk factors. Based on our findings, majority of VTE in cancer patients occurred due to failure to offer prophylaxis, minority were due to prophylaxis failure. Meticulous quality improvement programs should be established to emphasize the importance of implementing more intensive prophylaxis among high-risk cancer patients.
This is a preview of subscription content, log in to check access.
Access options
Buy single article
Instant access to the full article PDF.
US$ 39.95
Price includes VAT for USA
Subscribe to journal
Immediate online access to all issues from 2019. Subscription will auto renew annually.
US$ 99
This is the net price. Taxes to be calculated in checkout.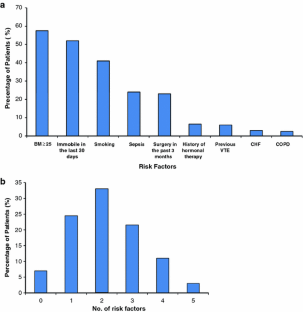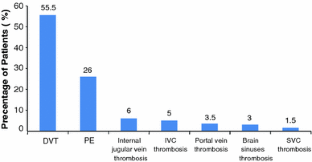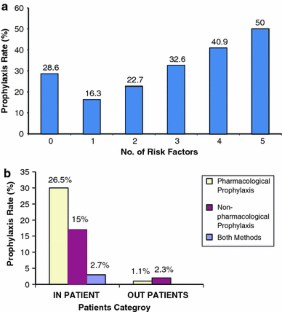 References
1.

Kniffin WD, Baron JA, Barret J et al (1994) The epidemiology of pulmonary embolism and deep venous thrombosis in the elderly. Arch Intern Med 154:861–866

2.

Belch JJ, Lowe GDO, Ward AG et al (1981) Prevention of deep vein thrombosis in medical patients by low-dose heparin. Scott Med J 26:115–117

3.

Prandoni P, Lensing AW, Cogo A et al (1996) The long-term clinical course of acute deep venous thrombosis. Ann Intern Med 125:1–7

4.

Carson JL, Kelley MA, Duff A et al (1992) The clinical course of pulmonary embolism. N Engl J Med 326:1240–1245

5.

Pengo V, Lensing AW, Prins MH et al (2004) Incidence of chronic thromboembolic pulmonary hypertension after pulmonary embolism. N Engl J Med 350:2257–2264

6.

Sørensen HT, Mellemkj'r L, Olsen JH et al (2000) Prognosis of cancers associated with venous thromboembolism. N Engl J Med 343:1846–1850

7.

Heit JA, Silverstein MD, Mohr DN et al (2000) Risk factors for deep vein thrombosis and pulmonary embolism: a population-based case–control study. Arch Intern Med 160:809–815

8.

Heit JA, O'Fallon WM, Petterson TM et al (2002) Relative impact of risk factors for deep vein thrombosis and pulmonary embolism: a population-based study. Arch Intern Med 162:1245–1248

9.

Thodiyil PA, Kakkar AK (2002) Variation in relative risk of venous thromboembolism in different cancers. Thromb Haemost 87:1076–1077

10.

Kahn SR, Panju A, Geerts W et al (2007) CURVE study investigators. Multicenter evaluation of the use of venous thromboembolism prophylaxis in acutely ill medical patients in Canada. Thromb Res 119:145–155

11.

Cohen AT, Tapson VF, Bergmann JF et al (2008) ENDORSE Investigators. Venous thromboembolism risk and prophylaxis in the acute hospital care setting (ENDORSE study): a multinational cross-sectional study. Lancet 371:387–394

12.

Tapson VF, Decousus H, Pini M, IMPROVE Investigators et al (2007) Venous thromboembolism prophylaxis in acutely ill hospitalized medical patients: findings from the International Medical Prevention Registry on Venous Thromboembolism. Chest 2132:936–945

13.

Goldhaber SZ, Dunn K, MacDougall RC (2000) New onset of venous thromboembolism among hospitalized patients at Brigham and Women's Hospital is caused more often by prophylaxis failure than by withholding treatment. Chest 118:1680–1684

14.

Geerts W, Bergqvist D, Pineo G et al (2008) Prevention of venous thromboembolism: American College of Chest Physicians evidence-based clinical practice guidelines (8th edition). Chest 133:381–453

15.

Wagman LD, Baird MF, Bennett CL, Bockenstedt PL, Cataland SR, Fanikos J, Fogarty PF, Goldhaber SZ, Grover TS, Haire W, Hassoun H, Hutchinson S, Jahanzeb M, Lee J, Linenberger ML, Millenson MM, Ortel TL, Salem R, Smith JL, Streiff MB, Vedantham S, National Comprehensive Cancer Network (2008) Venous thromboembolic disease, NCCN, clinical practice guidelines in oncology. J Natl Compr Canc Netw 6:716–753

16.

Khorana AA, Kuderer NM, Culakova E et al (2008) Development and validation of a predictive model for chemotherapy-associated thrombosis. Blood 111:4902–4907

17.

Ay C, Simanek R, Vormittag R et al (2008) High plasma levels of soluble P-selectin are predictive of venous thromboembolism in cancer patients: results from the Vienna Cancer and Thrombosis Study (CATS). Blood 112:2703–2708

18.

Ay C, Vormittag R, Dunkler D et al (2009) D-dimer and prothrombin fragment 1 + 2 predict venous thromboembolism in patients with cancer: results from the Vienna Cancer and Thrombosis Study (CATS). J Clin Oncol 27:4124–4129

19.

Abdel-Razeq HN, Hijjawi SB, Jallad SG, Ababneh BA (2010) Venous thromboembolism risk stratification in medically-ill hospitalized cancer patients. A comprehensive cancer center experience. J Thromb Thrombolysis. [Epub ahead of print]
Acknowledgment
The authors wish to thank Dr. Luna Zaru, Mr. Ameen Harb, Miss Haifa Al-Ahmad and Mrs. Alice Haddadin for their help in preparing this manuscript.
Conflict of interest
None.
About this article
Cite this article
Abdel-Razeq, H., Albadainah, F., Hijjawi, S. et al. Venous thromboembolism (VTE) in hospitalized cancer patients: prophylaxis failure or failure to prophylax!. J Thromb Thrombolysis 31, 107–112 (2011). https://doi.org/10.1007/s11239-010-0509-x
Keywords
Cancer

Heparin

Low molecular weight heparin

Thromboembolism