Abstract
Apixaban, an oral direct factor Xa inhibitor, is currently in late stage clinical development for the prevention and treatment of thromboembolic diseases. In comparison with current treatment standards for venous thromboembolism (VTE) prophylaxis, apixaban has shown decreased rates of clinically significant bleeding with mixed results in terms of non-inferiority for VTE events. Secondary treatment of VTE with apixaban is currently in phase III clinical study after earlier trials showed comparable safety and efficacy outcomes. The APPRAISE-1 trial, a phase II investigation of apixaban versus placebo following acute coronary syndrome showed a higher risk of clinically significant bleeding in addition to a trend toward decreased ischemic events. A large, international phase III clinical study (APPRAISE-2) of apixaban following acute coronary syndrome is currently underway. Large, phase III studies testing apixaban for the prevention of vascular events in subjects with non-valvular atrial fibrillation are also ongoing.
This is a preview of subscription content, log in to check access.
Access options
Buy single article
Instant access to the full article PDF.
US$ 39.95
Price includes VAT for USA
Subscribe to journal
Immediate online access to all issues from 2019. Subscription will auto renew annually.
US$ 99
This is the net price. Taxes to be calculated in checkout.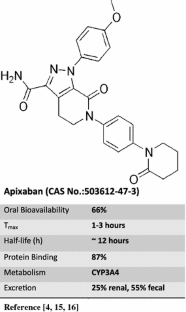 References
1.

Eriksson BI et al (2008) Partial factor IXa inhibition with TTP889 for prevention of venous thromboembolism: an exploratory study. J Thromb Haemost 6(3):457–463

2.

Luettgen JM et al (2006) In vitro evaluation of apixaban, a novel, potent, selective and orally bioavailable factor Xa inhibitor. Blood (ASH Annual Meeting Abstracts) 108(11):4130

3.

Jiang X et al (2009) Apixaban, an oral direct factor Xa inhibitor, inhibits human clot-bound factor Xa activity in vitro. Thromb Haemost 101(4):780–782

4.

Raghavan N et al (2009) Apixaban metabolism and pharmacokinetics after oral administration to humans. Drug Metab Dispos 37(1):74–81

5.

He K et al (2006) Preclinical pharmacokinetic and metabolism of apixaban, a potent and selective factor Xa inhibitor. Blood (ASH Annual Meeting Abstracts) 108(11):910

6.

Wong PC et al (2008) Apixaban, an oral, direct and highly selective factor Xa inhibitor: in vitro, antithrombotic and antihemostatic studies. J Thromb Haemost 6(5):820–829

7.

Dahl OE et al (2008) Major joint replacement. A model for antithrombotic drug development: from proof-of-concept to clinical use. Int Angiol 27(1):60–67

8.

Lassen MR et al (2007) The efficacy and safety of apixaban, an oral, direct factor Xa inhibitor, as thromboprophylaxis in patients following total knee replacement. J Thromb Haemost 5(12):2368–2375

9.

Geerts WH et al (2008) Prevention of venous thromboembolism: American College of Chest Physicians Evidence-Based Clinical Practice Guidelines (8th Edition). Chest 133(6 Suppl):381S–453S

10.

Lassen MR et al (2009) Apixaban or enoxaparin for thromboprophylaxis after knee replacement. N Engl J Med 361(6):594–604

11.

Lassen MR, Gallus AS, Pineo GF, Raskob GE (2009) The ADVANCE-2 study: a randomized double-blind trial comparing apixaban with enoxaparin for thromboprophylaxis after total knee replacement. In: International society on thrombosis and haemostasis, Boston, MA

12.

Yoshitake S et al (1985) Nucleotide sequence of the gene for human factor IX (antihemophilic factor B). Biochemistry 24(14):3736–3750

13.

Buller H et al (2008) Efficacy and safety of the oral direct factor Xa inhibitor apixaban for symptomatic deep vein thrombosis. The Botticelli DVT dose-ranging study. J Thromb Haemost 6(8):1313–1318

14.

Alexander JH et al (2009) Apixaban, an oral, direct, selective factor Xa inhibitor, in combination with antiplatelet therapy after acute coronary syndrome: results of the Apixaban for Prevention of Acute Ischemic and Safety Events (APPRAISE) trial. Circulation 119(22):2877–2885

15.

Pinto DJ et al (2007) Discovery of 1-(4-methoxyphenyl)-7-oxo-6-(4-(2-oxopiperidin-1-yl)phenyl)-4,5,6,7-tetrahydro-1H -pyrazolo[3,4-c]pyridine-3-carboxamide (apixaban, BMS-562247), a highly potent, selective, efficacious, and orally bioavailable inhibitor of blood coagulation factor Xa. J Med Chem 50(22):5339–5356

16.

Eriksson BI, Quinlan DJ, Weitz JI (2009) Comparative pharmacodynamics and pharmacokinetics of oral direct thrombin and factor Xa inhibitors in development. Clin Pharmacokinet 48(1):1–22
About this article
Cite this article
Roser-Jones, C., Becker, R.C. Apixaban: an emerging oral factor Xa inhibitor. J Thromb Thrombolysis 29, 141 (2010). https://doi.org/10.1007/s11239-009-0421-4
Keywords
Coagulation protease

Factor Xa inhibitor

Apixaban