Abstract
Case report is presented, which describes a patient with thromboemboli trapped in the Chiari network within the right heart and resistant to thrombolysis. The right atrial masses were completely removed under cardiopulmonary bypass. Histological evaluation confirmed a mixed thromboemboli, with thrombus structures showing signs of organization and surrounded by a fibrous capsule. A heterozygous methylenetetrahydrofolate reductase gene polymorphism was found, and the plasma level of the plasminogen activator inhibitor type-1 (PAI-1) was 50% higher than the normal upper limit. In this presented case, the Chiari network displayed a protective function, but the expansion and organization of the thromboembolus caught there made it resistant to lytic therapy. Another important factor which could have influenced the resistance to thrombolysis was the high level of PAI-1. PAI-1 is the primary physiologic inhibitor of plasminogen activation in blood. Elevated pre-treatment levels of PAI-1 may reduce the efficacy of thrombolytic therapy by preventing or retarding clot dissolution. The patient's DNA was tested for a common single-base-pair polymorphism (four or five guanine bases) in the promoter region of the gene (4G/5G), but the presence of this variant allele was not confirmed: the patient was homozygous for the 5G allele (5G/5G genotype).
This is a preview of subscription content, log in to check access.
Access options
Buy single article
Instant unlimited access to the full article PDF.
US$ 39.95
Price includes VAT for USA
Subscribe to journal
Immediate online access to all issues from 2019. Subscription will auto renew annually.
US$ 99
This is the net price. Taxes to be calculated in checkout.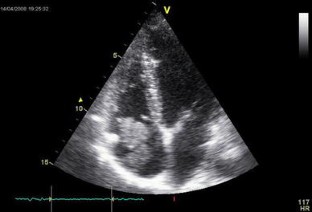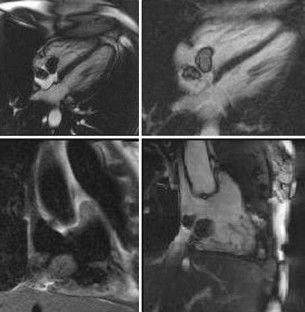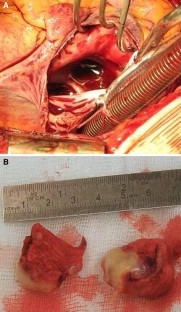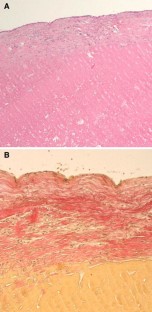 References
1.

Ferrari E, Baudouy M, Cerboni P et al (1997) Clinical epidemiology of venous thromboembolic disease: results of a French multicentre registry. Eur Heart J 18:685–691

2.

Torbicki A, Galie N, Covezzoli A et al (2003) Right heart thrombi in pulmonary embolism: results from the International Cooperative Pulmonary Embolism Registry. J Am Coll Cardiol 41:2245–2251

3.

Rose PS, Punjabi NM, Pearse DB (2002) Treatment of right heart thromboemboli. Chest 121:806–814

4.

Bhatnagar KP, Nettleton GS, Campbell FR, Wagner CE, Kuwabara N, Muresian H (2006) Chiari anomalies in the human right atrium. Clin Anat 19(6):510–516

5.

Schneider B, Hofmann T, Justen MH, Meinertz T (1995) Chiari's network: normal anatomic variant or risk factor for arterial embolic events? J Am Coll Cardiol 26:203–210

6.

Panidis I, Kotler M, Mintz G et al (1984) Clinical and echocardiographic features of right atrial masses. Am Heart J 107:745–758

7.

Goedde TA, Conetta D, Rumisek JD (1990) Chiari network entrapment of thromboemboli: congenital inferior vena cava filter. Ann Thorac Surg 49(2):317–318

8.

Payne DM, Baskett RJ, Hirsch GM (2003) Infectious endocarditis of a Chiari network. Ann Thorac Surg 76(4):1303–1305

9.

Huber K, Christ G, Wojta J, Gulba D (2001) Plasminogen activator inhibitor type-1 in cardiovascular disease. Status report 2001. Thromb Res 103(Suppl 1):S7–S19

10.

Jørgensen M, Bonnevie-Nielsen V (1987) Increased concentration of the fast-acting plasminogen activator inhibitor in plasma associated with familial venous thrombosis. Br J Haematol 65(2):175–180

11.

Barbash GI, Hod H, Roth A, Miller HI, Rath S, Zahav YH, Modan M, Zvellin A (1989) Correlation of baseline plasminogen activator inhibitor activity with patency of the infarct related artery after thrombolytic therapy in acute myocardial infarction. Am J Cardiol 64:1231–1235

12.

Kohler HP, Grant PJ (2000) Plasminogen-activator inhibitor type 1 and coronary artery disease. N Engl J Med 342:1792–1801

13.

Ridker PM, Hennekens CH, Lindpaintner K, Stampfer MJ, Miletich JP (1997) Arterial and venous thrombosis is not associated with the 4G/5G polymorphism in the promoter of the plasminogen activator inhibitor gene in a large cohort of US men. Circulation 95:59–62

14.

Meneveau N, Blonde M-C, Seronde M-F et al (2006) Management of unsuccessful thrombolysis in acute massive pulmonary embolism. Chest 129:1043–1050

15.

Streiff B (2000) Vena cava filters: a comprehensive review. Blood 95:3669–3677
Acknowledgement
This study was supported by Charles University, Prague (Research Project No. MSM0021620817).
Electronic supplementary material
Below is the link to the electronic supplementary material.
Hypoechogenic mass protruding from the right atrium through the tricuspid valve into the right ventricle, without a change in gradient. The systolic function of both ventricles was normal. There were no signs of right heart overload (WMV 696 kb)
Transesophageal echocardiography described the hypoechogenic masses as well-circumscribed with homogenous structure. The masses appeared to stem from the posterior wall of the right atrium and were caught in the Chiari network (WMV 965 kb)
Hypoechogenic mass protruding from the right atrium through the tricuspid valve into the right ventricle, without a change in gradient. The systolic function of both ventricles was normal. There were no signs of right heart overload (WMV 696 kb)
Transesophageal echocardiography described the hypoechogenic masses as well-circumscribed with homogenous structure. The masses appeared to stem from the posterior wall of the right atrium and were caught in the Chiari network (WMV 965 kb)
About this article
Cite this article
Motovska, Z., Widimsky, P., Bilkova, D. et al. An embolus in the right atrium caught in the Chiari network and resistant to thrombolysis. J Thromb Thrombolysis 30, 114–118 (2010). https://doi.org/10.1007/s11239-009-0403-6
Keywords
Chiari network

Resistance to thrombolysis

Thromboembolism