Abstract
With the introduction of Diagnosis Related Groups (DRG) for reimbursement in 2003 detailed description of the prevalence of pulmonary embolism (PE) in hospitalized patients in Germany was possible for the first time. Thus we estimated the incidence rate of PE in Germany. Detailed lists of all PE coded as I26 performed in 2005, 2006 and 2007 were provided by the Federal Statistical Office. In addition age- and gender-adjusted incidence rates were calculated for all cases for which PEs were coded. In 2005 a total of 67,351, in 2006 a total of 69,234 and in 2007 a total of 71,223 PEs (I26.0) were coded either as principal or secondary diagnosis in German hospitals. 54–57% of all PEs were coded as principal diagnosis. Age- and gender adjusted incidence of PEs raised with increasing ages and were higher in males aged 30–49 and 50–69 years than in females within the same age groups. Up to 60% of all PE documented in females occurred within the 8th and 9th decade of life. Departments of Geriatric Medicine, Haematology and Oncology and Pneumology had the highest rates of intrahospital PEs documented as secondary diagnosis. The presented data are derived from the most reliable data base for the estimation of PE in Germany, and the analysis shows that PE is still a relevant problem. They do not give any information about the individual settings and preventability of PEs. An accompanying analysis of hospital and pre-hospital settings is mandatory to recognize possible strategies to prevent PEs more effectively.
This is a preview of subscription content, log in to check access.
Access options
Buy single article
Instant access to the full article PDF.
US$ 39.95
Price includes VAT for USA
Subscribe to journal
Immediate online access to all issues from 2019. Subscription will auto renew annually.
US$ 99
This is the net price. Taxes to be calculated in checkout.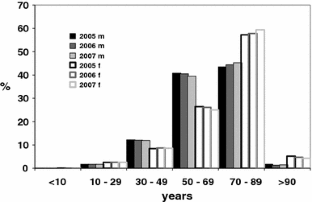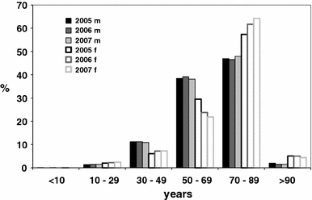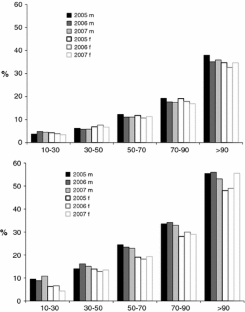 References
1.

Geerts WH, Bergqvist D, Pineo GF, Heit JA, Samama CM, Lassen MR, Colwell CW (2008) Prevention of venous thromboembolism: American college of chest physicians evidence-based clinical practice guidelines , 8th edn. Chest Jun 381S–453S

2.

Hill J, Treasure T (2007) Reducing the risk of venous thromboembolism (deep vein thrombosis and pulmonary embolism) in inpatients having surgery: summary of NICE guidance. BMJ 334:1053–1054

3.

Dentali F, Douketis JD, Gianni M, Lim W, Crowther MA (2007) Meta-analysis: anticoagulant prophylaxis to prevent symptomatic venous thromboembolism in hospitalized medical patients. Ann Intern Med 146:278–288

4.

Meignan M, Rosso J, Gauthier H, Brunengo F, Claudel S, Sagnard L, d'Azemar P, Simonneau G, Charbonnier B (2000) Systematic lung scans reveal a high frequency of silent pulmonary embolism in patients with proximal deep venous thrombosis. Arch Intern Med 160:159–164

5.

Monreal M, Falgá C, Valdés M, Suárez C, Gabriel F, Tolosa C, Montes J (2006) Riete Investigators. Fatal pulmonary embolism and fatal bleeding in cancer patients with venous thromboembolism: findings from the RIETE registry. J Thromb Haemost 4:1950–1956

6.

Piazza G, Goldhaber SZ (2006) Acute pulmonary embolism: part II: treatment and prophylaxis. Circulation 114:e42–e47

7.

Lilienfeld DE, Chan E, Ehland J, Godbold JH, Landrigan PJ, Marsh G (1990) Mortality from pulmonary embolism in the United States: 1962–1984. Chest 98:1067–1072

8.

Lilienfeld DE (2000) Decreasing mortality from pulmonary embolism in the United States, 1979–1996. Int J Epidemiol 29:465–469

9.

Silverstein MD, Heit JA, Mohr DN, Petterson TM, O'Fallon WM, Melton LJ III (1998) Trends in the incidence of deep vein thrombosis and pulmonary embolism: a 25-year population-based study. Arch Intern Med 158:585–593

10.

Skaf E, Stein PD, Beemath A, Sanchez J, Olson RE (2006) Fatal pulmonary embolism and stroke. Am J Cardiol 97:1776–1777

11.

Murray DW, Britton AR, Bulstrode CJ (1996) Thromboprophylaxis and death after total hip replacement. J Bone Joint Surg Br 78:863–870

12.

Horlander KT, Mannino DM, Leeper KV (2003) Pulmonary embolism mortality in the United States, 1979–1998: an analysis using multiple-cause mortality data. Arch Intern Med 163:1711–1717

13.

Stein PD, Kayali F, Olson RE (2004) Estimated case fatality rate of pulmonary embolism, 1979 to 1998. Am J Cardiol 93:1197–1199

14.

Stein PD, Hull RD, Kayali F et al (2004) Venosu thromboembolism according to age. Ann Intern Med 164:2260–2265

15.

DeMonaco NA, Dang Q, Kapoor WN, Ragni MV (2008) Pulmonary embolism incidence is increasing with use of spiral computed tomography. Am J Med 121:611–617

16.

Stein PD, Hull RD, Ghali WA, Patel KC, Olson RE, Meyers FA, Kalra NK (2003) Tracking the uptake of evidence: two decades of hospital practice trends for diagnosing deep vein thrombosis and pulmonary embolism. Arch Intern Med 163:1213–1219

17.

Cohen AT, Tapson VF, Bergmann JF, Goldhaber SZ, Kakkar AK, Deslandes B, Huang W, Zayaruzny M, Emery L, Anderson FA Jr (2008) ENDORSE investigators. venous thromboembolism risk and prophylaxis in the acute hospital care setting (ENDORSE study): a multinational cross-sectional study. Lancet 371:387–394

18.

Dismuke SE, VanderZwaag R (1984) Accuracy and epidemiological implications of the death certificate diagnosis of pulmonary embolism. J Chronic Dis 37:67–73

19.

Dismuke SE, Wagner EH (1986) Pulmonary embolism as a cause of death. The changing mortality in hospitalized patients. JAMA 255:2039–2042

20.

Douketis JD, Kearon C, Bates S, Duku EK, Ginsberg JS (1998) Risk of fatal pulmonary embolism in patients with treated venous thromboembolism. JAMA 279:458–462

21.

Spencer FA, Lessard D, Emery C, Reed G, Goldberg RJ (2007) Venous thromboembolism in the outpatient setting. Arch Intern Med 167:1471–1475

22.

Stein PD, Hull RD, Patel KC, Olson RE, Ghali WA, Alshab AK, Meyers FA (2003) Venous thromboembolic disease: comparison of the diagnostic process in men and women. Arch Intern Med 163:1689–1694

23.

Sare GM, Gray LJ, Bath PM (2008) Association between hormone replacement therapy and subsequent arterial and venous vascular events: a meta-analysis. Eur Heart J 29:2031–2041

24.

World Health Organization Collaborative Study of Cardiovascular Disease and Steroid Hormone Contraception (1995) Effect of different progestagens in low oestrogen oral contraceptives on venous thromboembolic disease. Lancet 346(8990):1582–1588

25.

Stein PD, Kayali F, Olson RE (2004) Incidence of venous thromboembolism in infants and children: data from the National Hospital Discharge Survey. J Pediatr 145:563–565

26.

Guijarro R, Montes J, Sanromán C, Monreal M (2008) RIETE Investigators. Venous thromboembolism in Spain. Comparison between an administrative database and the RIETE registry. Eur J Intern Med 19:443–446

27.

Stausberg J (2007) Quality of coding in acute inpatient care. Bundesgesundheitsblatt Gesundheitsforschung Gesundheitsschutz 50:1039–1046
Acknowledgement
We thank Referat VIII A 1 from the Federal Statistical Office for extracting and providing the data from the DRG-Statistik.
About this article
Cite this article
Kröger, K., Moerchel, C., Moysidis, T. et al. Incidence rate of pulmonary embolism in Germany: data from the federal statistical office. J Thromb Thrombolysis 29, 349–353 (2010). https://doi.org/10.1007/s11239-009-0396-1
Keywords
Pulmonary embolism

Hospitalized patients

DRG statistics

Prophylaxis