Abstract
We depict a case of a 32 year old Mediterranean man, presenting with pulmonary embolism, and diffuse arterial thrombosis of the lower extremities. CT angiography revealed bilateral pulmonary artery occlusions and a mediastinal lymphadenopathy. Duplex Ultrasound of the lower extremities showed no deep venous thrombosis, but occluded popliteal arteries bilaterally with extension to the right distal superficial femoral artery. Mediastinoscopy with hilar lymph node biopsy showed noncaseating granulomas consistent with sarcoidosis. Thrombophilia profile revealed factor II, MTHFR, and factor XIII gene mutations with markedly elevated homocysteine level of 139 μmol/l. This is an atypical rare case of sarcoidosis presenting with pulmonary embolism and multiple arterial thrombosis.
This is a preview of subscription content, log in to check access.
Access options
Buy single article
Instant access to the full article PDF.
US$ 39.95
Price includes VAT for USA
Subscribe to journal
Immediate online access to all issues from 2019. Subscription will auto renew annually.
US$ 99
This is the net price. Taxes to be calculated in checkout.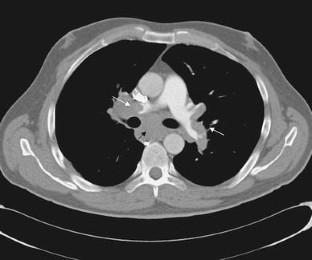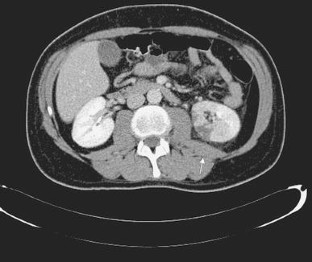 References
1.

Rozen R (2003) Genetic predisposition to hyperhomocysteinemia: deficiency of methylenetetrahydrofolate reductase (MTHFR). Thromb Haemost 78:523–526

2.

D'Angelo A, Mazzola G, Crippa L, Fermo I, D'Angelo SV (1997) Hyperhomocysteinemia and venous thromboembolic disease. Haematologica 82:211–219

3.

Poort SR, Rosendaal FR, Reitsma PH, Bertina RM (1996) A common genetic variation in the 3′-untranslated region of the prothrombin gene is associated with elevated plasma prothrombin levels and an increase in venous thrombosis. Blood 88:3698–3703

4.

Ariens R, Lai TS, Weisel J, Greenberg C, Grant P (2002) Role of factor XIII in fibrin clot formation and effects of genetic polymorphisms. Blood 100:743–754. doi:10.1182/blood.V100.3.743

5.

Catto A, Kohler H, Coore J, Mansfield M, Stickland M, Grant P (1999) Association of a common polymorphism in the factor XIII gene with venous thrombosis. Blood 93:906–908

6.

McLaughlin AM, McNicholas WT (2003) Sarcoidosis presenting as upper extremity venous thrombosis. Thorax 58:552. doi:10.1136/thorax.58.6.552-a

7.

Artim Esen B, Kiyan E, Diz Küçükkaya R, Tabak L, Aktürk F, Arseven O et al (2005) Antiphospholipid syndrome presenting as massive pulmonary embolism in a patient with sarcoidosis. Eur J Gen Med 2(4):173–176

8.

Vahid B, Wildemore B, Marik PE (2006) Multiple venous thromboses in a young man with sarcoidosis: is there a relation between sarcoidosis and venous thrombosis? South Med J 99(9):998–999. doi:10.1097/01.smj.0000233188.45688.41

9.

Lentz SR (2005) Mechanisms of homocysteine-induced atherothrombosis. J Thromb Haemost 3:1646–1654. doi:10.1111/j.1538-7836.2005.01364.x

10.

Butler Pierce T, Margolis M (2001) BS, Razzuk M. Sarcoidosis: still a mystery?. Proc (Bayl Univ Med Cent) 14:8–12
Additional information
T. J. Rebeiz and R. Mahfouz contributed equally to the work and should both be considered as first authors.
About this article
Cite this article
Rebeiz, T.J., Mahfouz, R., Taher, A. et al. Unusual presentation of a sarcoid patient: multiple arterial and venous thrombosis with chest lymphadenopathy. J Thromb Thrombolysis 28, 245–247 (2009). https://doi.org/10.1007/s11239-008-0270-6
Received:

Accepted:

Published:

Issue Date:
Keywords
Thrombosis

Arterial

Sarcoidosis