Abstract
To determine whether a regimen of aspirin pretreatment, bivalirudin during the procedure and clopidogrel (600 mg) immediately after percutaneous coronary intervention (PCI) was associated with platelet activation during and shortly after (1 and 2 h) PCI, we characterized platelet function in 10 patients with the use of flow cytometry in the absence of agonist and in response to thrombin (10 nM), ADP (1 μM), the collagen-mimetic convulxin (5 ng/ml), and platelet activating factor (10 nM). Activation of platelets in peripheral blood was rare (<0.5% of platelets) before, during and after PCI. Platelet reactivity in response to each of the agonists was lower after the PCI compared with that in blood taken before the PCI. Accordingly, platelet activation and platelet reactivity were not increased after elective PCI when patients were treated during the procedure with aspirin and bivalirudin and immediately after the procedure with a 600 mg loading dose of clopidogrel.
This is a preview of subscription content, log in to check access.
Access options
Buy single article
Instant access to the full article PDF.
US$ 39.95
Price includes VAT for USA
Subscribe to journal
Immediate online access to all issues from 2019. Subscription will auto renew annually.
US$ 99
This is the net price. Taxes to be calculated in checkout.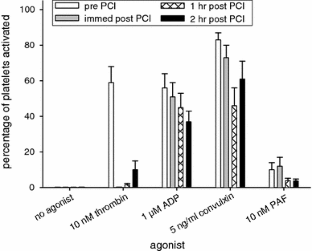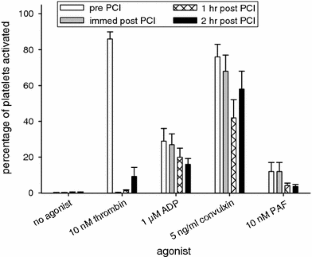 References
1.

The RISC Group (1990) Risk of myocardial infarction and death during treatment with low dose aspirin and intravenous heparin in men. Lancet 336:827–830

2.

Théroux P, Waters D, Lam J, Juneau M, McCans J (1992) Reactivation of unstable angina after the discontinuation of heparin. N Engl J Med 327:141–145

3.

Granger CB, Miller JM, Bovill EG, Gruber A, Tracy RP, Krucoff MW, Green C, Berrios E, Harrington RA, Ohman EM, Califf CM (1995) Rebound increase in thrombin generation and activity after cessation of intravenous heparin in patients with acute coronary syndromes. Circulation 91:1929–1935

4.

Watkins MW, Luetmer PA, Schneider DJ, Witmer WT, Vaitkus PT, Sobel BE (1998) Determinants of rebound thrombin activity after cessation of heparin in patients undergoing coronary interventions. Cathet Cardiovasc Diagn 44:257–264

5.

Becker RC, Spencer FA, Li Y, Ball SP, Ma Y, Hurley T, Hebert J (1999) Thrombin generation after the abrupt cessation of intravenous unfractionated heparin among patients with acute coronary syndromes: potential mechanisms for heightened prothrombotic potential. J Am Coll Cardiol 34:1020–1027

6.

Lauer MA, Houghtaling PL, Peterson JG, Granger CB, Bhatt DL, Sapp SK, Simoons ML, Harrington RA, Topol EJ, Lincoff AM, Platelet IIb/IIIa in Unstable Angina: Receptor Suppression Using Integrilin Therapy (PURSUIT) Trial Investigators (2001) Attenuation of rebound ischemia after discontinuation of heparin therapy by glycoprotein IIb/IIIa inhibition with eptifibatide in patients with acute coronary syndromes: observations from the platelet IIb/IIIa in unstable angina: receptor suppression using integrilin therapy (PURSUIT) trial. Circulation 104:2772–2777

7.

Di Nisio M, Bijsterveld NR, Meijers JC, Levi M, Büller HR, Peters RJ (2005) Effects of clopidogrel on the rebound hypercoagulable state after heparin discontinuation in patients with acute coronary syndromes. J Am Coll Cardiol 46:1582–1583

8.

Lincoff AM, Bittl JA, Harrington RA, Feit F, Kleiman NS, Jackman JD, Sarembock IJ, Cohen DJ, Spriggs D, Ebrahimi R, Keren G, Carr J, Cohen EA, Betriu A, Desmet W, Kereiakes DJ, Rutsch W, Wilcox RG, de Feyter PJ, Vahanian A, Topol EJ, REPLACE-2 Investigators (2003) Bivalirudin and provisional glycoprotein IIb/IIIa blockade compared with heparin and planned glycoprotein IIb/IIIa blockade during percutaneous coronary intervention: REPLACE-2 randomized trial. JAMA 289:853–863

9.

Hochholzer W, Trenk D, Frundi D, Blanke P, Fischer B, Andris K, Bestehorn HP, Büttner HJ, Neumann FJ (2005) Time dependence of platelet inhibition after a 600-mg loading dose of clopidogrel in a large, unselected cohort of candidates for percutaneous coronary intervention. Circulation 111:2560–2564

10.

Schneider DJ, Herrmann HC, Lakkis N, Aguirre F, Lo MW, Yin KC, Aggarwal A, Kabbani SS, DiBattiste PM (2003) Increased concentrations of tirofiban in blood and their correlation with inhibition of platelet aggregation after greater bolus doses of tirofiban. Am J Cardiol 91:334–336

11.

Kabbani SS, Watkins MW, Ashikaga T, Terrien EF, Holoch PA, Sobel BE, Schneider DJ (2001) Platelet reactivity characterized prospectively. A determinant of outcome 90 days after percutaneous coronary intervention. Circulation 104:181–186

12.

Achyuthan KE, Dobson JV, Greenberg CS (1986) Gly–Pro–Arg–Pro modifies the glutamine residues in the alpha- and gamma-chains of fibrinogen: inhibition of transglutaminase cross-linking. Biochim Biophys Acta 872:261–268

13.

Schneider DJ, Keating FK, Sobel BE (2006) Greater inhibitory effects of bivalirudin compared with unfractionated heparin plus eptifibitide on thrombin-induced platelet activation. Coron Art Dis 17:471–476

14.

Kabbani SS, Watkins MW, Terrien EF, Holoch PA, Sobel BE, Schneider DJ (2001) Platelet reactivity in coronary ostial blood: a reflection of the thrombotic state accompanying plaque rupture and of the adequacy of anti-thrombotic therapy. J Thromb Thrombolysis 12:171–176

15.

Schneider DJ, Holmes CE, Taatjes-Sommers HS, Sobel BE (2007) Contributions of young platelets and of previously activated platelets to platelet reactivity in patients with coronary artery disease. Thromb Res, epub July 31, 2007

16.

Sestito A, Sgueglia GA, Spinelli A, Navarese EP, Infusino F, Crea F, Lanza GA (2006) Increased platelet reactivity in unstable angina patients is not related to C-reactive protein levels. Platelets 17:336–339

17.

Kim S, Foster C, Lecchi A, Quinton TM, Prosser DM, Jin J, Cattaneo M, Kunapuli SP (2002) Protease-activated receptors 1 and 4 do not stimulate G(i) signaling pathways in the absence of secreted ADP and cause human platelet aggregation independently of G(i) signaling. Blood 99:3629–3636

18.

Keuren JF, Wielders SJ, Ulrichts H, Hackeng T, Heemskerk JW, Deckmyn H, Bevers EM, Lindhout T (2005) Synergistic effect of thrombin on collagen-induced platelet procoagulant activity is mediated through protease-activated receptor-1. Arterioscler Thromb Vasc Biol 25:1499–1505
Acknowledgment
This study was supported in part by a grant from The Medicines Company.
About this article
Cite this article
Schneider, D.J., Sobel, B.E. Lack of early augmentation of platelet reactivity after coronary intervention in patients treated with bivalirudin. J Thromb Thrombolysis 28, 6–9 (2009). https://doi.org/10.1007/s11239-008-0250-x
Received:

Accepted:

Published:

Issue Date:
Keywords
Platelets

Bivalirudin

Coronary intervention