Abstract
The authors present a fatal case of late thrombosis of paclitaxel-eluting stent implanted in the left main stem occurring 6 months after the procedure and 3 weeks after the cessation of clopidogrel. An autopsy has shown the lack of endothelization of deployed stent.
This is a preview of subscription content, log in to check access.
We're sorry, something doesn't seem to be working properly.
Please try refreshing the page. If that doesn't work, please contact support so we can address the problem.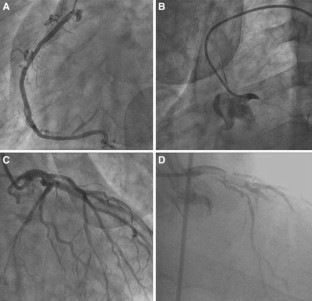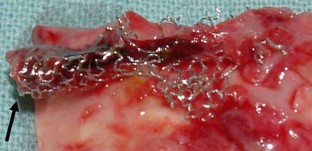 References
1.

Sousa JE, Costa MA, Abizaid AC et al (2001) Sustained supression of neointimal proliferation bz sirolimus-eluting stents. One-year angiographic and intravascular ultrasound follow-up. Circulation 104:2007–2011

2.

Morice MC, Serruys PW, Sousa JE et al (2002) A randomized comparison of a sirolimus-eluting stent with a standard stent for coronary revascularization. N Engl J Med 346:1773–1780

3.

Moses JW, Leon MB, Popma JJ et al, SIRIUS Investigators (2003) Sirolimus-eluting stents versus standard stents in patients with stenosis in a native coronary artery. N Engl J Med 349:1315–1323

4.

Schofer J, Schluter M, Gershlick AH et al, E-SIRIUS Investigators (2003) Sirolimus-eluting stents for treatment of patients with long atherosclerotic lesions in small coronary arteries: double-blind, randomized controlled trial (E-SIRIUS). Lancet 362:1093–1099

5.

Hong MK, Mintz GS, Lee CW et al, Asian Paclitaxel-Eluting Stent Clinical Trial Investigators (2003) Paclitaxel coating reduces in-stent intimal hyperplasia in human coronary arteries: a serial volumetric intravascular ultrasound analysis from the Asian Paclitaxel-Eluting Stent Clinical Trial (ASPECT). Circulation 107:517–520

6.

Grube E, Silber S, Hauptmann KE et al (2003) TAXUS I: six- and twelve-month results from a randomized, double-blind trial on a slow-release paclitaxel-eluting stent for de novo coronary lesions. Circulation 107:38–42

7.

Stone GW, Ellis SG, Cox DA et al, TAXUS-IV Investigators (2004) A polymer-based, paclitaxel-eluting stent in patients with coronary artery disease. N Engl J Med 350:221–231

8.

Pfisterer ME, Kaiser CA, Bader F et al (2006) Late clinical events related to late stent thrombosis after stopping clopidogrel: prospective randomized comparison between dru-eluting versus bare-metal stenting. Program and abstracts from the American College of Cardiology 55th Annual Scientific Session, March 11–14, 2006, Atlanta, Georgia. Abstract 422–11

9.

Iakovou I, Schnidt T, Bonizzoni E et al (2005) Incidence, predictors and outcome of thrombosis after successful implantation of drug-eluting stents. JAMA 293:2126–2130

10.

Kuchulakanti PK, Chu WW, Torguson R et al (2006) Correlates and long-term outcomes of angiographically proven stent thrombosis with sirolimus- and paclitaxel-eluting stents. Circulation 113:1108–1113

11.

Takano M, Ohba T, Inami S et al (2006) Angioscopic differences in neointimal overage and in persistence of thrombus between sirolimus-eluting stents and bare metal stents after a 6-month implantation. EHJ 27:2189–2195

12.

Virmani R, Guagliumi G, Farb A et al (2004) Localized hypersensitivity and late coronary thrombosis secondary to a sirolimus-eluting stent: should we be cautious? Circulation 109:701–705

13.

Ong A, McFadden E, Regar E et al (2005) Late angiographic stent thrombosis (LAST) events with drug-eluting stents. J Am Coll Cardiol 45:2088–2092

14.

Urban P, Gershlick A, Guagliumi G et al (2006) E-Cypher investigators. Safety of coronary sirolimus-eluting stents in daily clinical practice: one-year follow-up of the e-Cypher registry. Circulation 21:1434–1441

15.

Moreno R, Fernandez C, Hernandez R et al (2005) Drug-eluting stent thrombosis: results from a pooled analysis including 10 randomized studies. J Am Coll Cardiol 45:954–959

16.

Joner M, Finn AV, Farb A et al (2006) Pathology of drug-eluting stents in humans: delayed healing and late thrombotic risk. J Am Coll Cardiol 48:193–202

17.

Laarman GJ, Suttorp MJ, Dirksen MT et al (2006) Paclitaxel-eluting versus uncoated stents in primary percutaneous coronary intervention. N Engl J Med 355:1105–1113

18.

Spaulding C, Henry P, Teiger E et al (2006) Sirolimus-eluting versus uncoated stents in acute myocardial infarction. N Engl J Med 355:1093–1104

19.

Valgimigli M, van Mieghem CAG, Ong ATL et al (2005) Short- and long-term clinical outcome after drug-eluting stent implantation for the percutaneous treatment of left main coronary artery disease. Insights from the rapamycin-eluting and taxus stent evaluated at Rotterdam cardiology hospital registries (RESEARCH and T-SEARCH). Circulation 111:1383–1389
About this article
Cite this article
Jakabčin, J., Bystroň, M., Špaček, R. et al. The lack of endothelization after drug-eluting stent implantation as a cause of fatal late stent thrombosis. J Thromb Thrombolysis 26, 154–158 (2008). https://doi.org/10.1007/s11239-007-0080-2
Received:

Accepted:

Published:

Issue Date:
Keywords
Late stent thrombosis

Paclitaxel-eluting stent

Coronary intervention

Drug-eluting stent

Acute myocardial infarction

Percutaneous coronary interventions of left main stem

Dual antiplatelet treatment