Hybrid nanocomposites are obtained by photo-initiated copolymerization of N-vinylpyrrolidone (or acrylic acid) with 3-(trimethoxysilyl)propyl methacrylate, grafted on an Aerosil surface, followed by immobilization of silver nanoparticles. The materials obtained are particles (aggregates) of size 12-17 μm, consisting of silica nanoparticles bonded by a polymer layer in which aggregated silver particles about 17 nm in size are found. The presence of silver nanoparticles in the composites increases their thermal stability.
This is a preview of subscription content, log in to check access.
Access options
Buy single article
Instant access to the full article PDF.
US$ 39.95
Price includes VAT for USA
Subscribe to journal
Immediate online access to all issues from 2019. Subscription will auto renew annually.
US$ 199
This is the net price. Taxes to be calculated in checkout.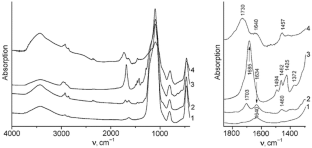 References
1.

G. Kickelbick (ed.), Hybrid Materials: Synthesis, Characterization and Application, Wiley-VCH Verlag, Weinheim (2007).

2.

B. Gao, Z. Wang, Q. Liu, and R. Du, Colloids Surfaces B, 79, No. 2, 446-451 (2010).

3.

L. Jiang, W. Wang, D. Wu, et al., Mater. Chem. Phys., 104, Nos. 2/3, 230-234 (2007).

4.

T. Bala, G. Armstrong, F. Laffir, and R. Thornton, J. Colloid Interface Sci., 356, 395-403 (2011).

5.

A. L. Tolstov and O. V. Gres, Teor. Éksp. Khim., 48, No. 6, 331-344 (2012). [Theor. Exp. Chem., 48, No. 6, 353-366 (2012) (English translation).]

6.

D. S. Achilleos and M. Vamvakaki, Materials, 3, No. 3, 1981-2026 (2010).

7.

R. Reisfeld, T. Saraidarov, and V. Levchenko, Opt. Appl., 38, No. 1, 83-92 (2008).

8.

T. Angelova, N. Rangelova, R. Yuryev, et al., Mater. Sci. Eng. C, 32, No. 5, 1241-1246 (2012).

9.

S. Siggia and J. G. Hanna, Quantitative Organic Analysis Via Functional Groups, Wiley Australia, Brisbane (1979).

10.

G. Charlot, Methods in Analytical Chemistry. Quantitative Inorganic Analysis [Russian translation], Khimiya, Moscow (1965).

11.

I. Pastoriza-Santos and L. M. Liz-Marzan, Langmuir, 15, No. 4, 948-951 (1999).

12.

C. Peniche, D. Zaldivar, M. Pazos, et al., J. Appl. Polym. Sci., 50, No. 3, 485-493 (1993).

13.

S. Dubinsky, G. S. Grader, G. E. Shter, and M. S. Silverstein, Polym. Degrad. Stabil., 86, No. 1, 171-178 (2004).
We would like to thank colleagues at the multiuser shared equipment centers of the L. V. Pisarzhevskii Institute of Physical Chemistry (National Academy of Sciences of Ukraine) and the M. G. Kholodny Institute of Botany (National Academy of Sciences of Ukraine) for help with the research.
Additional information
Translated from Teoreticheskaya i Éksperimental'naya Khimiya, Vol. 50, No. 2, pp. 125-129, March-April, 2014.
About this article
Cite this article
Tolstov, A.L., Matyushov, V.F. Nanocomposites Based on Aerosil, Vinyl Polymers, and Silver Particles. Theor Exp Chem 50, 127–131 (2014). https://doi.org/10.1007/s11237-014-9357-7
Received:

Published:

Issue Date:
Key words
silicon dioxide

polymers

silver nanoparticles

hybrid materials

composites