The electrical explosion of wires was used to prepare titanium dioxide nanopowders alloyed with silver nanoparticles. The photoelectrochemical properties and electronic structure of these materials were studied. The quantum yield for the photoelectrochemical current η and the flat band potential E fb for TiO2/Ag films were found to be proportional to the content of the Ag0 phase on the electrode surface.
This is a preview of subscription content, log in to check access.
Access options
Buy single article
Instant access to the full article PDF.
US$ 39.95
Price includes VAT for USA
Subscribe to journal
Immediate online access to all issues from 2019. Subscription will auto renew annually.
US$ 199
This is the net price. Taxes to be calculated in checkout.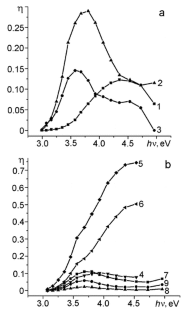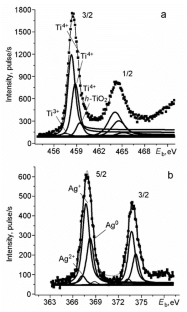 References
1.

A. P. Shpak, O. M. Korduban, T. V. Krishchuk, and M. M. Medveds'kii, Metallofiz. Noveish. Tekhnol., 29, No. 4, 507-513 (2007).

2.

E. Manuilov, Y. Gnatyuk, V. S. Vorobets, et al., NATO Science for Peace and Security, Ser. C: Environmental Security, P. Innocenti, Yu. L. Zub, and V. G. Kessler (eds.), Springer, Dordrecht (2008), pp. 427-433.

3.

G. Ya. Kolbasov, V. S. Vorobets, A. M. Korduban, et al., Zh. Prikl. Khim., 79, No. 4, 605-610 (2006).

4.

N. Smirnova, Yu. Gnatyuk, A. Eremenko, et al., Int. J. Photoenergy, No. 1, Article ID 85469, 224-229 (2006).

5.

D. Briggs and M. P. Seach, Practical Surface Analysis by Auger and X-Ray Photoelectron Spectroscopy, John Wiley & Sons, Chichester-New York (1983).

6.

Yu. Ya. Gurevich and Yu. V. Pleskov, Photoelectrochemistry of Semiconductors [in Russian], Nauka, Moscow (1983).

7.

C. Wagner, W. Riggs, L. Davis, et al., Handbook of X-Ray Photoelectron Spectroscopy, Perkin-Elmer, Eden-Prairie, MN 55344 USA (1989).

8.

K. Koči, K. Matějů, and L. Obalová, Appl. Catal. B, 96, Nos. 3/4, 239-244 (2010).

9.

N. Bowering, D. Croston, P. G. Harrison, and G. S. Walker, Int. J. Photoenergy, No. 1, Article ID 90752 (2007).

10.

H. Sung-Suh, J. Choi, H. Hah, et al., J. Photochem. Photobiol. A, 163, 37-44 (2004).

11.

V. Subramanian, E. Wolf, and P.-V. Kamat, J. Phys. Chem. B, 105, 11439-11448 (2001).
Additional information
Translated from Teoreticheskaya i Éksperimental'naya Khimiya, Vol. 48, No. 1, pp. 34-37, January-February, 2012.
About this article
Cite this article
Vorobets, V.S., Korduban, A.M., Kolbasov, G.Y. et al. Photoelectrochemical properties of TiO2 films obtained by electrical explosion. Theor Exp Chem 48, 38–42 (2012). https://doi.org/10.1007/s11237-012-9239-9
Received:

Published:

Issue Date:
Key words
titanium dioxide

electrical explosion of wires

photocurrent spectra