Ab initio calculations were used in a detailed study of chemical bonding and electronic structure of the recently discovered superconducting tetragonal phase Ca10(Pt4As8)(Fe2As2)5 (TC 25 K). The Ca10(Pt4As8)(Fe2As2)5 phase is metal-like, mainly due to the Fe3d states of the (Fe2As2)5 blocks. The electronic spectrum of the (Pt4As8) blocks is similar to a semi-metal with very low density of states at the Fermi level. Chemical bonding in Ca10(Pt4As8)(Fe2As2)5 may be described as a mixture of anisotropic contributions of covalent, ionic, and metallic interatomic and inter-block interactions.
This is a preview of subscription content, log in to check access.
Access options
Buy single article
Instant access to the full article PDF.
US$ 39.95
Price includes VAT for USA
Subscribe to journal
Immediate online access to all issues from 2019. Subscription will auto renew annually.
US$ 199
This is the net price. Taxes to be calculated in checkout.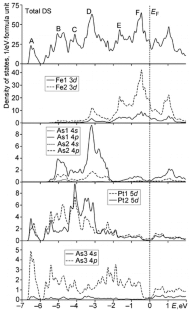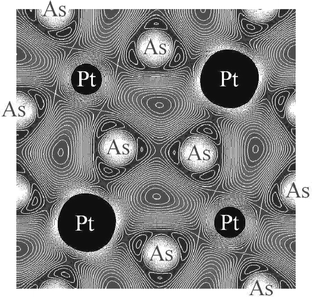 References
1.

Y. Kamihara, T. Watanabe, M. Hirano, and H. Hosono, J. Am. Chem. Soc., 130, 3296–3299 (2008).

2.

M. V. Sadovskii, Physics-Uspekhi, 51, 1201–1228 (2008).

3.

A. L. Ivanovskii, Physics-Uspekhi, 51, 1229–1260 (2008).

4.

Yu. A. Izyumov and E. Z. Kurmaev, Physics-Uspekhi, 51, 1261–1287 (2008).

5.

Z. A. Ren and Z. X. Zhao, Adv. Mater., 21, 4584–4592 (2009).

6.

P. M. Aswathy, J. B. Anooja, P. M. Sarun, and U. Syamaprasad, Supercond. Sci. Technol., 23, Art. 073001 (2010).

7.

D. C. Johnston, Adv. Phys., 59, 803–1061 (2010).

8.

A. L. Ivanovskii, Physica C, 471, 409–427 (2011).

9.

N. Ni, J. M. Allred, B. C. Chan, and R. J. Cava, arXiv:1106.02111 (preprint, June, 2011).

10.

C. Löhnert, T. Stürzer, M. Tegel, et al., arXiv:1107.5320 (preprint, July 26, 2011); Angew. Chem. Intern. Ed., DOI:10.1002/anie.201104436.

11.

S. Kakiya, K. Kudo, Y. Nishikubo, et al., arXiv:1108.0029 (preprint, August 2, 2011).

12.

K. Kudo, Y. Nishikubo, and M. Nohara, J. Phys. Soc. Jpn., 79, Art. 123710 (2010).

13.

I. A. Nekrasov and M. V. Sadovskii, JETP Lett., 92, 751–755 (2010).

14.

I. R. Shein and A. L. Ivanovskii, Phys. Rev. B, 83, Art. 104501 (2011).

15.

P. Blaha, K. Schwarz, G. K. H. Madsen, et al., An Augmented Plane Wave Plus Local Orbitals Program for Calculating Crystal Properties, Vienna University of Technology, Vienna, Austria (2001).

16.

J. P. Perdew, S. Burke, and M. Ernzerhof, Phys. Rev. Lett., 77, 3865–3868 (1996).

17.

P. E. Blochl, O. Jepsen, and O. K. Anderson, Phys. Rev. B, 49, 16223–16231 (1994).

18.

R. F. W. Bader, Atoms in Molecules: A Quantum Theory, International Series of Monographs on Chemistry, Clarendon Press, Oxford (1990).
Additional information
This work was supported by the Russian Basic Research Fund (Project No. 10-03-96008).
Translated from Teoreticheskaya i Éksperimental'naya Khimiya, Vol. 47, No. 5, pp. 279-282, September-October, 2011.
About this article
Cite this article
Shein, I.R., Ivanovskii, A.L. Ab initio study of the nature of the chemical bond and electronic structure of the layered phase Ca10(Pt4As8)(Fe2As2)5 as a parent system in the search for new superconducting iron-containing materials. Theor Exp Chem 47, 292–295 (2011). https://doi.org/10.1007/s11237-011-9217-7
Received:

Published:

Issue Date:
Key words
Ca10(Pt4As8)(Fe2As2)5

electronic properties

chemical bond

ab initio calculations