Abstract
A new chigger mite species, Schoutedenichia microcebi n. sp. is described from the grey mouse lemur Microcebus murinus (J.F. Miller) from Madagascar. The new species is closely related to S. dutoiti (Radford, 1948), a species described from a single specimen collected on a rodent in South Africa. Examination of the holotype and new material on S. dutoiti from South Africa enabled us to re-describe this species and provide new data on its hosts and geographical distribution.
This is a preview of subscription content, log in to check access.
Access options
Buy single article
Instant unlimited access to the full article PDF.
US$ 39.95
Price includes VAT for USA
Subscribe to journal
Immediate online access to all issues from 2019. Subscription will auto renew annually.
US$ 199
This is the net price. Taxes to be calculated in checkout.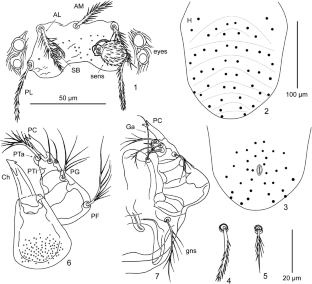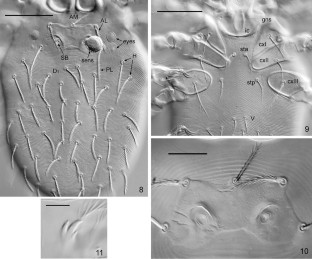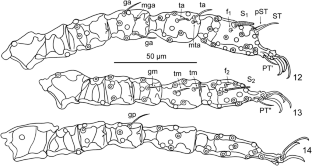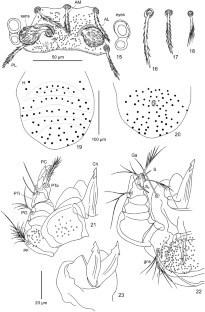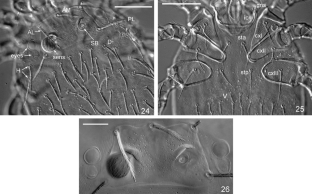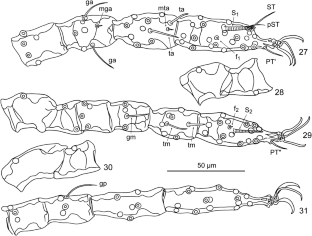 References
Domrow, R., & Lester, L. N. (1985). Chiggers of Australia (Acari: Trombiculidae): An annotated checklist, keys and bibliography. Australian Journal of Zoology, Supplementary Series, 114, 1–111.

Goff, M. L., Loomis, R. B., Welbourn, W. C., & Wrenn, W. J. (1982). A glossary of chigger terminology (Acari: Trombiculidae). Journal of Medical Entomology, 19, 221–238.

Kessler, S. E., Radespiel, U., Hasiniaina, A., Leliveld, L., Nash, L. T., Zimmermann, E., et al. (2014). Modeling the origins of mammalian sociality: Moderate evidence for matrilineal signatures in mouse lemur vocalizations. Frontiers in Zoology, 11, 14.

Kessler, S. E., Radespiel, U., Hasiniaina, A. I. F., Nash, L. T., & Zimmermann, E. (2018). Does the grey mouse lemur use agonistic vocalisations to recognise kin? Contributions to Zoology, 87, 261–274.

Klein, A., Zimmermann, E., Radespiel, U., Schaarschmidt, F., Springer, A., & Strube, C. (2018). Ectoparasite communities of small-bodied Malagasy primates: Seasonal and socioecological influences on tick, mite and lice infestation of Microcebus murinus and M. ravelobensis in northwestern Madagascar. Parasites & Vectors, 11, 459.

Krantz, G. W. (1978). A manual of acarology (2nd ed.). Corvallis: Oregon State University Book Stores.

Kudryashova, N. I. (1998). Chigger Mites (Acariformes, Trombiculidae) of the East Palaearctic. (In Russian). Moscow: KMK Scientific Press.

Radford, C. D. (1948). New larval mites (Acarina: Trombiculidae and Leeuwenhoekidae) from African hosts. Journal of Zoology, 118, 213–222.

Stan Fernandes S. J., & Kulkarni, S. M. (2003). Studies on the trombiculid mite fauna of India. Records of the Zoological Survey of India, Occasional Paper 212.

Stekolnikov, A. A. (2018). Taxonomy and distribution of African chiggers (Acariformes, Trombiculidae). European Journal of Taxonomy, 395, 1–233.

Stekolnikov, A. A., & Fain, A. (2004). A new genus and four new species of chigger mites (Acari Trombiculidae) from Madagascar. Belgian Journal of Entomology, 6, 337–352.

Stekolnikov, A. A., & Matthee, S. (2019). Six new and one little known species of chigger mites (Acariformes: Trombiculidae) from South Africa. Systematic & Applied Acarology, 24, 435–466.

Stekolnikov, A. A., Saboori, A., Shamsi, M., & Hakimitabar, M. (2019). Chigger mites (Acariformes: Trombiculidae) of Iran. Zootaxa, 4549, 1–66.

Vercammen-Grandjean, P. H. (1958). Revision du genre Schoutedenichia Jad. et Verc. Annales du Musée Royal du Congo Belge, Serie in 8, 65, 1–103.

Vercammen-Grandjean, P. H. (1965). Trombiculinae of the World Synopsis with Generic, Subgeneric, and Group Diagnoses (Acarina, Trombiculidae). San Francisco: George Williams Hooper Foundation.

Vercammen-Grandjean, P. H., & Watkins, S. G. (1965). Schoutedenichia gigantica and S. tiptoni, two new and extraordinary species from Madagascar (Acarina: Trombiculidae). Acarologia, 7, 683–694.

Wharton, G. W., & Fuller, H. S. (1952). A manual of the chiggers. Memoirs of the Entomological Society of Washington, 4, 1–185.

Zimmermann, E., Cepok, S., Rakotoarison, N., Zietemann, V., & Radespiel, U. (1998). Sympatric mouse lemurs in north-west Madagascar: A new rufous mouse lemur species (Microcebus ravelobensis). Folia Primatologica, 69, 106–114.
Acknowledgements
We are grateful to the Malagasy government, Ministère de l'Environnement, de l'Ecologie, et des Forêts, and Madagascar National Parks (MNP) for their permission to work in the Ankarafantsika National Park. We would like to thank Professor Solofonirina Rasoloharijaona, Professor Blanchard Randrianambinina and the Faculté des Sciences, Université de Mahajanga for assistance and training. We also thank Jean de la Croix and Johnny Kennedy for their guide services in the park. The reserve manager (Manyeleti), field and technical assistants and postgraduate students are thanks for their help and support during fieldwork in Mpumalanga Province, South Africa. We are grateful to Jan Beccaloni, curator of the collection of Arachnida at NHM, for her valuable assistance during the visit of A.A. Stekolnikov to the Museum. The first author appreciates his wife, Victoria A. Stekolnikova (ZIN), for her skilled help in slide preparation. Sadly, our co-author Elke Zimmermann passed away during the process of publishing the article. We will forever keep the memory of her as an outstanding researcher on Malagasy wildlife.
Funding
This work was funded by the Russian Foundation for Basic Research (grant number 16-04-00145-a, to A.A. Stekolnikov); PEO Scholar Award, NSF Dissertation Improvement Grant (#0961779), Lewis and Clark Fund of the American Philosophical Society, the Animal Behaviour Society, Sigma Xi (National Chapter, grant #G2009101504), Sigma Xi (Arizona State University chapter), American Society of Primatologists, Arizona State University School of Human Evolution and Social Change, the Arizona State University Graduate and Professional Student Association (to S.E. Kessler); Stellenbosch University and the National Research Foundation (South Africa) (grant number GUN 85718, to S. Matthee); and the University of Veterinary Medicine Hannover (to A.F. Hasiniaina, U. Radespiel, and E. Zimmermann).
Ethics declarations
Conflict of interest
The authors declare that they have no conflict of interests.
Ethical approval
The study was approved by Madagascar National Parks (2010 permits: N102/10/MEF/ SG/DGF/DCB.SAP /SCBSE, N103/10/MEF/SG/DGF/DCB.SAP/ SCBSE; 2011 permits: N101/11/MEF/SG/DGF /DCB.SAP/SCB, N102/11/MEF/SG/DGF/DCB.SAP/SCB) and the Arizona State University Institutional Animal Care and Use Committee (Protocol: 10-1077R). Fieldwork in Mpumalanga was approved by Mpumalanga Tourism and Parks Agency (permit number ES 5/14), Department of Agriculture, Forestry and Fisheries (Reference number 12/11/1/7/5) and the Animal Ethics Committees of Stellenbosch University (Reference number SU-ACM11- 00004) and Pretoria University (Reference number V046-14).
Additional information
Publisher's Note
Springer Nature remains neutral with regard to jurisdictional claims in published maps and institutional affiliations.
This article was registered in the Official Register of Zoological Nomenclature (ZooBank) as E5FF7DCC-6728-492C-B374-5F1FAF4A8C94. This article was published as an Online First article on the online publication date shown on this page. The article should be cited by using the doi number. This is the Version of Record.
This article is part of the Topical Collection Arthropoda.
About this article
Cite this article
Stekolnikov, A.A., Kessler, S.E., Matthee, S. et al. A new species of Schoutedenichia Jadin & Vercammen-Grandjean, 1954 from Madagascar and a re-description of S. dutoiti (Radford, 1948) from South Africa (Acariformes: Trombiculidae). Syst Parasitol 96, 703–713 (2019). https://doi.org/10.1007/s11230-019-09877-5
Received:

Accepted:

Published:

Issue Date: