Abstract
Metadelphis tkachi n. sp. is described based on material from the gall-bladder of Molossus molossus (Pallas) (Chiroptera: Molossidae) in the Brazilian eastern Amazon. The main differentiating characters of the new species include lobed, tandem testes and elongated clusters of vitelline follicles commencing at the level of the seminal receptacle. The new species can be distinguished from Metadelphis lenti (Santos & Gibson, 1998) and Metadelphis apharyngotrema (Marshall & Miller, 1979) by the shape and position of the testes; from Metadelphis evandroi Travassos, 1944 by having tandem, lobed testes and shorter clusters of vitelline follicles; from Metadelphis compactus Travassos, 1955 by having tandem testes and more elongated clusters of vitelline follicles, and from Metadelphis alverangai Travassos, 1955 by having smaller testes and body, and vitellarium with large follicles. New morphological data are reported for M. lenti based on light and scanning electron microscopy; intraspecific variation was observed.
This is a preview of subscription content, log in to check access.
Access options
Buy single article
Instant access to the full article PDF.
US$ 39.95
Price includes VAT for USA
Subscribe to journal
Immediate online access to all issues from 2019. Subscription will auto renew annually.
US$ 199
This is the net price. Taxes to be calculated in checkout.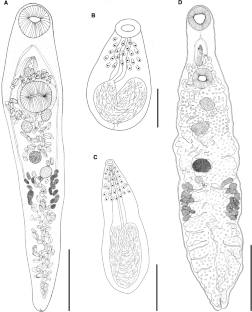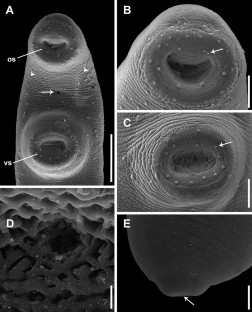 References
Cifrian, B., & Garcia-Corrales, P. (1988). Scanning electron microscopy of adult Dicrocoelium dendriticum. Parasitology Research, 74, 235–242.

Haley, J. (1962). Role of host relationships in the systematics of helminth parasites. Journal of Parasitology, 48, 671–678.

ICZN. (2012). International Commission on Zoological Nomenclature: Amendment of articles 8, 9, 10, 21 and 78 of the International Code of Zoological Nomenclature to expand and refine methods of publication. Bulletin of Zoological Nomenclature, 69, 161–169.

Marshall, M. E., & Miller, G. C. (1979). Some digenetic trematodes from Ecuadorian bats including five new species and one new genus. Journal of Parasitology, 65, 909–917.

Pojmańska, T. (2008). Family Dicrocoeliidae Looss, 1899. In: Bray, R. A., Gibson, D. I. & Jones, A. (Eds), Keys to the Trematoda, Vol. 3. Wallingford: CABI Publishing, pp. 233–260.

Santos, C. P., & Gibson, D. I. (1998). Apharyngotrema lenti n. sp., a new anenterotrematid trematode from the gall-bladder of some Amazonian bats, with comments on Anenterotrema Stunkard, 1938 and Apharyngotrema Marshall & Miller, 1979. Systematic Parasitology, 41, 149–156.

Tkach, V. V., Achatz, T. J., Hildebrand, J., & Greiman, S. E. (2018). Convoluted history and confusing morphology: Molecular phylogenetic analysis of dicrocoeliids reveals true systematic position of the Anenterotrematidae Yamaguti, 1958 (Platyhelminthes, Digenea). Parasitology International, 67, 501–508.

Tkach, V. V., & Bray, R. A. (1995). Prosolecithus danubica n. sp. (Digenea: Dicrocoeliidae), a new digenean from shrews on islands of the Danube delta. Parasite, 2, 133–140.

Travassos, L. (1944). Revisão da familia Dicrocoeliidae Odhner, 1910. Instituto Oswaldo Cruz Rio de Janeiro: Monografias do Instituto Oswaldo Cruz, 357 pp.

Travassos, L. (1955). Sobre dois novos Dicrocoeliidae de Chiroptera. Academia Brasileira de Ciências, 27, 558–565.
Acknowledgements
We thank the Brazilian Federal Agency for the Support and Evaluation of Graduate Education (CAPES) for the scholarship granted to TFF and the Brazilian National Council for Scientific and Technological Development (CNPQ) for the productivity grant awarded to JNS. We are also grateful to Dr Elane Giese for allowing access to the Laboratory of Animal Embryology and Histology of Universidade Rural da Amazônia (Federal Rural University of Amazonia), Belém, Brazil, and for the technical support for the SEM analyses. We thank Thayse Cristine Melo Benathar for help in identifying the bats and Yuri Willkens Oliveira Costa, Hernando Andres Muñoz Carrillo, David Marçal Fernandez Conga and Emanuelle Gabriela Gualberto de Argolo, for assistance with the bat sampling and necropsies. This study is part of the PhD thesis of TFF as part of the Postgraduate Programme in the Biology of Infectious and Parasitic Agents (ICB-UFPA).
Funding
This study was supported by the CAPES Foundation, the Ministry of Education of Brazil (grant CAPES-PARASITOLOGIA BASICA/2010) and the National Council for Scientific and Technological Development (CNPq) (CNPq Research grant productivity to JNS and FTVM). PROPESP-UFPA supported the costs for preparation of this manuscript.
Ethics declarations
Conflict of interest
The authors declare that they have no conflicts of interest.
Ethical approval
All applicable institutional, national and international guidelines for the care and use of animals were followed. The sedation and necropsy procedures of the hosts followed vertebrate care protocols authorised by the Chico Mendes Institute for Biodiversity Conservation (ICMBio) under the licenses SISBIO No. 56638-1 and No. 9178-1 and by the Animal Research Ethics Committee, Universidade Federal do Pará, under license Nº 6319260717 CEUA/UFPA.
Additional information
Publisher's Note
Springer Nature remains neutral with regard to jurisdictional claims in published maps and institutional affiliations.
This article was registered in the Official Register of Zoological Nomenclature (ZooBank) as C2FB8484-4224-4035-9B70-9522C35A66FE. This article was published as an Online First article on the online publication date shown on this page. The article should be cited by using the doi number. This is the Version of Record.
This article is part of the Topical Collection Digenea.
About this article
Cite this article
Fernandes, T.F., dos Santos, A.N., Furtado, A.P. et al. A new species of Metadelphis Travassos, 1944 (Digenea: Dicrocoeliidae) from the gall-bladder of Molossus molossus (Pallas) (Chiroptera: Molossidae) in the Brazilian eastern Amazon. Syst Parasitol 96, 617–624 (2019). https://doi.org/10.1007/s11230-019-09869-5
Received:

Accepted:

Published:

Issue Date: