Abstract
A new species of Kiluluma Skrjabin, 1916, Kiluluma ornata n. sp., is described from the intestine of the white rhinoceros Ceratotherium simum (Burchell) from South Africa. The new species is virtually identical with a species described as Kiluluma sp., but not named due to a paucity of material then available. The new species most closely resembles K. solitaria Thapar, 1924 and K. ceratotherii Beveridge & Jabbar, 2013, in the possession of an undulating anterior margin of the buccal capsule but differs in the leaf crown elements which have bulbous, lip-like expansions, which are lacking in K. solitaria and K. ceratotherii.
This is a preview of subscription content, log in to check access.
Access options
Buy single article
Instant access to the full article PDF.
US$ 39.95
Price includes VAT for USA
Subscribe to journal
Immediate online access to all issues from 2019. Subscription will auto renew annually.
US$ 199
This is the net price. Taxes to be calculated in checkout.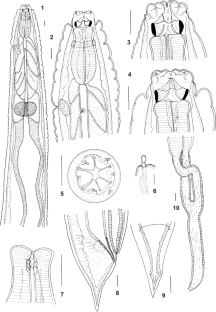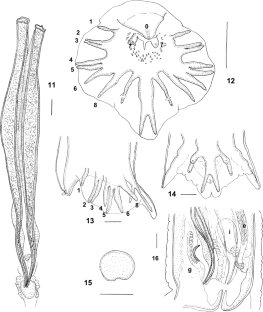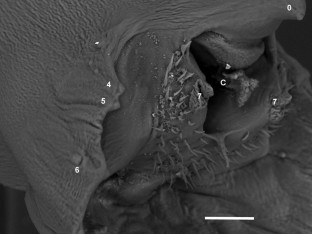 References
Beveridge, I. (1987). The systematic status of Australian Strongyloidea (Nematoda). Bulletin du Muséum National d'Histoire Naturelle, Paris, Série, 4(9), 107–126.

Beveridge, I., & Jabbar, A. (2013). New species of Kiluluma Skrjabin, 1926 (Nematoda: Strongylida) from the white rhinoceros Ceratotherium simium (Burchell), with a redescription of K. solitaria Thapar, 1924. Systematic Parasitology, 85, 131–145.

Chabaud, A. G., Puylaert, F., Bain, O., Petter, A. J., & Durette-Desset, M.-C. (1970). Remarques sur l'homologie entre les papilles cloacales des Rhabditides et les côtes dorsales des Strongylida. Comptes Rendus Hebdomadaire des Séances de l'Académie des Sciences, 271, 1771–1774.

ICZN (2012). International Commission on Zoological Nomenclature: Amendment of articles 8, 9, 10, 21 and 78 of the International Code of Zoological Nomenclature to expand and refine methods of publication. Bulletin of Zoological Nomenclature, 69, 161–169.

Knapp, S. E., Krecek, R. C., Horak, I. G., & Penzhorn, B. L. (1997). Helminths and arthropods of black and white rhinoceroses in southern Africa. Journal of Wildlife Diseases, 33, 492–502.

Mönnig, H. O. (1927). Helminthological notes. 11th and 12th Report of the Director of Veterinary Education and Research. Pretoria: Department of Agriculture, Union of South Africa, pp 221–226.

Sandground, J. H. (1933). Two new helminths from Rhinoceros sondaicus. Journal of Parasitology, 19, 192–204.

Skrjabin, K. I. (1916). Parasitic trematodes and nematodes collected by the expedition of Prof. V. Dogiel and I. Sokolov in British East Africa. Scientific Reports of the zoological expedition to British East Africa and Uganda by Prof. V. Dogiel and I. Sokolov in 1914, 1(4), 1–157.

Taylor, E. L. (1925). The genus Kiluluma. Annals of Tropical Medicine and Parasitology, 19, 53–55.

Thapar, G. S. (1924). On Kiluluma Skriabin, a genus of strongylid nematodes parasitic in the African rhinoceros. Journal of Helminthology, 2, 209–238.

Thapar, G. S. (1925). On some new members of the genus Kiluluma from the African rhinoceros. Journal of Helminthology, 3, 63–80.

Travassos, L. (1929). Contribuição ao conhecimento dos Strongyloidea parasitos do Tapirus americanus. Memórias do Instituto Oswaldo Cruz, 22, 135–144.

Yorke, W., & Maplestone, P. A. (1926). The nematode parasites of vertebrates. London: Churchill & Sons, 536 pp.
Acknowledgements
Thanks are due to Dr K. Junker, National Collection of Animal Helminths, ARC - Onderstepoort Veterinary Institute, Pretoria, South Africa for providing the specimens for study and to Eileen Harris (BMNH) for access to their collections and for accessioning the new material.
Ethics declarations
Conflict of interest
The author declares that he has no conflict of interest.
Ethical approval
All applicable institutional, national and international guidelines for the care and use of animals were followed.
Additional information
This article was registered in the Official Register of Zoological Nomenclature (ZooBank) as urn:lsid:zoobank.org:pub:0DF3DA55-449D-4439-8E8A-DC1FD7B1122E. This article was published as an Online First article on the online publication date shown on this page. The article should be cited by using the doi number. This is the Version of Record.
This article is part of the Topical Collection Nematoda.
About this article
Cite this article
Beveridge, I. A new species of Kiluluma Skrjabin, 1916 (Nematoda: Strongyloidea) from the white rhinoceros, Ceratotherium simum (Burchell) from South Africa. Syst Parasitol 95, 841–847 (2018). https://doi.org/10.1007/s11230-018-9812-2
Received:

Accepted:

Published:

Issue Date: