Abstract
Neocosmocercella fisherae n. sp. is the first nematode species found parasitising Phyllomedusa bicolor from the Brazilian Amazon Region. The new species has a triangular oral opening, with bi-lobed lips, and is distinguished from N. bakeri (triangular oral opening with simple lips), and from N. paraguayensis (hexagonal oral opening with bi-lobed lips). Additionally, the new species has ciliated cephalic papillae, which are absent in the other species of the genus. The reduced uterine sac and the presence of a single egg in the uterus in females are the main morphological characters that differentiate the new species from its congeners N. bakeri (8–10 eggs) and N. paraguayensis (10 eggs, based on the allotype). Additionally, the new species differs from the other two species of the genus by morphometric characters such as the size of spicules and gubernaculum in males and the vagina in females. Until now, phyllomedusid anurans are the only known hosts for the nematodes of this genus. The present work describes the third species of the genus and the first species of nematode parasitising P. bicolor.
This is a preview of subscription content, log in to check access.
Access options
Buy single article
Instant access to the full article PDF.
US$ 39.95
Price includes VAT for USA
Subscribe to journal
Immediate online access to all issues from 2019. Subscription will auto renew annually.
US$ 199
This is the net price. Taxes to be calculated in checkout.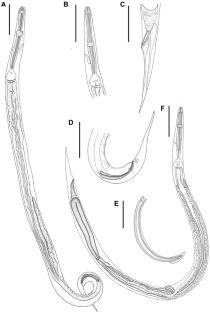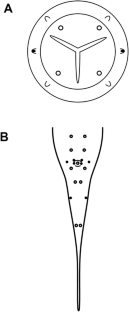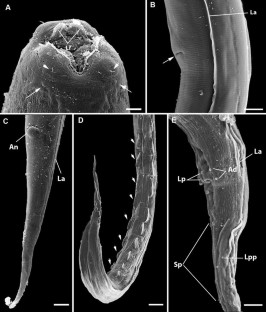 References
Anderson C. R., Chabaud G. A., & Willmott, S. (2009). Keys to the Nematode Parasites of Vertebrates. Archival volume. Wallingford, UK: CAB International, 463 pp.

Baker, M. R., & Vaucher, C. (1983). Parasitic Helminths from Paraguay IV: Cosmocercoid Nematodes from Phyllomedusa hypochondrialis (Daudin) (Amphibia: Hylidae). Revue Suisse Zoologie, 90, 325–334.

Campião, K. M., Morais, D. H., Dias, O. T., Aguiar, A., Toledo, G. M., Tavares, L. E. R., et al. (2014). Checklist of helminth parasites of amphibians from South America. Zootaxa, 3843, 1–93.

Chabaud, A. G. (1978). Keys to genera of the superfamilies Cosmocercoidea, Seuratoidea, Heterakoidea and Subuluroidea. CIH keys to the nematode parasites of vertebrates. Vol. 6. Farnham Royal, Bucks, UK: Commonwealth Agricultural Bureaux.

Draghi, R., Drago, F. B., & Lunaschi, L. I. (2015). First report of the genus Neocosmocercella Baker and Vaucher, 1983 (Nematoda: Cosmocercidae) parasitizing amphibians from Argentina. Revista Argentina de Parasitología, 3, 12–15.

Fahel, J. (1952). Fauna Helmintológica das "Gias" de Salvador (Leptodactylus pentadactylus (Laur.)). Anais da Academia Brasileira de Ciências, 24, 389–436.

Feitosa, L. A. N., Furtado, A. P., Santos, J. N., & Melo, F. T. V. (2015). A new species of Kentropyxia Baker, 1982 parasitic in the small intestine of Osteocephalus taurinus Steindachner (Anura: Hylidae) from the Brazilian Eastern Amazon. Systematic Parasitology, 92, 251–259.

Frost, D. R. (2017). Amphibian Species of the World: an online reference. Version 6.0. American Museum of Natural History, New York, USA. http://research.amnh.org/vz/herpetology/amphibia. Accessed 13 May 2017.

Gibbons, L. M. (2010). Keys to the nematode parasites of vertebrates. Suplementary volume. Wallingford, UK: CABI Publishing, 416 pp.

Hodda, M. (2011). Phylum Nematoda Cobb 1932. In: Zhang, Z-Q. (Ed.). Animal biodiversity: an outline of higher-level classification and survey of taxonomic richness. Zootaxa, 3148, 63–95.

Lima, A. P., Magnusson, W. E., Menin, M., Erdtmann, L. K., Rodrigues, D. J., Keller, C., & Hödl, W. (2005). Guia de Sapos da Reserva Adolpho Ducke, Amazônia Central. Manaus: Áttema Design Editorial, 108 pp.

Santos, A. N., Rodrigues, A. R. O., Santos, J. N., González, C. E., & Melo, F. T. V. (2017). A new species of Neocosmocercella Baker & Vaucher, 1983 (Nematoda: Cosmocercidae), a parasite of Phyllomedusa vaillantii Boulenger (Anura: Phyllomedusidae) in the Caxiuanã National Forest, Eastern Amazon, Brazil. Systematic Parasitology, 94, 505–510.

Santos, J. N., Giese, E. G., Maldonado, A., Jr., & Lanfredi, R. M. (2008). A new species of Oswaldocruzia (Molineidae: Nematoda) in Chaunus marinus (Amphibian: Bufonidae) (Linneaus, 1758) from Brazil. Journal of Parasitology, 94, 264–268.

Vicente, J. J., Rodrigues, H. O., Gomes, D. C., & Pinto, R. M. (1990). Nematóides do Brasil. 2a parte: Nematóides de anfíbios. Revista Brasileira de Zoologia, 7, 549–626.
Acknowledgements
We are grateful to Lilian Cristina Macedo for collecting the hosts and parasites; we appreciate the help of Yuri Wilkens and Adriano Penha Furtado on the schematic drawing, too. We are also thankful to Dr Elane Giese for granting access to the Laboratory of Animal Embryology and Histology of the Federal Rural University of Amazonia and for scanning electron microscopy analyses and to Dr Cristina Salgado and Lic. Cecilia Galíndez, from "Servicio de Microscopía Electrónica de Barrido", Universidad Nacional del Nordeste, Corrientes, Argentina for assistance in scanning electron microscopy analyses. We would like to thank Keya Weekes for English revision. This study is part of the master's dissertation of Ana Nunes dos Santos from the Post-Graduation Program in Biology of Infectious and Parasitic Agents /ICB-UFPA.
Funding
The financial support for this study was provided by "Parasitologia Básica 2010" (CAPES); Productivity Scholarship (CNPQ) to JNS.
Ethics declarations
Conflict of interest
The authors declare that they have no conflict of interest.
Ethical approval
All applicable institutional, national and international guidelines for the care and use of animals were followed. Host specimens were collected under permits 0004/06 NUC SUPES PA, project "Biodiversity survey of the herpetofauna according to the Research Program on PPBIO eastern Amazonia" and SISBIO 32660-1, project "Amphibian and reptile diversity and associated helminth parasites in the Amazon region".
Additional information
This article was registered in the Official Register of Zoological Nomenclature (ZooBank) as CAA0C09E-9F1C-455E-86B9-158059F9871F. This article was published as an Online First article on the online publication date shown on this page. The article should be cited by using the doi number. This is the Version of Record.
This article is part of the Topical Collection Nematoda.
About this article
Cite this article
dos Santos, A.N., de Oliveira Rodrigues, A.R., dos Santos Rocha, F.J. et al. Neocosmocercella fisherae n. sp. (Nematoda: Cosmocercidae), a parasite of the large intestine of Phyllomedusa bicolor (Boddaert) (Anura: Phyllomedusidae) from the Brazilian Amazon. Syst Parasitol 95, 293–300 (2018). https://doi.org/10.1007/s11230-017-9770-0
Received:

Accepted:

Published:

Issue Date: