Abstract
A new microcotylid, Tinrovia mamaevi n. sp. (Monogenea: Polyopisthocotylea), is described from the gills of Notacanthus bonaparte Risso (Notacanthiformes: Notacanthidae), sampled in the Western Mediterranean and North East Atlantic. This species is allocated to the subfamily Syncoelicotylinae Mamaev & Zubchenko, 1978 due to the possession of a symmetrical haptor with two separate frills. The clamps in T. mamaevi n. sp. are of the "microcotylid" type, arranged in two distinct lateral haptoral frills; the genital atrium and the copulatory organ are armed and the vaginal pore is unarmed. The new species differs from the type- and only species of the genus, T. papiliocauda Mamaev, 1987, in having a shorter and narrower haptor with a smaller number of clamps. Clamps are also smaller in the new species, testes are more numerous, the genital atrium is smaller, divided into two lateral lobes (instead of five) with a smaller number of spines and the eggs have a short and a long filament (instead of two short filaments). The host species and locality of T. mamaevi n. sp. also differ as T. papiliocauda which was recorded in Notacanthus sexspinis Richardson from the South Pacific.
This is a preview of subscription content, log in to check access.
We're sorry, something doesn't seem to be working properly.
Please try refreshing the page. If that doesn't work, please contact support so we can address the problem.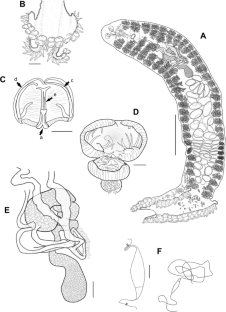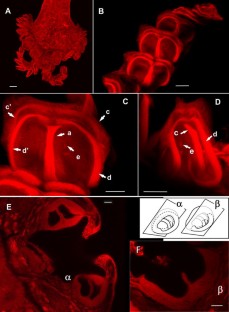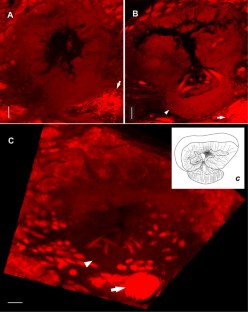 References
Ahuir-Baraja, A. E., Padrós, F., Palacios-Abella, J. F., Raga, J. A., & Montero, F. E. (2015). Accacoelium contortum (Trematoda: Accacoeliidae) a trematode living as a monogenean: morphological and pathological implications. Parasites & Vectors, 8, 1–11.

Boeger, W. A., & Kritsky, D. C. (1993). Phylogeny and a revised classification of the Monogenoidea Bychowsky, 1937 (Platyhelminthes). Systematic Parasitology, 26, 1–32.

Bray, R. A., Littlewood, D. T. J., Herniou, E. A., Williams, B., & Henderson, R. E. (1999). Digenean parasites of deep-sea teleosts: a review and case studies of intrageneric phylogenies. Parasitology, 119, 125–144.

Campbell, R. A., Haedrich, R. L., & Munroe, T. A. (1980). Parasitism and ecological relationships among deep-sea benthic species. Marine Biology, 57, 301–313.

Carrassón, M., & Matallanas, J. (2002). Feeding strategies of Polyacanthonotus rissoanus (Pisces: Notacanthidae) in the deep western Mediterranean. Journal of the Marine Biological Association of the United Kingdom, 82, 665–671.

CCME - Canadian Council of Ministers of the Environment (2011). Protocols Manual for Water Quality Sampling in Canada. 2011. pp. 180. Available at: http://www.ccme.ca/files/Resources/water/water_quality/protocols_document_e_final_101.pdf. Accessed on 21st February 2017.

Coggan, R. A., Gordon, J. D. M., & Merrett, N. R. (1998). Abundance, distribution, reproduction and diet of notacanthid fishes from the north-east Atlantic. Journal of Fish Biology, 52, 1038–1057.

De Buron, I., & Morand, S. (2004). Deep-sea hydrothermal vent parasites: why do we not find more? Parasitology, 128, 1–6.

Froese, R., & Pauly, D. (Eds) (2016). FishBase. World Wide Web electronic publication. www.fishbase.org, version (10/2016).

Georgiev, B., Biserkov, V., & Genov, T. (1986). In toto staining method for cestodes with iron acetocarmine. Helminthologia, 23, 279–281.

Hayward, C. (2005). Chapter 3: Helminth parasites. In: Rohde, K. (Ed.), Marine Parasitology. Collingwood, Victoria: CSIRO Publishing, 592 pp.

ICZN (2012). International Commission on Zoological Nomenclature: Amendment of articles 8, 9, 10, 21 and 78 of the International Code of Zoological Nomenclature to expand and refine methods of publication. Zootaxa, 3450, 1–7.

Macpherson, E. (1981). Resource partitioning in a Mediterranean demersal fish community. Marine Ecology Progress Series, 4, 183–193.

Mamaev, Y. L. (1986). The taxonomical composition of the family Microcotylidae. Taschenberg, 1879 (Monogenea). Folia Parasitologica, 33, 199–206.

Mamaev, Y. L. (1987). [Some new and insufficiently known monogeneans from the family Microcotylidae. In: Mamaev, Y. L. (Ed.) Helminths and diseases caused by them.] Vladivostok: Biologo-Pochvennyi Institut, Akademiya Nauk USSR, pp. 13–25 (In Russian).

Mamaev, Y. L., & Brashovian P. P. (1989). [Syncoelicotyloides macruri gen. et sp. n. - the first representative of the subfamily Syncoelidotylinae (Microcotylidae, Monogenea) from macruriform fishes.] Parazitologiya, 23, 532–536 (In Russian).

Mamaev, Y. L., & Zubchenko, A. V. (1978). [Two new genera of higher monogeneans from the North Atlantic.] Zoologicheskii Zhurnal, 57, 1131–1139 (In Russian).

Mundy, B. C., Cole, K., Chave, E. H., & Moffitt, R. B. (2011). Two deep-sea spiny eels, Notacanthus abbotti and Lipogenys gillii (Albuliformes: Notacanthidae), from the Hawaiian Archipelago and Emperor Seamounts with notes on their identification and biogeography. Ichthyological Research, 58, 263–271.

Nelson, J. S. (2006). Fishes of the World. 4th edition. Hoboken, New Jersey: Wiley, 601 pp.

Rohde, K. (2005). Chapter 9: Zoogeography. In: Rohde, K. (Ed.) Marine Parasitology. Collingwood, Victoria: CSIRO Publishing, pp. 348–351..

Rubec, L., & Dronen, N. (1994). Revision of the genus Diclidophora Krøyer, 1838 (Monogenea: Diclidophoridae), with the proposal of Macrouridophora n. g. Systematic Parasitology, 28, 159–185.

Rubec, L. A., Blend, C. K., & Dronen, N. O. (1995). Syncoelicotyloides zaniophori n. sp. (Monogenea: Microcotylidae) from the gills of Coryphaenoides zaniophorus (Macrouridae) from the Gulf of Mexico. Journal of Parasitology, 81, 957–960.

Snyder, S. D., & Clopton, R. E. (2005). New methods for the collection and preservation of spirorchiid trematodes and polystomatid monogeneans from turtles. Comparative Parasitology, 72, 102–107.

Strona, G., Stefani, F., & Galli, P. (2009). Field preservation of monogenean parasites for molecular and morphological analyses. Parasitology International, 58, 51–54.
Acknowledgements
The authors thank the participants and staff on board during the BIOMARE and ANTROMARE oceanographic campaigns for their assistance. We thank the staff of the Central Service for Experimental Research (SCSIE) of the University of Valencia for technical assistance, in particular to Enrique Navarro Raga for his support. We are grateful to Aneta Kostadinova (Institute of Parasitology, Czech Academy of Sciences) for the translation of the Russian publications. We thank two anonymous reviewers and the editor for their constructive criticisms and helpful corrections improving the manuscript.
Funding
This study was supported by the Spanish Ministry of Science and Innovation (MICINN) Projects BIOMARE (CTM2006-13508-C02-01MAR), ANTROMARE (CTM2009-12214-C02-02-MAR). Part of the samples was collected within the frame of the EU LIFE+Project 'INDEMARES: Inventory and designation of marine Natura 2000 areas in the Spanish sea' (07/NAT/E/000732).
Ethics declarations
Conflict of interest
The authors declare that they have no conflict of interest.
Ethical approval
All applicable institutional, national and international guidelines for the care and use of animals were followed.
Additional information
This article was registered in the Official Register of Zoological Nomenclature (ZooBank) as 2833829D-9339-44DF-BC2E-D5BF2E5761A2. This article was published as an Online First article on the online publication date shown on this page. The article should be cited by using the doi number. This is the Version of Record.
This article is part of the Topical Collection Monogenea.
Electronic supplementary material
Below is the link to the electronic supplementary material.
Online Resource 1 Tinrovia mamaevi n. sp. type-material ex Notacanthus bonaparte, confocal laser scanning three-dimensional image of a row of clamps on lateral frill (posterior view). Supplementary material 1 (WMV 3786 kb)
Online Resource 2 Tinrovia mamaevi n. sp. paratype ex Notacanthus bonaparte, consecutive sections of confocal laser scanning micrographs from mouth region. Supplementary material 2 (WMV 3442 kb)
Online Resource 3 Tinrovia mamaevi n. sp. paratype ex Notacanthus bonaparte, confocal laser scanning three-dimensional image of the genital atrium. Supplementary material 3 (WMV 2997 kb)
Online Resource 4 Tinrovia mamaevi n. sp. paratype material ex Notacanthus bonaparte, consecutive sections of confocal laser scanning micrographs from the genital atrium. Supplementary material 4 (WMV 9044 kb)
About this article
Cite this article
Isbert, W., Carrassón, M., Pérez-del-Olmo, A. et al. A new species of Tinrovia Mamaev, 1987 (Monogenea: Microcotylidae) from the deep-sea fish Notacanthus bonaparte Risso (Notacanthiformes: Notacanthidae) in the Western Mediterranean and the North East Atlantic. Syst Parasitol 94, 609–619 (2017). https://doi.org/10.1007/s11230-017-9727-3
Received:

Accepted:

Published:

Issue Date:
Keywords
Copulatory Organ

Posterior Extremity

Vitelline Follicle

Genital Atrium

Reykjanes Ridge