Abstract
Longicollum pagrosomi Yamaguti, 1935 (Acanthocephala: Pomphorhynchidae) collected from the barred knifejaw Oplegnathus fasciatus (Temminck & Schlegel) (Perciformes: Oplegnathidae) in the East China Sea (off Zhoushan Islands) was studied using light and scanning electron microscopy. The SEM observations revealed for the first time the presence of about 28 well-developed sensory papillae arranged in a circle on the copulatory bursa. In addition, L. pagrosomi was characterised using molecular methods by sequencing of the internal transcribed spacer (ITS) of the ribosomal DNA based on the newly collected material. Longicollum pagrosomi is the first species of the genus with the ITS region sequenced for the purpose of species identification. These new morphological and molecular data contributed to a reliable and accurate specific identification and differentiation of species.
This is a preview of subscription content, log in to check access.
Access options
Buy single article
Instant access to the full article PDF.
US$ 39.95
Price includes VAT for USA
Subscribe to journal
Immediate online access to all issues from 2019. Subscription will auto renew annually.
US$ 199
This is the net price. Taxes to be calculated in checkout.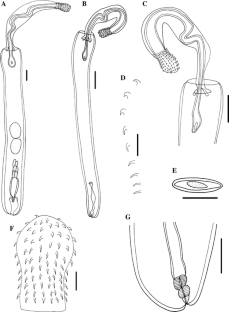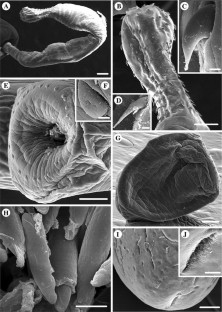 References
Alcàntar-Escalera, F. J., García-Varela, M., Vàzquez-Domínguez, E., & Pérez-Ponce de León, G. (2013). Using DNA barcoding to link cystacanths and adults of the acanthocephalan Polymorphus brevis in central Mexico. Molecular Ecology Resources, 13, 1116–1124.

Amin, O. M. (2013). Classification of the Acanthocephala. Folia Parasitologica, 60, 273–305.

Amin, O. M., Bauer, O. N., & Sidorov, G. (1991). The description of Paralongicollum nemacheili n. gen., n. sp. (Acanthocephala: Pomphorhynchidae) from freshwater fishes in Kazakh S.S.R. Journal of Parasitology, 77, 26–31.

Amin, O. M., Evans, R. P., Boungou, M., & Heckmann, R. (2016). Morphological and molecular description of Tenuisentis niloticus (Meyer, 1932) (Acanthocephala: Tenuisentidae) from Heterotis niloticus (Cuvier) (Actinopterygii: Arapaimidae), in Burkina Faso, with emendation of the family diagnosis and notes on new features, cryptic genetic diversity and histopathology. Systematic Parasitology, 93, 173–191.

Amin, O. M., Evans, P., Heckmann, R. A., & El-Naggar, A. M. (2013). The description of Mediorhynchus africanus n. sp. (Acanthocephala: Gigantorhynchidae) from galliform birds in Africa. Parasitology Research, 112, 2897–2906.

Brown, A. F. (1987). Anatomical variability and secondary sexual characteristics in Pomphorhynchus laevis (Müller, 1776) (Acanthocephala). Systematic Parasitology, 9, 213–219.

García-Varela, M., Aznar, F. J., Rodríguez, R. P., & Pérez-Ponce de León, G. (2012). Genetic and morphological characterization of Southwellina hispida Van Cleave, 1925 (Acanthocephala: Polymorphidae), a parasite of fish-eating birds. Comparative Parasitology, 79, 192–201.

Kim, S.-R., Lee, J. S., Kim, H.-J., Oh, M.-J., Kim, C.-S., Park, M. A., et al. (2011). Fine structure of Longicollum pagrosomi (Acanthocephala: Pomphorhynchidae) and intestinal histopathology of the red sea bream, Pagrus major, infected with acanthocephalans. Parasitology Research, 109, 175–184.

Král'ová-Hromadová, I., Tietz, D. F., Shinn, A. P., & Spakulová, M. (2003). ITS rDNA sequences of Pomphorhynchus laevis (Zoega in Müller, 1776) and P. lucyi Williams & Rogers, 1984 (Acanthocephala: Palaeacanthocephala). Systematic Parasitology, 56, 141–145.

Malyarchuk, B., Derenko, M., Mikhailova, E., & Denisova, G. (2014). Phylogenetic relationships among Neoechinorhynchus species (Acanthocephala: Neoechinorhynchidae) from North-East Asia based on molecular data. Parasitology International, 63, 100–107.

Oğuz, M. C., & Kvach, Y. (2006). Occurrence of acanthocephalans in Teleost fishes of Gemlik Bay, Sea of Marmara, Turkey. Helminthologia, 43, 103–108.

Tkach, V. V., Lisitsyna, O. I., Crossley, J. L., Binh, T. T., & Bush, S. E. (2013). Morphological and molecular differentiation of two new species of Pseudoacanthocephalus Petrochenko, 1958 (Acanthocephala: Echinorhynchidae) from amphibians and reptiles in the Philippines, with identification key for the genus. Systematic Parasitology, 85, 11–26.

Wang, Y.-Y., Wang, P.-Q., & Wu, D.-H. (1993). On some Echinorhynchoidea parasites from marine fishes of Fujian Province, China. Wuyi Science Journal, 10, 29–39 (In Chinese, English summary).

Yamaguti, S. (1935). Studies on the helminth fauna of Japan. Part 8. Acanthocephala. I. Japanese Journal of Zoology, 6, 247–278.

Yamaguti, S. (1939). Studies on the helminth fauna of Japan. Part 29. Acanthocephala II. Japanese Journal of Zoology, 13, 317–351.

Yasumoto, S., & Nagasawa, K. (1996). Possible life cycle of Longicollum pagrosomi, an acanthocephalan parasite of cultured red sea bream. Fish Pathology, 31, 235–236.
Acknowledgements
The authors wish to thank Dr. Takashi Iwaki (Meguro Parasitology Museum, Tokyo, Japan) and Dr. Hideo Hasegawa (Faculty of Medicine, Oita University, Oita, Japan) for providing useful literature.
Ethics declarations
Conflict of interest
The authors declare that they have no conflict of interest.
Ethical approval
All applicable institutional, national and international guidelines for the care and use of animals were followed.
About this article
Cite this article
Li, L., Yang, Y. & Zhang, L. Morphological and molecular study of Longicollum pagrosomi Yamaguti, 1935 (Acanthocephala: Pomphorhynchidae) from the barred knifejaw Oplegnathus fasciatus (Temminck & Schlegel) (Perciformes: Oplegnathidae) in the East China Sea. Syst Parasitol 94, 255–261 (2017). https://doi.org/10.1007/s11230-016-9689-x
Received:

Accepted:

Published:

Issue Date:
Keywords
Internal Transcribe Spacer

Cement Gland

Trunk Length

Posterior Testis

Sensory Papilla