Abstract
This paper describes two new species of Cotingacola Carriker, 1956, C. lutzae n. sp. and C. engeli n. sp., from the cinereous mourner Laniocera hypopyrra (Vieillot) and black-necked red cotinga Phoenicircus nigricollis Swainson (Aves: Passeriformes: Cotingidae), respectively. These species are fully illustrated and compared with their morphologically closest relatives. With the addition of these two new species, this Neotropical chewing louse genus now includes ten species. We also present records from Brazil for two previously described species, C. stotzi Clayton & Price, 1998 and C. parmipapillae Carriker, 1956. The re-examination of a specimen identified as 'Cotingacola sp.' in a recent phylogenetic study confirmed that it is C. parmipapillae and that Querula purpurata (Statius Müller) regularly hosts two Cotingacola species, which means that at least three cotingid hosts carry more than one species of Cotingacola. We comment on the variability in the host-specificity of Cotingacola species.
This is a preview of subscription content, log in to check access.
Access options
Buy single article
Instant access to the full article PDF.
US$ 39.95
Price includes VAT for USA
Subscribe to journal
Immediate online access to all issues from 2019. Subscription will auto renew annually.
US$ 199
This is the net price. Taxes to be calculated in checkout.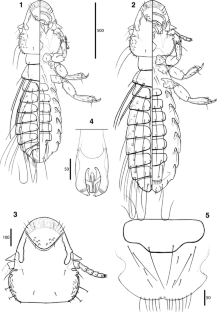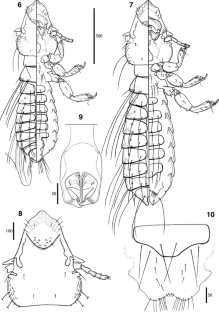 References
Bueter, C., Weckstein, J. D., Johnson, K. P., Bates, J. M., & Gordon, C. E. (2009). Comparative phylogenetic histories of two louse genera found on Catharus thrushes and other birds. Journal of Parasitology, 95, 295–307.

Carriker, M. A., Jr. (1956). Estudios sobre Mallophaga Neotropicales (XIV) (Piojos de las Cotingidae). Revista Academia Colombiana de Ciencias Exactas, Físicas y Naturales, 9, 365–380.

Carriker, M. A., Jr. (1963). New and little known Mallophaga from Venezuelan birds (Part II). Memoria Sociedad de Ciencias Naturales La Salle, 23, 5–42.

Clayton, D. H., & Price, R. D. (1998). Taxonomic review of Cotingacola (Phthiraptera: Philopteridae) from the cotingas (Passeriformes: Tyrannidae), with descriptions of two new species. Journal of Medical Entomology, 35, 732–739.

Dickinson, E. C. (2003). The Howard & Moore complete checklist of the birds of the world. (3rd Ed.) Princeton, NJ: Princeton University Press, 1056 pp.

Johnson, K. P., Malenke, J. R., & Clayton, D. H. (2009). Competition promotes the evolution of host generalists in obligate parasites. Proceedings of the Royal Society of London B, 276, 3921–3926.

Johnson, K. P., Weckstein, J. D., Bush, S. E., & Clayton, D. H. (2011). The evolution of host specificity in dove body lice. Parasitology, in press.

Johnson, K. P., Weckstein, J. D., Witt, C. C., Faucett, R. C., & Moyle, R. G. (2002). The perils of using host relationships in parasite taxonomy: Phylogeny of the Degeeriella complex. Molecular Phylogenetics and Evolution, 23, 150–157.

Palma, R. L. (1978). Slide mounting of lice: a detailed description of the Canada balsam technique. New Zealand Entomologist, 6, 432–436.

Price, R. D., Hellenthal, R. A., & Palma, R. L. (2003). World checklist of chewing lice with host associations and keys to families and genera. In: Price, R. D., Hellenthal, R. A., Palma, R. L., Johnson, K. P., & Clayton, D. H. (Eds.) The chewing lice: world checklist and biological overview. Champaign, IL: Illinois Natural History Survey Special Publication, pp. 1–448.

Price, R. D., & Weckstein, J. D. (2005). The genus Austrophilopterus Ewing (Phthiraptera: Philopteridae) from toucans, toucanets, and araçaris (Piciformes: Ramphastidae). Zootaxa, 918, 1–18.

Price, R. D., & Weckstein, J. D. (2006). Picicola Clay and Meinertzhagen (Phthiraptera: Philopteridae) from jacamars and puffbirds (Piciformes: Galbulidae, Bucconidae), with descriptions of five new species. Zootaxa, 1367, 37–50.

Swofford, D. L. (2003). PAUP*: Phylogenetic analysis using parsimony (*and other methods), version 4.0b10. Sunderland, MA: Sinauer.

Valim, M. P., Teixeira, R. H. F., Amorim, M., & Serra-Freire, N. M. (2005). Malófagos (Phthiraptera) recolhidos de aves silvestres no Zoológico de São Paulo, SP, Brasil. Revista Brasileira de Entomologia, 49, 584–587.

Valim, M. P., & Weckstein, J. D. (2011). Two new species of Brueelia Kéler, 1936 (Ischnocera, Philopteridae) parasitic on Neotropical trogons (Aves, Trogoniformes). Zookeys, 128, 1–13.

Weckstein, J. D. (2004). Biogeography explains cophylogenetic patterns in toucan chewing lice. Systematic Biology, 53, 154–164.
Acknowledgements
We thank Alexandre Aleixo (Museu Paraense Emílio Goeldi, Belém, Brazil), Shannon Hackett and John Bates (Field Museum of Natural History, Chicago, USA) for their support and assistance during fieldwork and/or the collection of the data presented herein. We also thank the Field Museum Insect Division, including Margaret Thayer, Daniel Summers and James Boone, for their advice and access to the Field Museum of Natural History collection, Floyd Shockley for access to and loan of type-specimens in the National Museum of Natural History collection, Dale Clayton and Sarah Bush for access to Cotingacola DNA voucher specimens held in the Price Institute of Phthirapteran Research, University of Utah and Petra Sierwald, who made her National Science Foundation - Partnerships for Enhancing Expertise in Taxonomy funded microscope available for our use. This work was supported in part by the Conselho Nacional de Desenvolvimento Científico e Tecnológico, Brazil, with a postdoctoral fellowship 200453/2010-6 to MPV, the National Science Foundation DEB-0515672 and DEB-1120054 to JDW, and the Field Museum's Emerging Pathogens Project, funded by the Davee Foundation and the Dr Ralph and Marian Falk Medical Research Trust. DNA sequencing was carried out at the Field Museum's Pritzker Laboratory for Molecular Systematics and Evolution, which is operated with the support of the Pritzker Foundation.
About this article
Cite this article
Valim, M.P., Weckstein, J.D. Two new species of Cotingacola Carriker, Phthiraptera: Ischnocera: Philopteridae) from Amazonian Brazil, with comments on host-specificity. Syst Parasitol 81, 159–167 (2012). https://doi.org/10.1007/s11230-011-9334-7
Received:

Accepted:

Published:

Issue Date:
Keywords
Head Length

Male Genitalia

Tergite VIII

Chewing Louse

Male Holotype