Abstract
Angiostoma margaretae n. sp. (Angiostomatidae) is described from the oesophagus of the slug Milax gagates Draparnaud collected near Caledon in the Western Cape Province of South Africa. The new species closely resembles another parasite of a milacid slug, A. milacis Ivanova & Wilson, 2009, with a similar head, stoma and spicule shape, the presence of distally outstretched ovaries, coiled oviducts, the same number of caudal papillae and enlarged rectal glands. However, A. margaretae differs from the latter by having: a shorter, wider tail with a rounded vs pointed tip; the distal parts of both ovaries with a particular hook-like shape due to an expansion closely following the short initial zone; ovoviparous females; and a different arrangement of male papillae. A. margaretae is comparable with A. limacis Dujardin, 1845, A. asamati (Spiridonov, 1985), A. coloaense (Pham Van Luc, Spiridonov & Wilson, 2005) and A. stammeri (Mengert, 1953), which have a similar stoma shape and size, but can be readily differentiated by the presence of distally outstretched vs reflexed ovaries and the presence vs lack of enlarged rectal glands. The new species has a similar arrangement of the ovaries to A.kimmeriense Korol & Spiridonov, 1991 and A. zonitidis Ivanova & Wilson, 2009, but is clearly differentiated by the lack of an off-set lip region and presence of a large bowl-shaped vs tubular stoma and less numerous male caudal papillae (seven pairs vs nine in A.kimmeriense and 10 in A. zonitidis).
This is a preview of subscription content, log in to check access.
Access options
Buy single article
Instant access to the full article PDF.
US$ 39.95
Price includes VAT for USA
Subscribe to journal
Immediate online access to all issues from 2019. Subscription will auto renew annually.
US$ 199
This is the net price. Taxes to be calculated in checkout.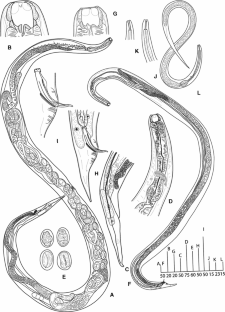 References
Barker, G. M. (1999). Naturalised terrestrial Stylommatophora (Mollusca: Gastropoda). Fauna of New Zealand, No. 38. Canterbury, New Zealand: Manaaki Whenua Press, 254 pp.

Bursey, C. R., & Goldberg, S. R. (2000). Angiostoma onychodactyla sp. n. (Nematoda, Angiostomatidae) and other intestinal helminths of the Japanese clawed salamander, Onychodactylus japonicus (Caudata: Hynobiidae) from Japan. Comparative Parasitology, 67, 60–65.

Bursey, C. R., & Manire, C. A. (2006). Angiostoma carettae n. sp. (Nematoda: Angiostomatidae) from the loggerhead sea turtle Caretta caretta (Testudines: Cheloniidae), Florida, U.S.A. Comparative Parasitology, 73, 253–256.

Chitwood, B. G. (1933). On some nematodes of the superfamily Rhabditoidea and their status as parasites of reptiles and amphibians. Journal of the Washington Academy of Science, 23, 508–520.

Coleman, C. O. (2003). "Digital inking": How to make perfect line drawings on computers. Organisms, Diversity and Evolution 3, Electronic Supplement, 14, 1–14.

Falcón-Ordaz, J., Mendoza-Garfias, B., Windfield-Pérez, J. C., Parra-Olea, G., & Pérez Ponce de Leon, G. (2008). Angiostoma lamotheargumedoi n. sp. (Nematoda: Angiostomatidae) from the intestine of Pseudoeurycea mixteca (Caudata: Plethodontidae) in central Mexico. Revista Mexicana de Biodiversidad, 79, 107–112.

Ivanova, E. S., & Wilson, M. J. (2009). Two new species of Angiostoma Dujardin, 1845 (Nematoda: Angiostomatidae) from British terrestrial molluscs. Systematic Parasitology, 74, 113–124.

Ivanova, E. S., & Spiridonov, S. E. (2010). Angiostoma glandicola sp. n. (Nematoda: Angiostomatidae): a parasite in the land snail Megaustenia sp. from the Cat Tien Forest, Vietnam. Journal of Helminthology, 84, 297–304.

Morand, S. (1986). Angiostoma aspersae sp. n. (Nematoda, Angiostomaidae) parasite de Helix aspersa Müller (Gastropda, Helicidae). Bulletin du Museum National d'Histoire Naturelle, Paris, 11, 111–115.

Pham Van Luc, Spiridonov, S. E., & Wilson, M. J. (2005). Aulacnema monodelphis n. g., n. sp. and Angiostoma coloaense n. sp. (Nematoda: Rhabditida: Angiostomatidae) from terrestrial molluscs of Vietnam. Systematic Parasitology, 60, 91–97.

Ross, J. L., Ivanova, E. S., Severns, P. M., & Wilson, M. J. (2010a). The role of parasite release in invasion of the USA by European slugs. Biological Invasions, 12, 603–610.

Ross, J. L., Ivanova, E. S., Spiridonov, S. E., Waeyenberge, L., Moens, M., Nicol, G. W., & Wilson, M. J. (2010b). Molecular phylogeny of slug-parasitic nematodes inferred from 18S rRNA gene sequences. Molecular Phylogenetics and Evolution, 55, 738–743.

Seinhorst, J. W. (1959). A rapid method for the transfer of nematodes from fixative to anhydrous glycerine. Nematologica, 4, 67–69.

Smith, V. R. (1992). Terrestrial slug recorded from sub-Antarctic Marion Island. Journal of Molluscan Studies, 58, 80–81.
Acknowledgements
This work was carried out by staff of the University of Aberdeen, University of Stellenbosch and the Russian Academy of Science. The project was supported by Becker Underwood, the BBSRC, the British Society for Parasitology and RFBR grant nos 08-04-00209 and 09-04-90300. We would like to thank Geoff Tribe, Annelize Lubbe and Willem F. Sirgel for their help with the slug collections.
About this article
Cite this article
Ross, J.L., Malan, A.P. & Ivanova, E.S. Angiostoma margaretae n. sp (Nematoda: Angiostomatidae), a parasite of the milacid slug Milax gagates Draparnaud collected near Caledon, South Africa. Syst Parasitol 79, 71–76 (2011). https://doi.org/10.1007/s11230-011-9294-y
Received:

Accepted:

Published:

Issue Date:
Keywords
Excretory Pore

Anterior Extremity

Western Cape Province

Pharyngeal Length

Terrestrial Mollusc