Abstract
Coprological examinations of eight Ruppell's agamas Agama rueppelli (Vaillant) revealed the presence of a coccidium of the genus Isospora Schneider, 1881 that represents a previously undescribed species. Oöcysts of Isospora farahi n. sp. are spherical or subspherical, 29.1 (26–31) × 28.8 (26–31) μm, with a shape-index of 1.01 (1–1.07). An oöcyst residuum, polar granules and micropyle are absent. The oöcyst wall is bilayered, brownish and smooth, c. 1.5–2 μm thick. The sporocysts are oval, 16.6 (15–18) × 11.4 (11–12) μm, with a shape-index of 1.46 (1.25–1.64) and both Stieda and substieda bodies. A sporocyst residuum is present as medium-sized granules scattered irregularly among the sporozoites. The sporozoites are vermiform, with a large posterior spherical refractile body. Endogenous development is intranuclear in the epithelial cells of the small intestine. Sporulation is unknown, as oöcysts were recovered from the faeces.
This is a preview of subscription content, log in to check access.
Access options
Buy single article
Instant access to the full article PDF.
US$ 39.95
Price includes VAT for USA
Subscribe to journal
Immediate online access to all issues from 2019. Subscription will auto renew annually.
US$ 199
This is the net price. Taxes to be calculated in checkout.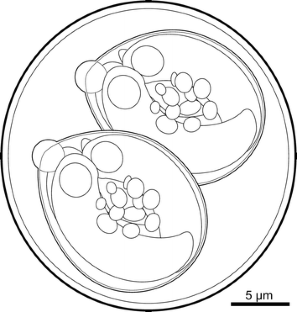 References
Cannon, L. R. G. (1967). New coccidia from Australian lizards. I. Isospora. Parasitology, 57, 227–235.

Finkelman, S., & Paperna, I. (1994). The endogenous development of three new intranuclear species of Isospora (Apicomplexa: Eimeriidae) from agamid lizards. Systematic Parasitology, 27, 213–226.

Jirků, M., Modrý, D., Šlapeta, J. R., Koudela, B., & Lukeš, J. (2002). The phylogeny of Goussia and Choleoeimeria (Apicomplexa; Eimeriorina) and the evolution of excystation structures in coccidia. Protist, 153, 379–390.

Laveran, A., & Petit, A. (1910). Sur une coccidie de Agama colonorum. Comptes Rendus des Sciences de la Société de Biologie (Paris), 68, 161–163.

Mandal, A. K. (1966). A new coccidium Isospora rayi n.sp. from a lizard Ptyctolaemus sp. from Shillong. Science and Culture, 32, 507–508.

Maupin, R. S., Diong, C. H., & Mcquistion, T. E. (1998). Two new coccidian parasites from the grand anglehead lizard, Gonocephalus grandis from Peninsular Malaysia. Journal of Parasitology, 84, 1210–1212.

McAllister, C. T., Upton, S. J., Jacobson, E. R., & Kopit, W. (1995). A description of Isospora amphiboluri (Apicomplexa: Eimeriidae) from the Inland Bearded Dragon, Pogona vitticeps (Sauria: Agamidae). Journal of Parasitology, 81, 281–284.

Ovezmukhammedov, A. (1971). A new coccidia from Phrynocephalus helioscopus Pallas, 1776, caught in Turkmenia: Isospora phrynocephali n.sp. Izvestiya Akademii Nauk Turkmenskoi SSR, Seriya Biologischeskikh Nauk, 5, 77–79.

Ovezmukhammedov, A. (1977). New species Isospora rustamovi sp.n. from the reticulated geckonid (Phrynocephalus reticulatus bannicovi) in Turkmenistan. Izvestiya Akademii Nauk Turkmenskoi SSR, Seriya Biologischeskikh Nauk, 6, 67–68.

Paperna, I., & Landsberg, J. H. (1989). Description and taxonomic discussion of eimerian coccidia from African and Levantine geckoes. South African Journal of Zoology, 24, 345–355.

Paperna, I., & Finkelman, S. (1998). The fine structure of reptilian Isospora species with intranuclear endogenous development. Parassitologia, 40, 283–296.

Prasad, H. (1960). Studies on some coccidian parasites of vertebrate animals. PhD Dissertation, London School of Hygiene and Tropical Medicine, 349 pp.

Reichenow, E. (1921). Die Coccidien. In: von Provazek, S. J. M. (Ed.) Handbuch der Pathogenen Protozoen. Leipzig: Verlag von Johann Ambrosius Barth, pp. 1136–1277.

Rogier, E., & Colley, F. (1976). Description d' Isospora caryophila n.sp. parasite d'un agamide de Malaisie peninsulaire. Protistologica, 12, 369–373.

Saum, L. P., Diong, C. H., & Mcquistion, T. E. (1997). Isospora lacertae: A new coccidian parasite (Apicomplexa: Eimeriidae) from the oriental garden lizard, Calotes versicolor (Squamata: Agamidae) from Singapore. Acta Protozoologica, 36, 143–145.

Spawls, S., Howell, K., Drewes, R., & Ashe, J. (2004). A field guide to the reptiles of East Africa. London: A&C Black Publishers, 543 pp.

Zug, G. R., Vitt, L. J., & Caldwell, J. P. (2001). Herpetology. An introductory biology of amphibians and reptiles. San Diego: Academic Press, 630 pp.
Acknowledgements
Research on the diversity of parasites of East African vertebrates was facilitated by Biota East Africa, and we are deeply indebted to Jörn Koehler for generous help. We also thank: Richard Bagine (Kenyan Wildlife Service) for assistance and issuing necessary permits; and Damaris Rotich (National Museums of Kenya) for help with the organisation of the trip and kindly providing necessary laboratory space in Nairobi. This study was, in part, supported by the grant No. 524/03/D104 of the Grant Agency of the Czech Republic and by research project Z60220518 of the BC ASCR.
About this article
Cite this article
Mihalca, A.D., Jirků, M., Malonza, P.K. et al. A new species of Isospora Schneider, 1881 (Apicomplexa: Eimeriidae) in Ruppell's agama Agama rueppelli (Vaillant) (Sauria: Agamidae) from East Africa, with a review of this genus in agamid lizards. Syst Parasitol 74, 219–223 (2009). https://doi.org/10.1007/s11230-009-9209-3
Received:

Accepted:

Published:

Issue Date:
Keywords
Polar Granule

Endogenous Development

Stieda Body

Agamid Lizard

Endogenous Stage