Abstract
Microsomacanthus diorchis (Fuhrmann, 1913) is redescribed and illustrated on the basis of the type-material and new findings from common eider Somateria mollissima captured in Iceland and specimens from the same host species from the Barents, White and Bering Seas. A lectotype is designated and an amended diagnosis is provided. The main differentiating features of M. diorchis are the size and shape of rostellar hooks and the cirrus, the well-marked delay in the antiporal testis development and the bow-shaped uterus. This parasite is shown to be specific to S. mollissima for both Atlantic and Pacific populations of the host. Hymenolepis (Microsomacanthus) somateriae of Bishop & Threlfall (1974) [nec M. somateriae Ryzhikov, 1965] is recognised as a synonym of M. diorchis (Fuhrmann, 1913). The taxonomic position of the species described as Aploparaksis murmanica Baylis, 1919 from common eider is discussed.
This is a preview of subscription content, log in to check access.
Access options
Buy single article
Instant access to the full article PDF.
US$ 39.95
Price includes VAT for USA
Subscribe to journal
Immediate online access to all issues from 2019. Subscription will auto renew annually.
US$ 199
This is the net price. Taxes to be calculated in checkout.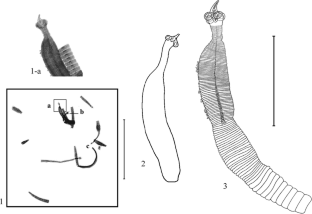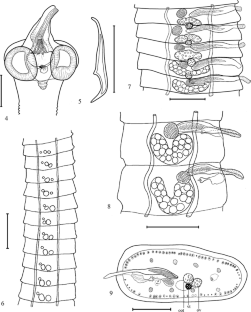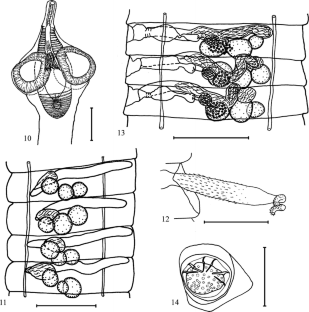 Notes
1.

This is the correct spelling, not 'Eyafjord' as Fuhrmann (1913) noted.
References
Baer, J. G. (1956). Parasitic helminths collected in West Greenland. Meddelelser om Grønland Udgivne af Kommissionen for Videnskabelige Undersøgelser i Grønland, 124, 1–55.

Baer, J. G. (1962). Cestoda. The Zoology of Iceland, 2, 1–63.

Baylis, H. A. (1919). A collection of Entozoa, chiefly from birds, from the Murman Coast. Cestoda. Annals and Magazine of Natural History, Ser. 9, 3, 501–513.

Baylis, H. A. (1939). Further records of parasitic worms from British vertebrates. Annals and Magazine of Natural History, Ser. 11, 4, 473–498.

Belopol'skaja, M. M. (1952). [Parasite fauna of marine waterfowl.] Uchenye Zapiski Leningradskogo Gosudarstvennogo Universiteta, 141, Seriya Biologicheskich Nauk, 28, 127–180 (in Russian).

Bishop, C. A., & Threlfall, W. (1974). Helminth parasites of the common eider duck, Somateria mollissima (L.), in Newfoundland and Labrador. Proceedings of the Helminthological Society of Washington, 41, 25–35.

Burt, M. D. B., & McLaughlin, J. D. (1975). On two cestode species, parasites of waterfowl, Hymenolepis diorchis Fuhrmann, 1913 and Diorchis diorchis Baer, 1962. Acta Parasitologica Polonica, 33, 201–205.

Deblock, S., Biguet, J., & Capron, A. (1960). Contribution à l'étude des cestodes de Lari des côtes de France. I. Le genre Hymenolepis. Annales de Parasitologie Humaine et Comparée, 35, 538–574.

Fuhrmann, O. (1913). Nordische Vogelcestoden aus dem Museum von Göteborg. Meddelanden från Göteborgs Musei Zoologiska Avdelning, Afd. 1, 1–41.

Galkin, A. K., Galaktionov, K. V., & Marasaev, S. F. (1999). [The occurrence of Microsomacanthus ductilis (Cestoda: Hymenolepididae) in eider ducks of Franz Joseph Land.]. Parazitologiya, 33, 113–117 (in Russian).

Galkin, A. K., Regel, K. V., & Mariaux, J. (2006). Redescription and new data on Microsomacanthus jaegerskioeldi (Fuhrmann, 1913) (Cestoda, Hymenolepididae). Systematic Parasitology, 64, 1–11.

Galkin, A. K., Regel, K. V., & Skirnisson, K. (2005). Study of Somateria mollissima parasite fauna: Species of the genus Microsomacanthus (Cestoda, Hymenolepididae). Bulletin of the Scandinavian-Baltic Society for Parasitology, 14, 58–59.

Krabbe, H. (1869). Bidrag til Kundskab om Fuglenes Bændelorme. Kjøbenhavn: Biologiske Skrifter: Ræk. 5, Afd. 8, Bd. 5, 120 pp.

Kuklin, V. V., & Kuklina, M. M. (2005). [Helminths of birds of the Barents Sea: Fauna, ecology, impact on the hosts.] Apatity: Kol'skiy Nauchniy Zentr Rossiyskoy Akademii Nauk, 290 pp. (in Russian).

Kulachkova, V. G. (1958). [Ecological and parasitological survey of parasite fauna of eider duck of Kandalaksha Bay]. Trudy Kandalakschskogo Gosudarstvennogo Zapovednika, 1, 103–160 (in Russian).

Kulachkova, V. G. (1979). [Helminths as the death factor of common eider in the Kandalaksha Bay top]. In A. A. Kistchinsky (Ed.), Ecologiya i morfologiya gag v SSSR (pp. 119–125). Moscow: Nauka (in Russian).

Ryšavý, B., & Sitko, J. (1992). Tapeworms (Cestoda) of birds from Moravia (Czech and Slovak Federal Republic). Acta Scientiarum Naturalium Academiae Scientiarum Bohemoslovacae, 26, Nova Series, 6–7, 1–93.

Ryzhikov, K. M. (1965). [Three new cestodes from the anserine birds of Chukotka: Microsomacanthus minimus nov. sp., M. borealis nov. sp., M. somateriae nov. sp. Cyclophyllidea, Hymenolepididae)]. Trudy Gel'mintologicheskoy Laboratorii Akademii Nauk SSSR, 15, 132–139 (in Russian).

Spassky, A. A. (1963). [Hymenolepidids – tapeworms of wild and domestic birds.] Osnovy Tsestodologii (Vol. 2, 420 pp.). Moscow: Izdatel'stvo Akademii Nauk SSSR (in Russian).

Uspenskaja, A. V. (1963). [Parasite fauna of benthic crustaceans of Barents Sea]. Moscow – Leningrad: Izdatel'stvo Akademii Nauk SSSR, 128 pp. (in Russian).
Acknowledgements
The authors gratefully acknowledge Dr K.V. Galaktionov of the Zoological Institute, Russian Academy of Sciences, St Petersburg, and Dr V.V. Kuklin of the Murmansk Marine Biological Institute, who provided the material collected from eider ducks on Franz Josef Land and the Murman Coast for this study. This study was supported by the Muséum d'Histoire Naturelle de Genève.
About this article
Cite this article
Galkin, A.K., Mariaux, J., Regel, K.V. et al. Redescription and new data on Microsomacanthus diorchis (Fuhrmann, 1913) (Cestoda: Hymenolepididae). Syst Parasitol 70, 119–130 (2008). https://doi.org/10.1007/s11230-008-9134-x
Received:

Accepted:

Published:

Issue Date:
Keywords
Seminal Receptacle

Common Eider

Hook Length

Female Gland

Osmoregulatory Canal