Abstract
Data-base searches of records of the helminth parasites of South American and African freshwater fishes revealed only two pairs of species from genera endemic to the two regions. One pair, species of the primitive amphilinid cestode genus Nesolecithus Dönges & Harder, 1966, has already been designated as likely Gondwana relicts. The second pair are the philometrid nematodes Nilonema gymnarchi Khalil, 1960 from Gymnarchus niloticus Cuvier (Gymnarchidae) in Africa and N. senticosum (Baylis, 1922) from the South American fish Arapaima gigas (Cuvier) (Arapaimidae). Both species are partly redescribed on the basis of light and scanning electron microscopical observations of the type-specimens, and their relationships are discussed. In view of the fact that both hosts are basal teleosts of the order Osteoglossiformes and they are the same two fish which harbour the amphilinid cestodes already indicated as Gondwana relics, the nematode pair is also deemed to be relictual. However, these species are suggested as being of limited potential value for calibrating a molecular clock.
This is a preview of subscription content, log in to check access.
Access options
Buy single article
Instant access to the full article PDF.
US$ 39.95
Price includes VAT for USA
Subscribe to journal
Immediate online access to all issues from 2019. Subscription will auto renew annually.
US$ 199
This is the net price. Taxes to be calculated in checkout.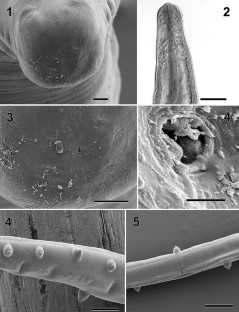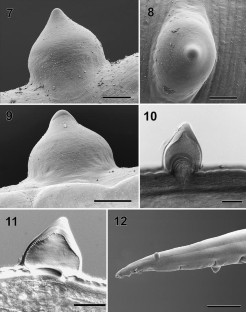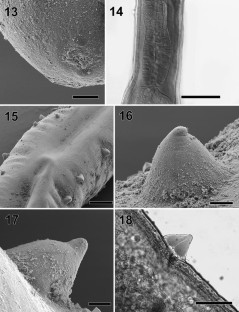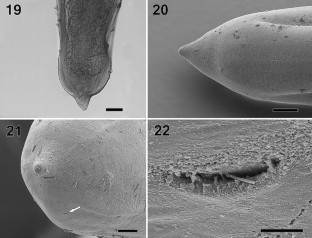 References
Bain, O., Kouyaté, B., & Baker, M. (1982). Nouvelles donnés sur les Oswaldofilariinae (Filarioidea, Nematoda). Bulletin du Muséum d'Histoire Naturelle, Paris, 4A(1–2), 61–69.

Bain, O. (2002). Evolutionary relationships among filarial nematodes. In: T. R. Klei, & T. V. Rajan (Eds.), World class parasites, Vo. 5. The Filaria (pp. 21–29). Boston: Kluwer Academic Publishers.

Baylis, H. A. (1927). Some parasitic worms from Arapaima gigas (teleostean fish) with a description of Philometra senticosa n. sp. (Filarioidea). Parasitology, 19, 35–47.

Chabaud, A. G. (1975). Keys to genera of the Order Spirurida. Part 1. Camallanoidea, Dracunculoidea, Gnathostomatoidea, Physalopteroidea, Rictularioidea and Thelazioidea. In: R. C. Anderson, A. G. Chabaud, & S. Willmot (Eds.), CIH keys to the nematode parasites of vertebrates, No. 3 (pp. 27). Farnham Royal: CAB.

Egusa, S. (1992). Infectious diseases of fish (pp. 996). Rotterdam: A.A. Balkema.

Gibson, D. I., Bray, R. A., & Powell, C.B. (1987). Aspects of the life history and origins of Nesolecithus africanus (Cestoda: Amphilinidea). Journal of Natural History, 21, 785–794.

Goldblatt, P. (1993). Biological relationships between Africa and South America: an overview. In P. Goldblatt (Ed.), Biological relationships between Africa and South America (pp. 3–34). New Haven and London: Yale University Press.

Gusev, A. V. (1978). [Monogenoidea of freshwater fishes. Principles of systematics, analysis of world fauna and its evolution.] Parazitologicheskii Sbornik, 28, 96–198.

Kumazawa, Y., & Nishida, M. (2000). Molecular phylogeny of osteoglossoids: a new model for Gondwanian origin and plate tectonic transportation of the Asian arowana. Molecular Biology and Evolution, 17, 1869–1878.

Khalil, L. F. (1960). On a new nematode, Nilonema gymnarchi gen. et sp. nov., (Dracunculidae), from a freshwater fish in the Sudan. Journal of Helminthology, 34, 55–58.

Maisey, J. G. (2000). Continental break up and the distribution of fishes of western Gondwana during the early Cretaceous. Cretaceous Research, 21, 281–314.

Manter, H. W. (1955). The zoogeography of trematodes of marine fishes. Experimental Parasitology, 4, 62–86.

Manter, H. W. (1963). The zoogeographical affinities of trematodes of South American freshwater fishes. Systematic Zoology, 12, 45–70.

Manter, H. W. (1966). Parasites of fishes as biological indicators of recent and ancient conditions. In J. E. McCauley (Ed.), Host-parasite relationships (pp. 59–71). Corvallis: Oregon State University.

Manter, H. W. (1967). Some aspects of the geographical distribution of parasites. Journal of Parasitology, 53, 1–9.

Moravec, F., Nagasawa, K., & Ogawa, K. (1998). Observations on five species of philometrid nematodes from marine fishes in Japan. Systematic Parasitology, 40, 67–80.

Moravec, F., & Van As, J. G. (2001). Philometroides africanus sp. n. (Nematoda: Philometridae), a new tissue parasite of the African pike Hepsetus odoe (Pisces) in Botswana. Folia Parasitologica, 48, 127–131.

Moravec, F. (2004). Some aspects of the taxonomy and biology of dracunculoid nematodes parasitic in fishes: a review. Folia Parasitologica, 51, 1–13.

Nelson, J. S. (1994). Fishes of the world (pp. 600). New York: John Wiley & Sons.

Rasheed, S. (1963). A revision of the genus Philometra Costa, 1845. Journal of Helminthology, 37, 89–130.

Travassos, L. (1960). Sobre nematódeos cavitários de peixes do Rio Amazonas. Atas Sociedade de Biologia do Rio de Janeiro, 4, 15–20.
Acknowledgements
We are grateful to the Brazilian Academy of Sciences and The Royal Society of London for financial support, which enabled the senior author to visit the Natural History Museum (NHM) in London. We are grateful to Dr Alex Ball, NHM, for access to the SEM facilities, Dr Martha Richter, NHM, for bibliographic support and Drs Pavel Nikolov and Bokyo Georgiev, BAS, for Russian translations.
About this article
Cite this article
Santos, C.P., Gibson, D.I. Nilonema gymnarchi Khalil, 1960 and N. senticosum (Baylis, 1922) (Nematoda: Dracunculoidea): Gondwana relicts?. Syst Parasitol 67, 225–234 (2007). https://doi.org/10.1007/s11230-006-9080-4
Received:

Accepted:

Published:

Issue Date:
Keywords
Scanning Electron Microscopy Observation

Helminth Parasite

Anterior Extremity

South American Species

Helminth Fauna