Abstract
In this article, the authors investigate error rate (ER) analysis of multi-carrier code-division multiple access (MC-CDMA) for cognitive radio network (CRN) using the pre-coding technique. CRN is a type of frequency-sensitive device in wireless communication which can intellect the idle spectrum availability and assign the spectrum dynamically for mobile communication. The spectrum is subdivided and its sub-band frequency of CRN is used for implementing multi-carrier (MC) communication and generating the spread of code frequency generation. In this work, pre-processing technique using singular value decomposition is considered for alleviation of the effects of interferences arising from secondary users to ensure a reliable link between the base station and the active users. The null space of channel matrix of active interference primary users has been exploited for the formulation of pre-processing matrix. A time–frequency domain signature sequence has been constructed to suppress the adverse effects of adjacent cell interference (ACI) and secondary multi-user interferences (S-MUI). Further, iterative decoder has been implemented for the achievement of better coding gain when the primary users' signals are contaminated by noise. Simulation ER results of CR MC-CDMA with pre-coding technique for Stanford University Interim and Long-term Evolution channels specification has been presented. It is discerned from ER results that coded CR MC-CDMA system established with pre-processing matrix offers robust performance through vindication of ACI and S-MUI effects while retaining a low complexity of primary mobile station for downlink transmission. Additionally, CRN-based MC-CDMA system has been analysed and found to provide an efficient and flexible solution to fulfil the demands of spectrum utilization.
This is a preview of subscription content, log in to check access.
Access options
Buy single article
Instant access to the full article PDF.
US$ 39.95
Price includes VAT for USA
Subscribe to journal
Immediate online access to all issues from 2019. Subscription will auto renew annually.
US$ 199
This is the net price. Taxes to be calculated in checkout.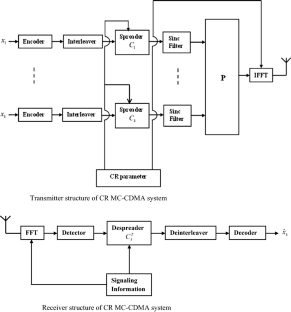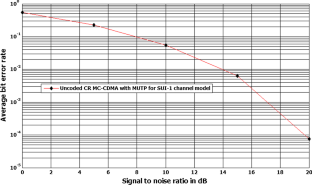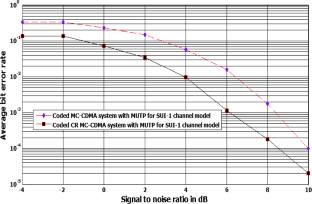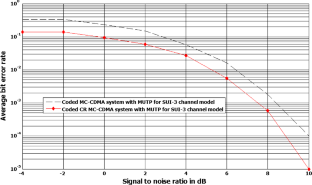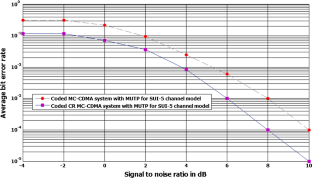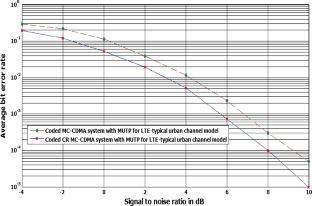 References
1.

Sridharan B, Ravi A, Haribhaskaran AS, Nagaradjane P (2014) Cooperative downlink MC-CDMA System aided by transmitter preprocessing: performance results. In: 21st International Conference on Telecommunications, pp 145–149

2.

Karthipan R, Vishvaksenan KS, Kalidoss R, Krishan A (2016) Performance of turbo coded triply-polarized MIMO-CDMA system for downlink communication. J Comput Electr Eng 56:182–192

3.

Kondo S, Milstein LB (1996) Performance of multicarrier DS CDMA systems. IEEE Trans Commun 44(2):238–246

4.

Zhang R, Hanzo L (2007) Iteratively detected multi-carrier interleave division multiple access. In: International Conference MICROC0LL'07, BUDAPEST, Hungary

5.

Nagaradjane P, Ravichandran S, Srinivasan N, Ravichandran S, Damodaran SP (2013) Cooperative communication-aided multi-carrier code division multiple access downlink transmission with transmitter preprocessing: performance results. IET Commun 2013(7):1915–1924

6.

Partibane B, Nagarajan V, Vishvaksenan KS, Kalidoss R (2015) Performance of multi-user transmitter pre-processing assisted multi-cell IDMA system for downlink transmission. Fluct Noise Lett. https://doi.org/10.1142/s02194775155003032015

7.

Yang LL (2008) A zero-forcing multiuser transmitter preprocessing scheme for downlink communications. IEEE Trans Commun 56:862–865

8.

Rajmohan R, Vishvaksenan KS, Mira M, Subramanian S (2016) Performance of a turbo-coded downlink IDMA system using transmitter pre-processing. Comput Electr Eng 53:385–393

9.

Kim S, Sung W (2014) Operational algorithm for wireless communication systems using cognitive radio. In: 2014 IEEE International Conference on Communication, Networks and Satellite (COMNETSAT)

10.

Xiao J, Ye F, Tian T, Hu RQ (2011) CR enabled TD-LTE within TV white space: system level performance analysis. In: IEEE Global Telecommunications Conference, pp 1–6

11.

Shahrokhand H, Mohamed-Pour K (2009) A new structure for NC-MC-CDMA in cognitive radio networks. In: 9th International Symposium on Communications and Information Technology, pp 653–657

12.

Attar A, Nakhai MR, Aghvami AH (2008) Cognitive radio transmission based on direct sequence MC-CDMA. IEEE Trans Wirel Commun 7(4):1157–1162

13.

Jasbi F, So DKC (2016) Hybrid overlay/underlay cognitive radio network with MC-CDMA. IEEE Trans Veh Technol 65(4):2038–2047

14.

Jasbi F, So DKC, Alsusa E (2013) Hybrid overlay/underlay MC-CDMA for cognitive radio networks with mmse channel equalization. In: IEEE Global Communications Conference (GLOBECOM), pp 1056–1061

15.

Tadrous J, Sultan A, Nafie M (2011) Admission and power control for spectrum sharing cognitive radio networks. IEEE Trans Wirel Commun 10(6):1945–1955

16.

Kabir MA, Kaiser MS (2015) Outage capacity analysis of MC-CDMA based on cognitive radio network. In: 2nd International Conference on Electrical Engineering and Information and Communication Technology (ICEEICT)

17.

Rajabzadeh M, Khoshbin H (2010) Receiver design for downlink MIMO MC-CDMA in cognitive radio systems. In: 21st Annual IEEE International Symposium on Personal, Indoor and Mobile Radio Communications, pp 786–790

18.

Zhou R, Li X, Chakravarthy V, Wu Z (2011) Software defined radio implementation of SMSE based overlay cognitive radio in high mobility environment. In: IEEE Global Telecommunications Conference—GLOBECOM 2011, pp 1–5

19.

Forney G (1966) Concatenated codes. MIT Press, Cambridge

20.

Berrou C, Glavieux A, Thitimajshima P (1993) Near Shannon limit error correcting coding and decoding: turbo codes. In: Proceedings of IEEE ICC, pp 1064–1070

21.

Le Goff S, Glavieux A, Berrou C (1994) Turbo-codes and high spectral efficiency modulation. In: Proceedings of the IEEE International Conference on Commununication, New Orleans, LA, pp 645–649

22.

Benedetto S, Divsalar D, Montorsi G, Pollara F (1995) Bandwidth efficient parallel concatenated coding schemes. Electron Lett 31(24):2067–2069

23.

Robertson P, Worz T (1995) Coded modulation scheme employing turbo codes. Electron Lett 31(18):1546–1547

24.

Benedetto S, Divsalar D, Montorsi G, Pollara F (1997) Serial concatenated trellis coded modulation with iterative decoding. In: IEEE International Symposium on Information Theory, Ulm, Germany

25.

Maucher J, Furrer J (2007) Heise, IEEE Std. 2007. IEEE standard for WIMAX 802.16, Hannover

26.

3GPPP (TR 30.803) (2007) Evolved universal terrestrial radio access (E-UTRA); user equipment (UE) radio transmission and reception (Release 8). Technical specification, Sophia Antipolis, France

27.

Mithra K, Vishvaksenan KS (2017) Performance of coded STBC-IDMA system using polarization diversity for downlink transmission. Clust Comput 20(2):1615–1623
About this article
Cite this article
Kumar, R.D., Vishvaksenan, K.S. Interference cancellation in cognitive radio-based MC-CDMA system using pre-coding technique. J Supercomput 76, 1–15 (2020). https://doi.org/10.1007/s11227-018-2503-6
Keywords
Code-division multiple access (CDMA)

Channel encoder

Minimum mean square error (MMSE)

Orthogonal frequency-division multiplexing (OFDM)

Transmitter pre-coding (TP)

Vector quantization (VQ)

Zero-forcing (ZF)