Abstract
Software-defined wide-area network (SD-WAN) is gaining strong momentum as distributed cloud evolves. The new cloud infrastructure requires novel and innovative network technologies based on virtualization, automated resource (e.g., datacenters, VMs, networks) convergence, ultra-high data-forwarding performance, and strict network security. To meet the demands, this paper suggests a scheme for logically isolated group network for virtual convergence environment and evaluates its performance in terms of virtual network generation performance over the de facto SD-WAN infrastructure deployed on the advanced research network (KREONET), which operates in six distant cities in Korea and the USA.
This is a preview of subscription content, log in to check access.
Access options
Buy single article
Instant access to the full article PDF.
US$ 39.95
Price includes VAT for USA
Subscribe to journal
Immediate online access to all issues from 2019. Subscription will auto renew annually.
US$ 199
This is the net price. Taxes to be calculated in checkout.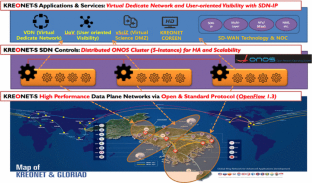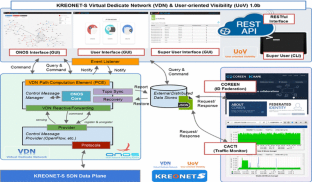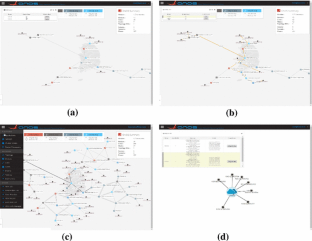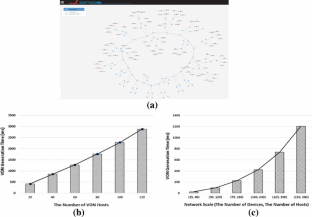 References
1.

What is Software Defined WAN (or SD-WAN)? https://www.sdxcentral.com/sdn/definitions/software-defined-sdn-wan/

2.

Coady Y et al (2015) Distributed cloud computing: applications, status quo, and challenges. ACM SIGCOMM Comput Commun Rev 45(2):38–43

3.

Jain R et al (2013) Network virtualization and software defined networking for cloud computing: a survey. IEEE Commun Mag 51(11):24–31

4.

Garcia Lopez P et al (2015) Edge-centric computing: vision and challenges. ACM SIGCOMM Comput Commun Rev 45(5):37–42

5.

Keegan N et al (2016) A survey of cloud-based network intrusion detection analysis. Hum Cent Comput Inf Sci 6(1):19

6.

Mininet Network Emulator. http://mininet.org/

7.

Official KREONET Website. http://www.kreonet.net

8.

KREONET-S project website. http://www.kreonet-s.net

9.

Kim D et al (2016) Software-defined wide area network adopting virtual dedicate networks. Adv Sci Lett 22(9):2262–2267

10.

KREONET-S implements An SD-WAN connection from South Korea to the StarLight international/national communications exchange facility In Chicago: inaugurating novel advanced international communications services. http://www.startap.net/starlight/PUBLICATIONS/KREONET-S.html

11.

Internet2 web site. http://www.internet2.edu/

12.

Developing Applications with Networking Capabilities via End-to-End SDN web site. https://www.dances-sdn.org/

13.

Open Network Operating System (ONOS) web site. http://onosproject.org/

14.

ESNet web site. https://www.es.net/

15.

AmLight web site. https://www.amlight.net/

16.

Ibarra JG et al (2016) AmLight backbone transition to SDN: celebrating the second anniversary. GLIF Lambda grid workshop 2016, Miami, 26 Sep 2016

17.

GEANT web site (2017). http://www.geant.org/

18.

Mendiola A et al (2017) Towards an SDN-based bandwidth on demand service for the European research community. In: 2017 International Conference on Networked Systems (NetSys), IEEE

19.

COREEN Cloud Service. http://coreen.kreonet.net/

20.

Partnership & Leadership for the nationwide Supercomputing Infrastructure. http://www.plsi.or.kr/

21.

Kim JS et al (2013) HTCaaS: leveraging distributed supercomputing infrastructures for large-scale scientific computing. In: IEEE/ACM 6th Workshop on Many-Task Computing on Clouds, Grids, and Supercomputers (MTAGS'13) Held with SC13

22.

Kim YH et al (2016) A fast algorithm for generating virtual dedicate network based on software-defined wide area network. In: Advances in Computer Science and Ubiquitous Computing. Springer, Singapore, pp 799–805

23.

Tsai JC et al (2013) Cloud-empowered multimedia service: an automatic video storytelling tool. J Converg 4(3):13–19

24.

Salam MI et al (2015) Implementation of searchable symmetric encryption for privacy-preserving keyword search on cloud storage. Hum Cent Comput Inf Sci 5:19
About this article
Cite this article
Kim, D., Kim, Y., Kim, K. et al. Logically isolated group network for virtual convergence environment over SD-WAN. J Supercomput 74, 6742–6752 (2018). https://doi.org/10.1007/s11227-018-2282-0
Keywords
SD-WAN

Distributed cloud

Virtual convergence network