Abstract
Advances introduced to electronics and electromagnetics leverage the production of low-cost and small wireless sensors. Wireless sensor networks (WSNs) consist of large amount of sensors equipped with radio frequency capabilities. In WSNs, data routing algorithms can be classified based on the network architecture into flat, direct, and hierarchal algorithms. In hierarchal (clustering) protocols, network is divided into sub-networks in which a node acts as a cluster head, while the rest behave as member nodes. It is worth mentioning that the sensor nodes have limited processing, storage, bandwidth, and energy capabilities. Hence, providing energy-efficient clustering protocol is a substantial research subject for many researchers. Among proposed cluster-based protocols, low-energy adaptive clustering hierarchy (LEACH) and threshold LEACH (T-LEACH), as well as modified threshold-based cluster head replacement (MT-CHR) protocols are of a great interest as of being energy optimized. In this article, we propose two protocols to cluster a WSN through taking advantage of the shortcomings of these protocols (i.e., LEACH, T-LEACH, and MT-CHR), namely centralized density- and threshold-based cluster head replacement (C-DTB-CHR) and C-DTB-CHR with adaptive data distribution (C-DTB-CHR-ADD) protocols that mainly aim at optimizing energy through minimizing the number of re-clustering operations, precluding cluster heads nodes premature death, deactivating some nodes located at dense areas from cluster's participation, as well as reducing long-distance communications. In particular, in C-DTB-CHR protocol, some nodes belong to dense clusters are put in the sleeping mode based on a certain node active probability, thereby reducing the communications with the cluster heads and consequently prolonging the network lifetime. Moreover, the base station is concerned about setting up the required clusters and accordingly informing sensor nodes along with their corresponding active probability. C-DTB-CHR-ADD protocol provides more energy optimization through adaptive data distribution where direct and multi-hoping communications are possible. Interestingly, our simulation results show impressive improvements over what are closely related in the literature in relation to network lifetime, utilization, and network performance degradation period.
This is a preview of subscription content, log in to check access.
Access options
Buy single article
Instant access to the full article PDF.
US$ 39.95
Price includes VAT for USA
Subscribe to journal
Immediate online access to all issues from 2019. Subscription will auto renew annually.
US$ 199
This is the net price. Taxes to be calculated in checkout.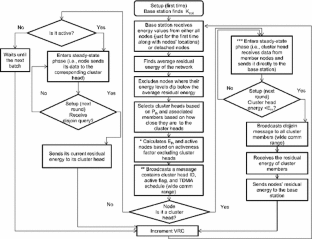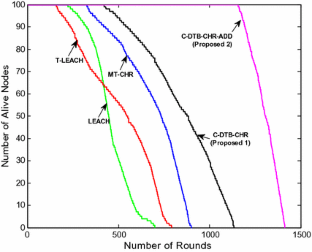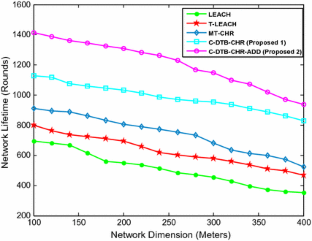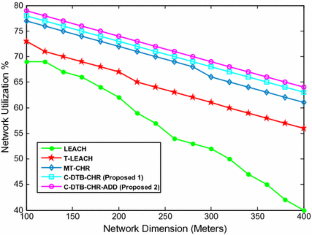 References
1.

Tomic S, Beko M, Dinis R (2015) RSS-based localization in wireless sensor networks using convex relaxation: noncooperative and cooperative schemes. IEEE Trans Veh Technol 64(5):2037–2050

2.

Darabkh KA, Aygün RS (2007) TCP traffic control evaluation and reduction over wireless networks using parallel sequential decoding mechanism. EURASIP J Wirel Commun Netw 52492:1–16

3.

Al-Mistarihi MF, Mohaisen R, Sharaqa A, Shurman MM, Darabkh KA (2015) Performance evaluation of multiuser diversity in multiuser two-hop cooperative multi-relay wireless networks using MRC over Rayleigh fading channels. Int J Commun Syst 28(1):71–90

4.

Al-Zubi R, Hawa M, Al-Sukkar G, Darabkh KA (2014) Markov-based distributed approach for mitigating self-coexistence problem in IEEE 802.22 WRANs. Comput J 57(12):1765–1775

5.

Darabkh KA, Jafar I, Al Sukkar G, Abandah G, Al-Zubi R (2012) An improved queuing model for packet retransmission policy and variable latency decoders. IET Commun 6(18):3315–3328

6.

Darabkh KA, Awad AM, Khalifeh AF (2015) New video discarding policies for improving UDP performance over wired/wireless networks. Int J Netw Manag 25(3):181–202

7.

Khalifeh A, Darabkh KA, Kamel A (2012) Performance evaluation of voice-controlled online systems. In: Proceedings of IEEE/SSD'12 Multi-Conference on Systems, Signals, and Devices, Chemnitz, Germany, pp 1–6

8.

Darabkh KA, Awad AM, Khalifeh AF (2014) Efficient PFD-based networking and buffering models for improving video quality over congested links. Wirel Pers Commun 79(1):293–320

9.

Darabkh KA, Aygun RS (2006) Performance evaluation of sequential decoding system for UDP-based systems for wireless multimedia networks. In: Proceedings of 2006 International Conference on Wireless Networks (ICWN'06), Las Vegas, Nevada, pp 365–371

10.

Darabkh KA, Aygun R (2011) Improving UDP performance using intermediate QoD-aware Hop system for wired/wireless multimedia communication systems. Int J Netw Manag 21(5):432–454

11.

Khalifeh Ala F, Al-Tamimi AK, Darabkh KA (2017)Perceptual evaluation of audio quality under lossy networks. In: Proceedings of 2017 International Conference on Wireless Communications, Signal Processing and Networking (WiSPNET 2017),Chennai, India

12.

Darabkh KA, Pan WD (2006) Stationary queue-size distribution for variable complexity sequential decoders with large timeout. In: Proceedings of the 44th ACM Southeast Conference, Melbourne, Florida, pp 331–336

13.

Hlayel Mu'awiah M, Hayajneh Ali M, Al-Mistarihi Mamoun F, Shurman M, Darabkh KA (2014) Closed-form expression ofbit error rate in dual-hop dual-branch mixed relaying cooperative networks with best-path selection over Rayleigh fading channels. In: Proceedings of the 2014 IEEE International Multi-Conference on Systems, Signals & Devices, Conference on Communication & Signal Processing, Castelldefels-Barcelona, Spain, pp 1–4

14.

Darabkh KA, Khalifeh A, Naser M, Al-Qaralleh E (2012) New arriving process for convolutional codes with adaptive behavior. In: Proceedings of IEEE/SSD'12 Multi-Conference on Systems, Signals, and Devices, Chemnitz, Germany, pp 1–6

15.

Darabkh KA, Abu-Jaradeh B (2010) Bounded Fano decoders over intermediate hops excluding packet retransmission. In: Proceedings of IEEE 24th International Conference on Advanced Information Networking and Applications (AINA 2010), Perth, Australia, pp 299–303

16.

Darabkh KA, Abu-Jaradeh B (2010) Buffering study over intermediate hops including packet retransmission. In: Proceedings of IEEE International Conference on Multimedia Computing and Information Technology (MCIT-2010), Sharjah, UAE, pp 45–48

17.

Darabkh KA, Aygun RS (2006) Quality of service and performance evaluation of congestion control for multimedia networking. In: Proceedings of 2006 International Conference on Internet Computing (ICOMP'06), Las Vegas, Nevada, pp 217–223

18.

Darabkh KA, Aygun RS (2006) Quality of service evaluation of error control for TCP/IP-based systems in packet switching ATM networks. In: Proceedings of 2006 International Conference on Internet Computing (ICOMP'06), Las Vegas, Nevada, pp 243–248

19.

Darabkh KA, Pan WD (2006) Queueing simulation for Fano decoders with finite buffer capacity. In: Proceedings of the 9th Communications and Networking Simulation Symposium Conference (CNSS'06), Huntsville, Alabama

20.

Darabkh KA, Abu-Jaradeh B, Jafar I (2011) Incorporating automatic repeat request and thresholds with variable complexity decoding algorithms over wireless networks: queuing analysis. IET Commun 5(10):1377–1393

21.

Darabkh KA (2011) Evaluation of channel adaptive access point system with Fano decoding. Int J Comput Math 88(5):916–937

22.

Darabkh KA (2010) Queuing analysis and simulation of wireless access and end point systems using Fano decoding. J Commun 5(7):551–561

23.

Darabkh KA, Ibeid H, Jafar IF, Al-Zubi RT (2016) A generic buffer occupancy expression for stop-and-wait hybrid automatic repeat request protocol over unstable channels. Telecommun Syst 63(2):205–221

24.

Darabkh KA (2017) Fast and upper bounded Fano decoding algorithm: queuing analysis. Trans Emerg Telecommun Technol 28(1):1–12

25.

Hawa M, Darabkh KA, Al-Zubi R, Al-Sukkar G (2016) A self-learning MAC protocol for energy harvesting andspectrum access in cognitive radio sensor networks. J Sens Article ID 9604526:1–18

26.

Al-Zubi R, Krunz M, Al-Sukkar G, Hawa M, Darabkh KA (2014) Packet recycling and delayed ACK for improving the performance of TCP over MANETs. Wirel Pers Commun 75(1):943–963

27.

Hawa M, Darabkh KA, Khalaf LD, Rahhal JS (2015) Dynamic resource allocation using load estimation in distributed cognitive radio systems. AEÜ Int J Electron Commun 69(12):1833–1846

28.

Shurman M, Al-Mistarihi M, Darabkh K (2013) Merging dynamic address autoconfiguration and security key protocols in mobile ad hoc networks. In: Proceedings of 36th IEEE International Convention on Information and Communication Technology, Electronics and Microelectronics (MIPRO 2013), Opatija, Croatia, pp 441–445

29.

Darabkh KA, Alsukour O (2015) Novel protocols for improving the performance of ODMRP and EODMRP over mobile Ad hoc networks. Int J Distrib Sens Netw Article ID 348967:1–18

30.

Kulkarni RV, Förster A, Venayagamoorthy GK (2011) Computational intelligence in wireless sensor networks: a survey. IEEE Commun Surv Tutor 13(1):68–96

31.

Bagci H, Yazici A (2013) An energy aware fuzzy approach to unequal clustering in wireless sensor networks. Appl Soft Comput J 13(4):1741–1749

32.

Shurman M, Awad N, Al-Mistarihi MF, Darabkh KA(2014) LEACH enhancements for wireless sensor networks based on energy model. In: Proceedings of the 2014 IEEE International Multi-Conference on Systems, Signals and Devices, Conference on Communication and Signal Processing, Castelldefels-Barcelona, Spain, pp 1–4

33.

Khalifeh AF, AlQudah M, Darabkh KA (2017) Optimizing the beacon and super frame orders in IEEE 802.15.4 for real-time notification in wireless sensor networks. In: Proceedings of 2017 International Conference on Wireless Communications, Signal Processing and Networking (WiSPNET 2017), Chennai, India

34.

Mittal N, Singh U, Sohi BS (2016) A stable energy efficient clustering protocol for wireless sensor networks. Wirel Netw. doi:10.1007/s11276-016-1255-6

35.

Afsar MM, Tayarani-N M-H (2014) Clustering in sensor networks: a literature survey. J Netw Comput Appl 46:198–226

36.

Wang J, Cao J, Ji S, Park JH (2017) Energy-efficient cluster-based dynamic routesadjustment approach for wireless sensor networks with mobile sinks. J Supercomput. doi:10.1007/s11227-016-1947-9

37.

Darabkh K, Al-Maaitah N, Jafar I, Khalifeh A (2017) Energy efficient clustering algorithm for wireless sensor networks. In: Proceedings of 2017 International Conference on Wireless Communications, Signal Processing and Networking (WiSPNET 2017), Chennai, India

38.

Zeb A, Islam AKMM, Komaki S, Baharun S (2014) Multi-nodes joining for dynamic cluster-based wireless sensor network, 2014. In: International Conference on Informatics, Electronics and Vision (ICIEV), Dhaka, pp 1–6

39.

Darabkh K, Ismail S, Al-Shurman M, Jafar I, Alkhader E, Al-Mistarihi M (2012) Performance evaluation of selective and adaptive heads clustering algorithms over wireless sensor networks. J Netw Comput Appl 35(6):2068–2080

40.

Sharma S, Puthal D, Kumar JS, Zomaya AY, Ranjan R (2017) Erratum to: Rendezvous based routing protocol for wireless sensor networks with mobile sink. J Supercomput 73(3):1189–1191

41.

Dong M, Ota K, Lin M, Tang Z, Du S, Zhu H (2014) UAV-assisted data gathering in wireless sensor networks. J Supercomput 70(3):1142–1155

42.

Darabkh KA, Albtoush WY, Jafar IF (2017) Improved clustering algorithms for target tracking in wireless sensor networks. J Supercomput 73(5):1952–1977

43.

Kuila P, Jana PK (2014) Approximation schemes for load balanced clustering in wireless sensor networks. J Supercomput 68(1):87–105

44.

Jung W-S, Lim K-W, Ko Y-B, Park S-J (2011) Efficient clustering-based data aggregation techniques for wireless sensor networks. Wirel Netw 17(5):1387–1400

45.

Kumar R, Kumar D, Kumar D (2017) EACO and FABC to multi-path data transmission in wireless sensor networks. IET Commun 11(4):522–530

46.

Kumar S, Kim HW (2017) Low energy scheduling of minimal active time slots for multi-channel multi-hop convergence wireless sensor networks. In: Proceedings of 2017 International Conference on Computing, Networking and Communications (ICNC), Silicon Valley, CA, USA, pp 1051–1057

47.

Zhou Y, Wang N, Xiang W (2017) Clustering hierarchy protocol in wireless sensor networks using an improved PSO algorithm. IEEE Access 5:2241–2253

48.

Zhang W, Li L, Han G, Zhang L (2017) E2HRC: an energy-efficient heterogeneous ring clustering routing protocol for wireless sensor networks. IEEE Access 5:1702–1713

49.

Mondal S, Ghosh S, Biswas U (2016) ACOHC: ant colony optimization based hierarchical clustering in wireless sensor network. In: Proceedings of 2016 International Conference on Emerging Technological Trends (ICETT), Kollam, India, pp 1–7

50.

Corn, J, Bruce JW (2017) Clustering algorithm for improved network lifetime of mobile wireless sensor networks. In: Proceedings of 2017 International Conference on Computing, Networking and Communications (ICNC), Silicon Valley, CA, USA, pp 1063–1067

51.

Chidean MI, Morgado E, Sanromán-Junquera M, Ramiro-Bargueño J, Ramos J, Caamaño AJ (2016) Energy efficiency and quality of data reconstruction through data-coupled clustering for self-organized large-scale WSNs. IEEE Sens J 16(12):5010–5020

52.

Shurman M, Al-Mistarihi M, Mohammad A, Darabkh K,Ababnah A (2013) Hierarchical clustering using genetic algorithm in wireless sensor networks. In: Proceedings of 36th IEEE International Convention on Information and Communication Technology, Electronics and Microelectronics (MIPRO 2013), Opatija, Croatia, pp 479–483

53.

Ismail SS, Al Khader AI, Darabkh KA (2015) Static clustering for target tracking in wireless sensor networks. Glob J Technol (Selected Paper of COMENG-2014) 8:167–173

54.

Souza ÉL, Pazzi RW, Nakamura EF (2015) A prediction-based clustering algorithm for tracking targets in quantized areas for wireless sensor networks. Wirel Netw 21(7):2263–2278

55.

Choi JM, Cho YB, Choi SS, Lee SH (2009) A cluster header-based energy-efficient mobile sink supporting routing protocol in wireless sensor networks, 2009. In: 6th International Conference on Electrical Engineering/Electronics, Computer, Telecommunications and Information Technology, Pattaya, Chonburi, pp 648–651

56.

Albath J, Thakur M, Madria S (2013) Energy constraint clustering algorithms for wireless sensor networks. Ad Hoc Netw 11(8):2512–2525

57.

Zhu J, Lung CH, Srivastava V (2015) A hybrid clustering technique using quantitative and qualitative data for wireless sensor networks. Ad Hoc Netw 25:38–53

58.

Heinzelman W, Chandrakasan A, Balakrishnan H (2000) Energy-efficient communication protocol for wireless microsensor networks. In: Proceedings of the International Conference on System Sciences, Hawaii, USA, pp 1567–1576

59.

Heinzelman WB, Chandrakasan AP, Balakrishnan H (2002) An application-specific protocol architecture for wireless microsensor networks. IEEE Trans Wirel Commun 1(4):660–670

60.

Heinzelman WB (2000) Application-specific protocol architectures for wireless networks. Ph.D. dissertation, Massachusetts Institute of Technology, USA

61.

Hong J, Kook J, Lee S, Kwon D, Yi S (2009) T-LEACH: the method of threshold-based cluster head replacement for wireless sensor networks. Inf Syst Front 11:513–521

62.

Darabkh KA, Al-Rawashdeh WS, Hawa M, Saifan R, Khalifeh AF (2017) A novel clustering protocol for wireless sensor networks. In: Proceedings of 2017 International Conference on Wireless Communications, Signal Processing and Networking (WiSPNET 2017), Chennai, India
About this article
Cite this article
Darabkh, K.A., Al-Rawashdeh, W.S., Al-Zubi, R.T. et al. C-DTB-CHR: centralized density- and threshold-based cluster head replacement protocols for wireless sensor networks. J Supercomput 73, 5332–5353 (2017). https://doi.org/10.1007/s11227-017-2089-4
Keywords
Sensor networks

Adaptive data distribution

Activeness factor

Centralization