Abstract
Based on the analyses of 1D and 2D NMR spectra techniques, such as H–H COSY, HSQC, and HMBC of 3-[L-threo-2,3,4-trihydroxy-1-(phenylhydrazono)butyl]- quinoxalin-2(1H)-one in dimethyl sulfoxide solution, it was concluded that this compound exists as a mixture of two isomeric Z- and E- forms I and II rather than the hydrazine imine and diazeny enamine V tautomers reported earlier. The NMR signals assignment was supported using density functional theory.
This is a preview of subscription content, log in to check access.
Access options
Buy single article
Instant unlimited access to the full article PDF.
US$ 39.95
Price includes VAT for USA
Subscribe to journal
Immediate online access to all issues from 2019. Subscription will auto renew annually.
US$ 99
This is the net price. Taxes to be calculated in checkout.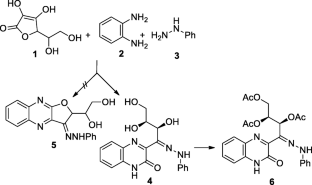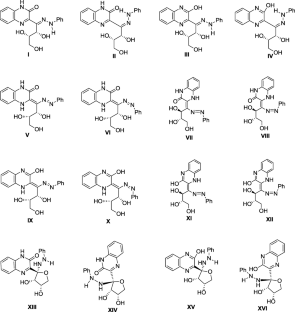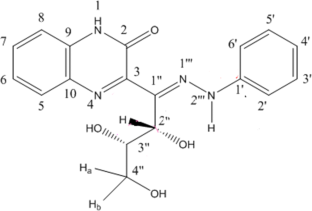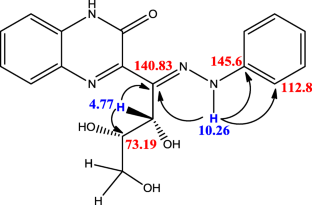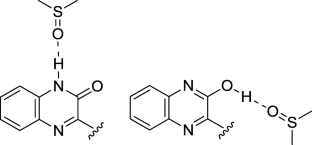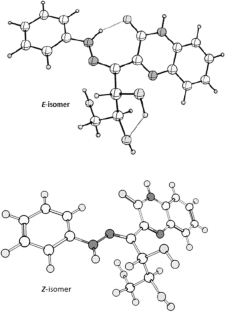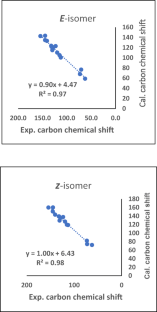 References
1.

Hernández-Vázquez E, Salgado-Barrera S, Ramírez-Espinosa JJ, Estrada-Soto S, Hernández-Luis F (2016) Synthesis and molecular docking of N′-arylidene-5-(4-chlorophenyl)-1-(3, 4-dichlorophenyl)-4-methyl-1H-pyrazole-3-carbohydrazides as novel hypoglycemic and antioxidant dual agents. Bioorg Med Chem 24:2298–2306

2.

Le Goff G, Ouazzani J (2014) Natural hydrazine-containing compounds: biosynthesis, isolation, biological activities and synthesis. Bioorg Med Chem 22:6529–6544

3.

Amim RS, Firmino GS, Rego AC, Nery AL, Da-Silva SA, de Souza MV, Pessoa C, Resende JA, Figueroa-Villar JD, Lessa JA (2016) Cytotoxicity and leishmanicidal activity of isoniazid-derived hydrazones and 2-pyrazineformamide thiosemicarbazones. J Braz Chem Soc 27:769–777

4.

Chavan AS, Kharat AS, Bhosle MR, Mane RA (2018) Baker's yeast catalyzed one-pot synthesis of bioactive 2-[benzylidene (or pyrazol-4-ylmethylene) hydrazono]-1, 3-thiazolidin-4-one-5-yl-acetic acids. Heterocycl Commun 24:103–107

5.

Wojciechowska A, Jasiński M, Kaszyński P (2015) Tautomeric equilibrium in trifluoroacetaldehyde arylhydrazones. Tetrahedron 71:2349–2356

6.

Gordillo MA, Soto-Monsalve M, Carmona-Vargas CC, Gutiérrez G, D'vries RF, Lehn JM, Chaur MN (2017) Photochemical and electrochemical triggered bis (hydrazone) switch. Chem Eur J 23:14872–14882

7.

Kumar SS, Biju S, Sadasivan V (2018) Synthesis, structure characterization and biological studies on a new aromatic hydrazone, 5-(2-(1, 5-dimethyl-3-oxo-2-phenyl-2, 3-dihydro-1H-pyrazol-4-yl) hydrazono)-2, 2-dimethyl-1, 3-dioxane-4, 6-dione, and its transition metal complexes. J Mol Struct 1156:201–209

8.

Mori A, Suzuki T, Sunatsuki Y, Kobayashi A, Kato M, Kojima M, Nakajima K (2014) Linkage and geometrical isomers of dichloridobis (triphenylphosphine) ruthenium (II) complexes with quinoline-2-carbaldehyde (Pyridine-2-carbonyl) hydrazone: their molecular structures and electrochemical and spectroscopic properties. Eur J Inorg Chem:186–197

9.

Šimůnek P, Padělková Z, Macháček V (2014) Solution and solid-state study of the structure of azo-coupling products from isomeric enaminones possessing tert-butyl group: an unprecedented observation of pure hydrazo form in azo coupled N-alkyl β-enaminones. J Mol Struct 1075:187–195

10.

Galvão AM, Carvalho MFN, Ferreira AS (2016) Supramolecular arrangement in mono and bi-camphor acyl hydrazones: a structural study. J Mol Struct 1108:708–716

11.

Bagdatli E, Ocal N (2012) Synthesis, spectroscopic, and dyeing properties of new azo and bisazo dyes derived from 5-pyrazolones. J Heterocyclic Chem 49:1179–1186

12.

Fan Q, Wang Y, Yan H (2018) An NMR and DFT investigation on the interconversion of 9-substituented-N 6-hydrazone-8-azaadenine derivatives: proton migration or conformational isomerization? Struct Chem 29:871–879

13.

Kaya Y, Icsel C, Yilmaz VT, Buyukgungor O (2015) Structural, spectroscopic and quantum chemical studies of acetyl hydrazone oxime and its palladium (II) and platinum (II) complexes. J Mol Struct 1095:51–60

14.

Kummari B, Ramesh P, Parsharamulu R, Allaka TR, Anantaraju H, Yogeeswari P, Balasubramanian S, Guggilapu SD, Babu BN, Anireddy JS (2018) Design and synthesis of new etodolac-pyridazinones as potent anticancer agents using Pb (OAc) 4 to assist N-N bond formation. ChemistrySelect 3: 5050-5054.

15.

Coa JC, Castrillón W, Cardona W, Carda M, Ospina V, Muñoz JA, Vélez ID, Robledo SM (2015) Synthesis, leishmanicidal, trypanocidal and cytotoxic activity of quinoline-hydrazone hybrids. Eur J Med Chem 101:746–753

16.

Costa LB, de Oliveira Cardoso MV, de Oliveira Filho GB, de Moraes Gomes PAT, Espíndola JWP, de Jesus Silva TG, Torres PHM, Junior FPS, Martin J, de Figueiredo RCBQ (2016) Compound profiling and 3D-QSAR studies of hydrazone derivatives with activity against intracellular Trypanosoma cruzi. Bioorg Med Chem 24:1608–1618

17.

Souza LGS, Almeida MC, Lemos TL, Ribeiro PR, de Brito ES, Silva VL, Silva AM, Braz-Filho R, Costa JG, Rodrigues FF (2016) Synthesis, antibacterial and cytotoxic activities of new biflorin-based hydrazones and oximes. Bioorg Med Chem Lett 26:435–439

18.

Palanimuthu D, Wu Z, Jansson PJ, Braidy N, Bernhardt PV, Richardson DR, Kalinowski DS (2018) Novel chelators based on adamantane-derived semicarbazones and hydrazones that target multiple hallmarks of Alzheimer's disease. Dalton Trans 47:7190–7205

19.

Gupta VK, Singh AK, Bhardwaj S, Bandi KR (2014) Biological active novel 2, 4-dinitro phenyl hydrazones as the colorimetric sensors for selective detection of acetate ion. Sensors Actuators B Chem 197:264–273

20.

Nakatsuka N, Barnaby SN, Fath KR, Banerjee IA (2012) Fabrication of collagen–elastin-bound peptide microtubes for mammalian cell attachment. J Biomater Sci Polym Ed 23: 1843-1862.

21.

Ganjali MR, Rezapour M, Rasoolipour S, Norouzi P, Adib M (2007) Application of pyridine-2-carbaldehyde-2-(4-methyl-1, 3-benzo thiazol-2-yl) hydrazone as a neutral ionophore in the construction of a novel Er (III) Sensor. J Braz Chem Soc 18:352–358

22.

El Ashry ESH, El Kholy IE, El Kilany Y (1978) Dehydrative ring-closure of 3-substituted 2-quinoxalinones to give fused and nonfused pyrazoloquinoxalines. Carbohydr Res 60:303–314

23.

Henseke G, Dittrich K (1959) Heterocyclische verbindungen, VI Chinoxaline synthesen mit Dehydro-L-ascorbinsäure. Chem Ber 92:1550–1558

24.

Amer A, Massry AM, Awad L, Rashed N, El Ashry ESH, Ho D (1990) Structure of the reaction products from dehydroascorbic acid analogues, o-phenylenediamine, and arylhydrazines. X-Ray molecular structure of 3-[L-threo-2, 3, 4-triacetoxy-1-(phenylhydrazono) butyl] quinoxalin-2 (1 H)-one hemihydrate. J Chem Soc Perkin Trans 1:2513–2518

25.

El Ashry ESH, Rahman MMA, Nassr MA, Amer A (1978) Transformation of the hydrazones of 6-chloro-3-(l-threo-2, 3, 4-trihydroxy-1-oxobutyl)-2-quinoxalinone into other heterocyclic compounds. Carbohydr Res 67:403–414

26.

El Ashry ESH, Rahman MMA, Rashed N, Amer A (1978) Reaction of dehydro-d-erythorbic acid and its aryl analogs with ortho-diamines. Carbohydr Res 67:423–432

27.

Amer A, Ho D (1992) Synthesis and structural elucidation of the acetylation reaction's product (s) of the 2 (1H)-quinoxalinones derived from L-ascorbic acid. X-ray molecular structure of 3-(N-acetyl-2-naphthylhydrazono)-2, 3-dihydro-2-acetoxyfuro [2, 3-b] quinoxaline. Zeitschrift für Naturforschung B 47: 861-868.

28.

El Ashry ESH, Atta KF, Aboul-Ela S, Beldi R (2007) MAOS of quinoxalines, conjugated pyrazolylquinoxalines and fused pyrazoloquinoxalines from l-ascorbic and d-isoascorbic acid. J Carbohydr Chem 26: 1-16.

29.

Awad LF (2000) Isolation and identification of the intermediates during pyrazole formation of some carbohydrate hydrazone derivatives. Carbohydr Res 326:34–42

30.

Kurasawa Y, Muramatsu M, Yamazaki K, Tajima S, Okamoto Y, Takada A (1986) Tautomeric behavior of 3-(α-arylhydrazono) methyl-2-oxo-1, 2-dihydroquinoxalines between hydrazone imine and diazenyl enamine forms. J Heterocyclic Chem 23:1245–1248

31.

Frisch MJ, Trucks GW, Schlegel H.B, Scuseria G E, Robb MA, Cheeseman J R, Montgomery Jr JA, Vreven T, Kudin KN, Burant JC, Millam JM, Iyengar SS, Tomasi J, Barone V, Mennucci B, Cossi M, Scalmani G, Rega N, Petersson GA, Nakatsuji H, Hada M, Ehara M, Toyota K, Fukuda R, Hasegawa J, Ishida M, Nakajima T, Honda Y Kitao O, Nakai H, Klene M, Li X, Knox JE, Hratchian HP, Cross JB, Bakken V, Adamo C, Jaramillo J, Gomperts R, Stratmann RE, Yazyev O, Austin AJ, Cammi R, Pomelli C, Ochterski JW, Ayala PY, Morokuma K, Voth GA, Salvador P, Dannenberg JJ, Zakrzewski VG, Dapprich S, Daniels AD, Strain MC, Farkas O, Malick DK, Rabuck AD, Raghavachari K, Foresman JB, Ortiz JV, Cui Q, Baboul AG, Clifford S, Cioslowski J, Stefanov BB, Liu G, Liashenko A, Piskorz P, Komaromi I, Martin RL, Fox DJ, Keith T, AlLaham MA, Peng CY, Nanayakkara A, Challacombe M, Gill PMW, Johnson B, Chen W, Wong MW, Gonzalez C, Pople JA (2009) Gaussian, Inc., Wallingford CT 121: 150-166.

32.

Becke AD (1993) Density-functional thermochemistry. III The role of exact exchange. J Chem Phys 98:5648–5652

33.

Lee C, Yang W, Parr RG (1988) Development of the Colle-Salvetti correlation-energy formula into a functional of the electron density. Phys Rev B 37:785–789

34.

Hariharan P, Pople JA (1972) The effect of d-functions on molecular orbital energies for hydrocarbons. Chem Phys Lett 16:217–219

35.

Ramos J.M, Faget G, Felcman J, Téllez CA (2008) Fourier transform infrared and Raman spectra, and AB initio calculations for cadmium (II)–cysteinate glycinate complex [Cd (Cys)(Gly)]. Spectrochim. Acta Part A 71: 1364-1370; Erratum to"Fourier transform infrared and Raman spectra, and AB initio calculations for cadmium (II)-cysteinate glycinate complex [Cd (Cys)(Gly)]"[Spectrochim. Acta Part A 71 (2008) 1364-1370], (2009) Spectrochimica acta Part A: molecular spectroscopy 72: 228-228.

36.

Parlak C, Alver Ö, Şenyel M (2008) Experimental and theoretical NMR study of 4-(3-cyclohexen-1-yl) pyridine. Spectrochim Acta A Mol Biomol Spectrosc 69:1252–1256

37.

Bagno A, Rastrelli F, Saielli G (2006) Toward the complete prediction of the 1H and 13C NMR spectra of complex organic molecules by DFT methods: application to natural substances. Chem Eur J 12:5514–5525

38.

Scalmani G, Frisch MJ (2010) Continuous surface charge polarizable continuum models of solvation. I. General formalism. J chem physics 132: 114110.

39.

Gomez JA, Lage MR, Carneiro JWdM, Resende JA, Vargas MDT (2013) Tautomerism in quinoxalines derived from the 1,4-naphthoquinone nucleus: acid mediated synthesis, X-ray molecular structure of 5-chlorobenzo[f]quinoxalin-6-ol and density functional theory calculations. J Braz Chem Soc 24: 219-229.

40.

Lyčka A (2019) 15 N, 13C and 1H NMR study of tautomerism and E/Z isomerism in 3-[(Z)-(2-phenyl-hydrazinylidene)methyl]quinoxalin-2(1H)-one and 3-[(E)-(2-phenylhydrazinylidene)methyl]quinoxalin-2(1H)-one. Dyes Pigments 165:341–345
Ethics declarations
Conflict of interest
The authors declare that they have no conflict of interest.
Additional information
Publisher's note
Springer Nature remains neutral with regard to jurisdictional claims in published maps and institutional affiliations.
Electronic supplementary material
About this article
Cite this article
El-Atawy, M.A., Hegazi, A.H., Al Khalaf, M. et al. The structure elucidation of the isomeric mixture of 3-[L-threo-2,3,4-tri -hydroxy-1-(phenyl-hydrazono)butyl] quinoxalin-2(1H)-one in dimethyl sulfoxide solution revisited: experimental and theoretical study. Struct Chem (2020). https://doi.org/10.1007/s11224-019-01445-3
Received:

Accepted:

Published:
Keywords
NMR

Quinoxaline

Hydrazone

Isomerism

DFT calculations