Abstract
In the present study, the kinetics and thermodynamics of the successful one-pot synthesis of arene-based PCP/PNP pincer ligands by less nucleophilic secondary halophosphines (mono/bis(phosphinomethyl)benzene/pyridine) via SN2 reactions, which have been recently developed by Shih and Ozerov (Organometallics 34:4591, 35), have been studied. By utilizing different substituents on the target molecules, the impact of such modifications has been investigated both in gas phase and in solution. Performed calculations showed clear dependence of the activation energy and reaction rates on the presence of lithium in the structure. Additionally, the nature of the leaving group was observed to influence the favorability of the reaction. Similarly, the type of the halogen on both substrate and nucleophile had impact on the reaction rates, with the use of iodide leading to the observation of the fastest reaction rates. The solvent used was also noted to exert considerable influence on the thermodynamics and kinetics of the reactions. However, the R group in the nucleophile (XPR2) showed no significant inductive effect on the activation energy, but a slight steric effect could be observed.
This is a preview of subscription content, log in to check access.
Access options
Buy single article
Instant access to the full article PDF.
US$ 39.95
Price includes VAT for USA
Subscribe to journal
Immediate online access to all issues from 2019. Subscription will auto renew annually.
US$ 99
This is the net price. Taxes to be calculated in checkout.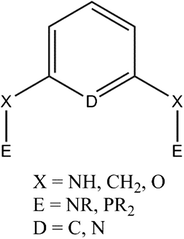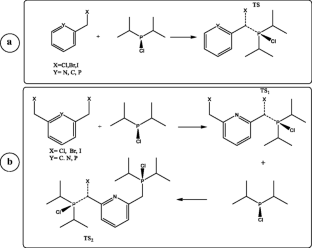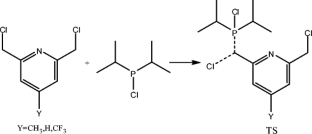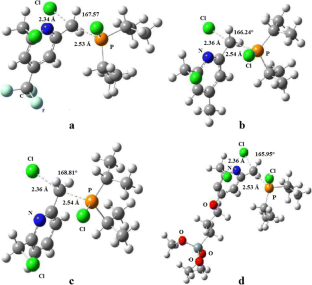 References
1.

Rubio M, Suárez A, Vega E, Álvarez E, Díez J, Gamasa MP, Pizzano A (2012) Eur J Inorg Chem 4:655

2.

Moulton CJ, Shaw BL (1976) J Chem Soc Dalton Trans 11:1020

3.

Van Koten G, Chemistry O (1989) Pure Appl Chem 61:1681

4.

Albrecht M, Van Koten G (2001) Angew Chem Int Ed (English) 40:3750

5.

Singleton JT (2003) Tetrahedron 59:1837

6.

Zeng G, Maeda S, Taketsugu T, Sakaki S (2016) J Am Chem Soc 138:13481

7.

Tabares-Mendoza C, Guadarrama P (2006) J Organomet Chem 691:2978

8.

Li S, Hall MB (2001) Organometallics 20:2153

9.

Hao J, Vabre B, Zargarian D (2015) J Am Chem Soc 137:15287

10.

Lapointe S, Zargarian D (2016) Dalton Trans 45:15800

11.

Timpa ST, Zhou J, Bhuvanesh N, Ozerov OV (2014) Organometallics 33:6210

12.

Nicolas E, Martin-Vaca B, Mézailles N, Bourissou D, Maron L (2013) Eur J Inorg Chem 2013:4068

13.

Bonnet S, Van Lenthe JH, van Dam HJ, van Koten G, Gebbink RJK (2011) Dalton Trans 40:2542

14.

Alesso G, Cinellu MA, Stoccoro S, Zucca A, Minghetti G, Manassero C, Rizzato S, Swang O, Ghosh MK (2010) Dalton Trans 39:10293

15.

Gagliardo M, Havenith RW, van Klink G, van Koten G (2006) J Organomet Chem 691:4411

16.

Kuroki A, Ushiyama H, Yamashita K (2016) Comp Theor Chem 1090:214

17.

Naghipoor A, Ghasemi ZH, Abbasi S (2009) Asian J Chem 21:2573

18.

Daw P, Chakraborty S, Leitus G, Diskin-Posner Y, Ben-David Y, Milstein D (2017) ACS Catal 7:2500

19.

Basauri-Molina M, Hernández-Ortega S, Morales-Morales D (2014) Eur J Inorg Chem 2014:4619

20.

Bhattacharya P, Krause JA, Guan H (2014) J Am Chem Soc 136:11153

21.

Ghavale N, Manjare ST, Singh HB, Butcher RJ (2015) J Chem Soc Dalton Trans 44:11893

22.

Göttker-Schnetmann I, White P, Brookhart M (2004) J Am Chem Soc 126:1804

23.

Qiao YL, Jin GX (2013) Organometallics 32:1932

24.

Salomón-Flores MK, Bazany-Rodríguez IJ, Martínez-Otero D, García-Eleno MA, Guerra-García JJ, Morales-Morales D, Dorazco-González A (2017) Dalton Trans 46:4950

25.

Albrecht M, Lutz M, Spek AL, van Koten G (2000) Nature 406:970

26.

Albrecht M, Gossage RA, Lutz M, Spek AL, van Koten G (2000) Chem Eur J 6:1431

27.

Samanta S, Demesko S, Dechert S, Meyer F (2015) Angew Chem Int Ed (English) 54:583

28.

Schuster EM, Botoshansky M, Gandelman M (2009) J Organomet Chem 28:7001

29.

Wanniarachchi S, Liddle BJ, Toussaint J, Lindeman SV, Bennett B, Gardinier JR (2010) J Chem Soc Dalton Trans 39:3167

30.

Xu T, Bauer G, Hu X (2016) Chembiochem 17:31

31.

Vabre B, Lindeperg F, Zargarian D (2013) Green Chem 15:3188

32.

Empsall HD, Hyde EM, Shaw BL (1975) J Chem Soc Dalton Trans 16:1690

33.

Younus HA, Ahmad N, Su W, Verpoort F (2014) Coord Chem Rev 276:112

34.

Van Der Vlugt JI, Reek JNH (2009) Angew Chem Int Ed (English) 48:8832

35.

Shih WC, Ozerov OV (2015) Organometallics 34:4591

36.

Frisch MJ, et al, Gaussian 09, Rev. B01, Gaussian Inc., Wallingford CT, 2010

37.

Müller G, Klinga M, Leskelä M, Rieger B, Eine I, Von R (2002) Z Anorg Allg Chem 628:2839

38.

Nyamato GS, Alam MG, jwach SOO, Akerman MP (2015) J Organomet Chem 783:64

39.

Dahlhoff WV, Nelson SM (1971) J Chem Soc:2184
Acknowledgements
We gratefully acknowledge the Iran National Science Foundation (INSF) for supporting this study. We also acknowledge the partial financial support from the Research Affairs Division Isfahan University of Technology (IUT), Isfahan.
Ethics declarations
Conflict of interest
The authors declare that they have no conflict of interest.
Electronic supplementary material
About this article
Cite this article
Mohammadnezhad, G., Abad, S. & Farrokhpour, H. Theoretical studies on the thermodynamics and kinetics of one-pot synthesis of aromatic PCP and PNP pincer ligands. Struct Chem 29, 81–88 (2018). https://doi.org/10.1007/s11224-017-1002-3
Received:

Accepted:

Published:

Issue Date:
Keywords
Pincer

Kinetics

Thermodynamics

SN2