Abstract
A comprehensive theoretical study of mutual interactions between the resonance-assisted hydrogen bond (RAHB) units and benzene rings in salicylaldehyde and ortho-aminobenzaldehyde with their thio and seleno analogues, at the M062X/6-11++G(d,p) level of theory, was carried out. First, we evaluated the intramolecular hydrogen bond (IMHB) strength of the mentioned compounds by various descriptors, such as geometrical, spectroscopic, topological, molecular orbital, and energetic parameters, and then compared with the corresponding results of malonaldehyde and β-aminoacrolein with their thio and seleno analogues. According to the theoretical results, it was found that the merging of benzene rings and RAHB units reduced the strength of the IMHB in all of the benchmark systems. The magnitude of these reductions in the O-H⋯Y systems is greater than that of the N-H⋯Y ones. Also, the substitution of S and Se atoms instead of O increased the IMHB strength and obeyed the following order; X-H⋯Se > X-H⋯S > X-H⋯O. Second, a set of aromaticity indices such as the harmonic oscillator model of aromaticity (HOMA), the nucleus-independent chemical shift (NICS), the para delocalization index (PDI), and the average two-center index (ATI) were applied to evaluate the significance of the aromaticity of benzene rings and π-ED of RAHB units in the studied molecules. The comparison between these results and the respective amounts of the benzene ring, malonaldehyde, and β-aminoacrolein analogues reveals that the coupling of benzene and RAHB rings decreased the π-ED and aromaticity in both of them. These reductions approximately increase with the replacement of O by N in the proton donor group. Finally, the results show that the π-ED of RAHB units increases with substitution of O by S and Se, while for the aromaticity of the benzene rings the reverse process is observed. The majority increment in the π-ED of RAHB units and also a reduction in the aromaticity of the benzene rings are related to an X-H⋯Se system that is followed by X-H⋯S and X-H⋯O systems.
This is a preview of subscription content, log in to check access.
Access options
Buy single article
Instant access to the full article PDF.
US$ 39.95
Price includes VAT for USA
Subscribe to journal
Immediate online access to all issues from 2019. Subscription will auto renew annually.
US$ 99
This is the net price. Taxes to be calculated in checkout.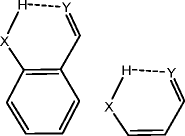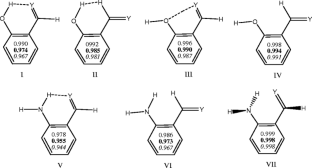 References
1.

Hubza P, Moller-Dethlefs K (2010) Non-covalent interactions: theory and experiment; Royal Society of Chemistry, Cambridge

2.

Scheiner S (2015) Non-covalent forces; Springer, Switzerland

3.

Subha Sahadevi A, Narahari Sastry G (2016) Chem Rev 116:2775

4.

Grabowski SJ (2006) Hydrogen bond; a new insight. Springer, Netherlands, Amsterdam

5.

Jefferey GA (1997) An introduction to hydrogen bonding. Oxford University Press, New York

6.

Desiraju GR, Steiner T (2001) The weak hydrogen bond in structural chemistry and biology. Oxford University Press, Oxford, USA

7.

Gilli G, Gilli P (2009) The nature of hydrogen bond. Oxford University Press, Oxford

8.

Gilli G, Bellucci F, Ferretti V, Bertolasi V (1989) J Am Chem Soc 111:1023

9.

Gilli G, Bertolasi V (1990) The chemistry of enols, Rappoport ZEd. Wiley, Chichester UK

10.

Grabowski SJ (2001) J. Mol. Struct. (THEOCHEM) 562:137

11.

Palusiak M, Simon S, Sola M (2008) J. Org. Chem. 74:2059

12.

Rybarczyk-Pirek AJ, Grabowski SJ, Małecka M, Nawrot-Modranka J (2002) J Phys Chem A 106:11956

13.

Wojtulewski S, Grabowski SJ (2003) Chem Phys Lett 378:388

14.

Nowroozi A, Rahmani S, Eshraghi A, Shayan A (2015) Struct Chem 27:829

15.

Pakiari AH, Eskandari K (2006) J. Mol. Struct. (THEOCHEM) 759:51

16.

Woodford JN (2007) J Phys Chem A 111:8519

17.

Nowroozi A, Raissi H (2006) J. Mol. Struct. (THEOCHEM) 759:93

18.

Hargis JC, Evangelista FA, Ingels JB, Schaefer HF (2008) J Am Chem Soc 130:17471

19.

Jablonski M, Kaczmarek A, Sadlej AJ (2006) J Phys Chem A 110:10890

20.

Nowroozi A, Sarhadinia S, Masumian E, Nakhaei E (2014) Struct Chem 25:135

21.

Hajiabadi H, Nowroozi A, Hasani M, Mohammadzadeh Jahani P, Raissi H (2012) Int J Quantum Chem 112:1384

22.

Jimenez-Fabian I, Jalbout AF, Moshfeghi E, Raissi H (2008) Int J Quantum Chem 108:383

23.

Gilli P, Bertolasi V, Ferretti V, Gilli G (2000) J Am Chem Soc 122:10405

24.

Durlak P, Latajka Z (2012) J Chem Theor Compt 9:65

25.

Durlak P, Mierzwicki K, Latajka Z (2013) J Phys Chem B 117:5430

26.

Durlak P, Latajka Z (2014) Phys Chem Chem Phys 16:23026

27.

Yin H, Shi Y, Wang Y (2014) Spectrochim. Acta. Part A: Molecular and Biomolecular. Spectroscopy 129:280

28.

Graña AM, Rios MA, Rodríguez J (1991) Struct Chem 2:575

29.

Chen C, Shyu SF, HSU FS (1999) Int J Quantum Chem 74:395

30.

Čuma M, Scheiner S, Kar T (1998) J Am Chem Soc 120:10497

31.

Lipkowski P, Koll A, Karpfen A, Wolschann P (2002) Chem Phys Lett 360:256

32.

Srivastava P, Rai S (1999) J Chem Sci 111:609

33.

Modelli A, Scagnolari F, Distefano G (1999) Chem Phys 250:311

34.

Anuradha K, Rajavel R (2012) Int J Res Inorg Chem 1:1

35.

Yan MC, Tu Z, Lin C, Ko S, Hsu J, Yao CF (2004) J. Org. Chem. 69:1565

36.

Ramazani A, Ahmadi E, Kazemizadeh A, Dolatyari L, Noshiranzadeh N, Eskandari I, Souldozi A (2004) Phosphorus, Sulfur and Silicon 180:2419

37.

Levesque P, Fournier PA (2010) J. Org. Chem. 75:7033

38.

Palomar J, Paz J, Catalan J (1999) Chem Phys 246:167

39.

Chung G, Kwon O, Kwon Y (1998) J Phys Chem A 102:2381

40.

Palusiak M, Simon S, Sola M (2006) J Org Chem 71:5241

41.

Frisch MJ, Trucks GW, Schlegel HB, Scuseria GE, Robb MA, Cheeseman JR, Zarzewski VG, Montgomery JA, Stratmann RE, Burant JC, Dapprich S, Millam JM, Daniels AD, Kudin KN, Strain MC, Farkas O, Tomasi J, Barone V, Cossi M, Cammi R, Mennucci B, Pomelli C, Adamo C, Clifford S, Ochterski J, PeterssonGA APY, Cui Q, Morokuma K, Malick DK, Rabuck AD, Raghavachari K, Foresman JB, Cioslowski J, Ortiz JV, Baboul AG, Stefanov BB, Liu G, Liashenko A, Piskorz P, KomaromiI GR, Martin RL, Fox DJ, Keith T, Al-LahamMA PCY, Nanayakkara A, Gonzalez C, Challacombe M, Gill PMW, Johnson B, Chen W, Wong MW, Andres JL, GonzalezC H-GM, Replogle ES, Pople JA (2003) Gaussian 03 program package. Gaussian, Inc., Pittsburgh

42.

Biegler KF, Schonbohm J, Bayles D (2001) AIM2000: a program to analyze andvisualize atoms in molecules. J Comput Chem 22:545

43.

Glendening ED, Reed AE, Carpenter JE, Weinhold F (1990) NBO, Version 3.1

44.

Krygowski TM, Cyranski MK (1996) Tetrahedron 52:1713

45.

Schleyer PVR, Maerker C, Dransfeld A, Jiao H, Hommes NJR (1996) J Am Chem Soc 118:6317

46.

Schleyer PVR, Manoharan M, Wang ZX, Kiran B, Jiao HJ, Puchta R, Hommes NJR (2001) V E Org Lett 3:2465

47.

Poater J, Feradera X, Duran M, Sola M (2003) Chem Eur J 9:400

48.

Bultinck P, Ponec R, Van Damme S (2005) J Phys Org Chem 18:706

49.

Dziembowska T (1990) Intramolecular hydrogen bonding. Akademia Rolnicza, Szczecin

50.

Bader RFW (1990) Atoms in molecules; a quantum theory. Clarendon, Oxford

51.

Grabowski SJ (1999) Chem Phys Lett 312:542

52.

Popelier P (1998) J Phys Chem 102A:1873

53.

Liang X, Pu X, Zhou H, Wong NB, Tian A (2007) J. Mol. Struct. (THEOCHEM) 816:125

54.

Rozas I, Alkorta I, Elguero J (2000) J Am Chem Soc 122:11154

55.

Reed AE, Curtis LA, Weinhold FA (1998) Chem Rev 88:899

56.

Nowroozi A, Hajiabadi H, Akbari F (2014) Struct Chem 25:251

57.

Musin RN, Mariam YH (2006) J Phys Org Chem 19:425

58.

Nowroozi A, Raissi H, Farzad F (2005) J. Mol. Struct. (THEOCHEM) 730:161

59.

Buemi G, Zuccarello F (2004) J Chem Phys 306:115

60.

Rozas I, Alkorta I, Elguero J (2001) J Phys Chem 105A:10462

61.

Nowroozi A, Hajiabadi H (2014) Akbari F 25:251

62.

Krygowski TM, Bankiewicz B, Czarnocki Z, Palusiak M (2015) Tetrahedron 71:4895

63.

Nowroozi A, Nakhaei E, Masumian E (2014) Struct Chem 25:1415

64.

Nakhaei E, Nowroozi A (2016) Comp Theor Chem 1096:27
Electronic supplementary material
About this article
Cite this article
Rad, O.R., Nowroozi, A. A comprehensive theoretical study of mutual interactions between the intramolecular hydrogen bond and π-electron delocalization of RAHB units with the benzene rings in salicylaldehyde and ortho-aminobenzaldehyde with their thio and seleno analogues. Struct Chem 28, 1141–1149 (2017). https://doi.org/10.1007/s11224-017-0921-3
Received:

Accepted:

Published:

Issue Date:
Keywords
Intramolecular hydrogen bond

π-electron delocalization

Aromaticity

RAHB