How weak an acid can be? Variations of H-bond and/or van der Waals Interaction of Weak Acids
Abstract
Complex formation ability and stability of both weak and super-weak acids was studied by mean of in silico determined thermodynamic data of the complexes. While weak acids act like Brønsted acids forming hydrogen bond type Brønsted complexes, super-weak acids form Lewis complexes via van der Waals interaction. Unlike in the former type, upon complexation, C-H distances changes insignificantly, yet the complex formation is energy driven in the terms of zero-point corrected Energies, ΔE zp  < 0 kcal mol−1, which supports the Lewis complex formation, with the exception of CH4, an extremely "weak acid".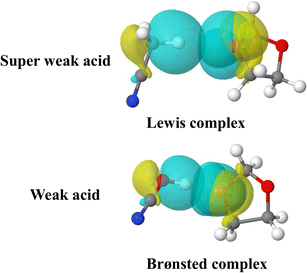 Keywords
Acids 
super-weak acids 
C-H hydrogen bond 
Lewis acid and complex 
Brønsted acid and complex 
Notes
Acknowledgements
This work was supported by grants from the Hungarian Scientific Research Fund(OTKA NK101072). We gratefully acknowledge István Pintér and Imre Jákli for their constructive remarks.
Copyright information
© Springer Science+Business Media New York 2016