Abstract
Density functional theory calculations are performed to investigate tin content effect on the structural and energetic properties of lead telluride clusters. Tin atoms prefer to be doped on the exterior sites rather than the interior sites of lead telluride clusters. The geometry of the clusters is not affected due to the amount of tin content except for a slight distortion observed by changes in bond length. A considerable change has been observed in the HOMO–LUMO gap of the clusters with increasing number of tin atoms for corresponding size, but the band inversion which is observed in the bulk is not observed on the clusters in these size ranges. The change in binding energy between doped clusters is almost negligible for the same number of tellurium atoms, it is observed to be constant or there is a change of up to 0.02 eV with each successive doping of tin atoms. Both adiabatic and vertical detachment energies are observed to increase with increasing number of doping tin atoms. The fragmentation energy of losing PbTe dimer changes with an even–odd alternation, clusters with even number of Te atoms are more stable because they need higher energy to dissociate as compared to the other clusters. Some clusters are found to be magic (more stable) because of their enhanced binding, HOMO–LUMO gap, and fragmentation energies, typical examples are Pb4−m Sn m Te4 (m = 1–4) clusters.
This is a preview of subscription content, log in to check access.
Access options
Buy single article
Instant access to the full article PDF.
US$ 39.95
Price includes VAT for USA
Subscribe to journal
Immediate online access to all issues from 2019. Subscription will auto renew annually.
US$ 99
This is the net price. Taxes to be calculated in checkout.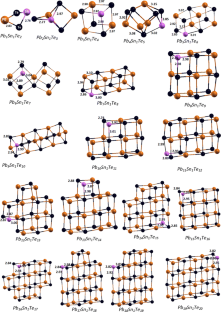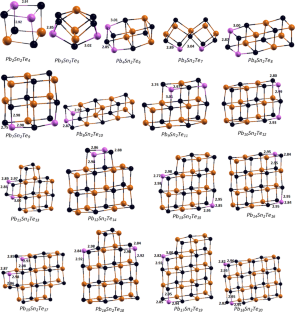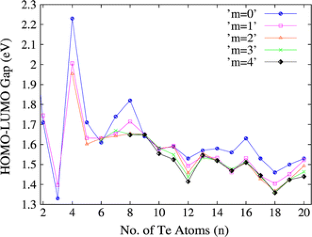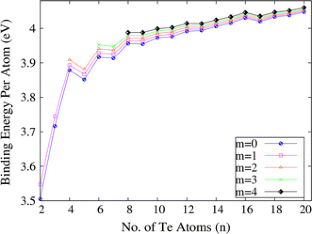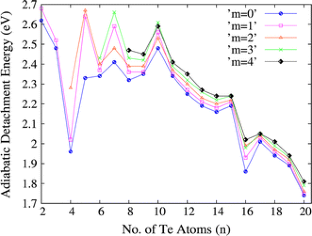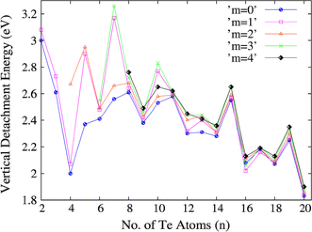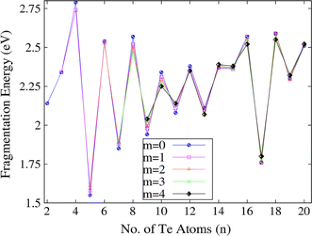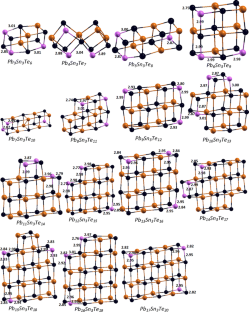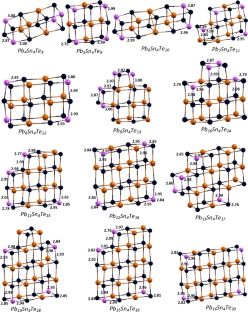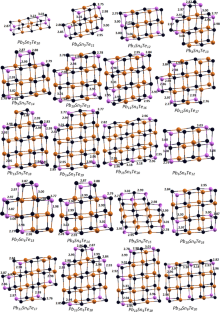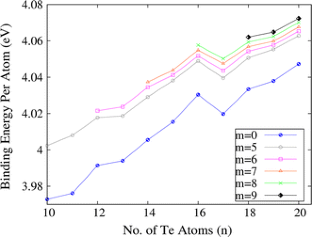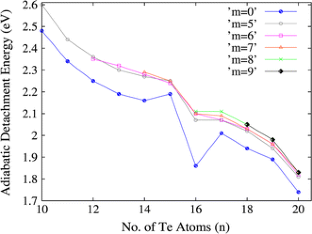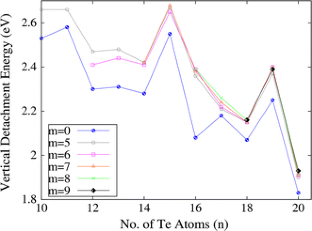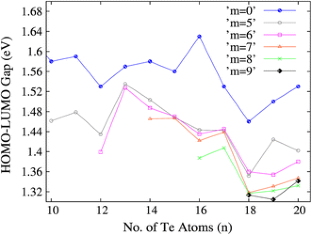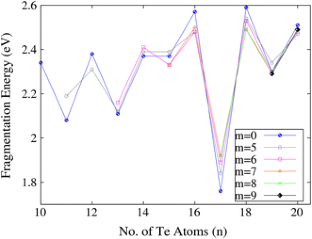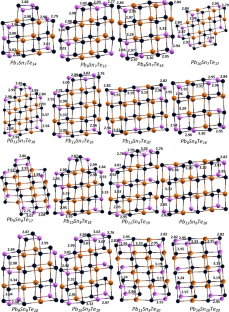 References
1.

Wang J, Ma L, Zhao L (2008) J Chem Phys 129:044908

2.

Mukherjee S, Li D, Gautam AZ (2010) Shi Pb-salt thin film semiconductors for microelectronic applications. Northwestern University, Evanston. ISBN 978-81-7895-501-8

3.

Ferreira SO, Abramof E, Motisuke P (1999) J Appl Phys 86:7196

4.

Jovovic V, Thiagarajan SJ, Heremans JP (2008) J Appl Phys 103:053710

5.

Koike K, Itakura T, Hotei T (2007) Appl Phys Lett 91:181911

6.

Dimmock J, Melngailis I, Strauss AJ (1966) Rev Phys Lett 16:1193

7.

Lakshmi K, LaLonde AD, Moran PD (2011) J Appl Phys 110:083715

8.

Mulugeta Y, Woldeghebriel H (2014) Comput Theor Chem 1039:40–49

9.

Kress G, Furthmuller J (1996) Phys Rev B 54:11169

10.

Vanderbilt D (1990) Phys Rev B 41:7892

11.

Nose S (1984) Mol Phys 52:255–268

12.

Xiangyu K, Hong-Guang X, Weijun Z (2012) J Chem Phys 137:064307

13.

Kumavat S, Deshpande M (2014) Comput Theor Chem 1035:19–27

14.

Zeng Q, Shi J, Jiang G, Yang M, Wang F, Chen J (2013) J Chem Phys 139:094305

15.

Mat AR, Khalid IM, Musa NM (2009) Model and simulation quantum nano-structure for single electron transistor. University of Technology, Malaysia
Acknowledgments
The author acknowledges the Mekelle University Physics Department for providing computational facilities. Y. Mulugeta gratefully acknowledges the Ministry of Education of the Ethiopian Government for financial support.
Electronic supplementary material
Below is the link to the electronic supplementary material.
About this article
Cite this article
Mulugeta, Y., Woldeghebriel, H. Tin content effect on the structural and energetic properties of lead telluride clusters. Struct Chem 26, 573–585 (2015). https://doi.org/10.1007/s11224-014-0518-z
Received:

Accepted:

Published:

Issue Date:
Keywords
Lead tin telluride clusters

Energetic properties

DFT