Abstract
The computational investigations are carried out on heterodimers containing sulfur tetroxide (SO4(C2V)) with the nitrous oxide (NNO) through MP2/cc–pVDZ and MP2/aug–cc–pVTZ//MP2/cc–pVDZ levels. Eight heterodimers are located on the potential energy surface of SO4(C2V)–NNO system. Binding energies of heterodimers in the SO4(C2V)–NNO system corrected with BSSE and ZPE are in the range of 1.17–7.90 kJ/mol. The calculated results reveal that the individual interaction of NNO terminal nitrogen atom with one of oxygen atoms of OSO ring in the SO4(C2V) monomer leads to the formation of the more stable heterodimer of SO4(C2V)–NNO system. The atoms in molecules theory were applied to analyze the nature of intermolecular interactions.
This is a preview of subscription content, log in to check access.
Access options
Buy single article
Instant access to the full article PDF.
US$ 39.95
Price includes VAT for USA
Subscribe to journal
Immediate online access to all issues from 2019. Subscription will auto renew annually.
US$ 99
This is the net price. Taxes to be calculated in checkout.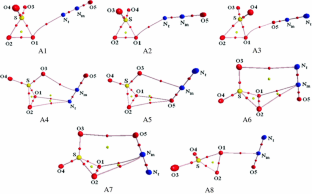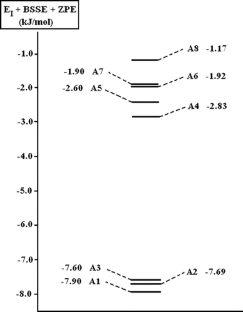 References
1.

Jacob A, Winkler CA (1972) J Chem Soc Faraday Trans 68:2077

2.

Reuben BG, Linnett J, Barber M (1962) In: 8th Symposium (lnf) on Combustion, p 97

3.

Kugel R, Taube H (1975) J Phys Chem 79:2130

4.

McKee ML (1993) J Am Chem Soc 115:9136

5.

McKee ML (1996) J Phys Chem 100:3473

6.

Schriver L, Carrere D, Shriver A, Jaeger K (1991) Chem Phys Lett 181:505

7.

Wannagat U, Schwarz R (1956) Z Anorg Allg Chem 286:180

8.

Levitt LS (1953) Can J Chem 31:915

9.

Sidebottom HW, Badcock CC, Jackson GE, Calvert JG, Reinhardt GW, Damon EK (1972) Sci Technol 6:72

10.

Allen ER, McQuigg RD, Cadle RD (1972) Chemosphere 1:25

11.

Cox RA (1972) J Phys Chem 76:814

12.

Vohra KG, Nair PVN, Muraleedharan TS (1972) J Aerosol Sci 3:225

13.

Schwarz R, Achenbach H (1934) Z Anorg Allg Chem 219:271

14.

Sloss LL (1992) Nitrogen oxides control technology fact book. William Andrew, Norwich. ISBN 978-0-8155-1294-3

15.

US Emissions Inventory 2010: Inventory of US Greenhouse Gas Emissions and Sinks (1990-2008)

16.

Frisch MJ, Trucks GW, Schlegel HB, Scuseria GE, Robb MA, Cheeseman JR, Montgomery JA Jr, Vreven T, Kudin KN, Burant JC, Millam JM, Iyengar SS, Tomasi J, Barone V, Mennucci B, Cossi M, Scalmani G, Rega N, Petersson GA, Nakatsuji H, Hada M, Ehara M, Toyota K, Fukuda R, Hasegawa J, Ishida M, Nakajima T, Honda Y, Kitao O, Nakai H, Klene M, Li X, Knox JE, Hratchian HP, Cross JB, Adamo C, Jaramillo J, Gomperts R, Stratmann RE, Yazyev O, Austin AJ, Cammi R, Pomelli C, Ochterski JW, Ayala PY, Morokuma K, Voth GA, Salvador P, Dannenberg JJ, Zakrzewski VG, Dapprich S, Daniels AD, Strain MC, Farkas O, Malick DK, Rabuck AD, Raghavachari K, Foresman JB, Ortiz JV, Cui Q, Baboul AG, Clifford S, Cioslowski J, Stefanov BB, Liu G, Liashenko A, Piskorz P, Komaromi I, Martin RL, Fox DJ, Keith T, Al-Laham MA, Peng CY, Nanayakkara A, Challacombe M, Gill PMW, Johnson B, Chen W, Wong MW, Gonzalez C, Pople JA (2003) Gaussian 03 (Revision B 03). Gaussian Inc, Pittsburgh

17.

Møller C, Plesset MS (1934) Phys Rev 46:618

18.

Dunning TH Jr (1989) J Chem Phys 90:1007

19.

Boys SF, Bernardi F (1970) Mol Phys 19:553

20.

Bader RFW (1990) In: Halpen J, Green MLH (eds) The international series of monographs of chemistry. Clarendon Press, Oxford

21.

Biegler-Konig F, Schonbohm J (2002) AIM2000 Program Package, Ver. 2.0. University of Applied Sciences, Bielefeld

22.

Ziółkowski M, Grabowski SJ, Leszczynski J (2006) J Phys Chem A 110:6514
About this article
Cite this article
Vessally, E., Ebrahimi, S., Goodarzi, M. et al. A computational study of the non-covalent bindings in complexes pairing sulfur tetroxide (SO4(C2V)) with the nitrous oxide (NNO). Struct Chem 25, 1141–1145 (2014). https://doi.org/10.1007/s11224-013-0388-9
Received:

Accepted:

Published:

Issue Date:
Keywords
Sulfur tetroxide

Nitrous oxide

Non-covalent binding

AIM