Abstract
Theoretical calculations at the B3LYP/6-31G(d) level have been carried out on the isomerization of cyclic-tri-glycine into the corresponding tri-cyclol. The results confirmed that the cyclol hypothesis was untenable both from a thermodynamic as well as from a kinetic point of view.
This is a preview of subscription content, log in to check access.
Access options
Buy single article
Instant access to the full article PDF.
US$ 39.95
Price includes VAT for USA
Subscribe to journal
Immediate online access to all issues from 2019. Subscription will auto renew annually.
US$ 99
This is the net price. Taxes to be calculated in checkout.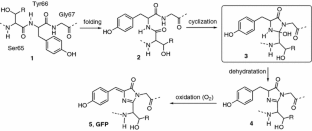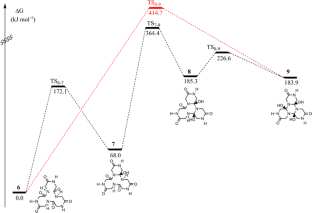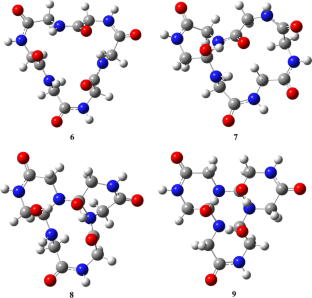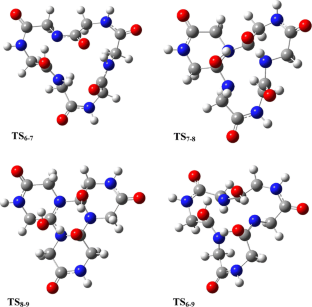 References
1.

Wrinch D (1937) Nature 139:972–973

2.

Wrinch D (1937) Proc Royal Soc London Series A Math Phys Sci 161:505–524

3.

Wrinch D (1940) Nature 145:669–670

4.

Bernal JD (1939) Nature 143:74–75

5.

Bernal JD (1939) Nature 143:663–667

6.

Bernal JD, Fankuchen I, Riley D (1939) Nature 143:897

7.

Pauling L, Niemann LC (1939) J Am Chem Soc 61:1860–1867

8.

Jones DS, Kenner GW, Sheppard RC (1963) Experientia 19:126–127

9.

Glover GI, Rapoport H (1964) J Am Chem Soc 86:3397–3398

10.

Shemyakin MM, Antonov VK, Shkrob AM, Shchelokov VI, Agadzhanyan ZE (1965) Tetrahedron 21:3537–3572

11.

Wakamiya T, Shiba T, Kaneko T, Sakakibara H, Noda T, Take T (1973) Bull Chem Soc Jap 46:949–954

12.

Lucente G, Pinnen F, Romeo A, Zanotti G (1983) J Chem Soc Perkin Trans 1:1127–1130

13.

Zanotti G, Pinnen F, Lucente G, Cerrini S, Gavazzo E, Mazza F (1983) Int J Pept Protein Res 22:410–421

14.

Maier W, Luthra R, Gröger D (1989) J Basic Microbiol 29:483–490

15.

Rajappa S, Natekar MV (1993) Piperizine-2,5-diones and related lactim ethers. Adv Heterocycl Chem 57:187–289 (see page 211)

16.

Guedez T, Núñez A, Tineo E, Núñez O (2002) J Chem Soc Perkin Trans 2:2078–2082

17.

García Borboa L, Núñez O (2006) J Phys Org Chem 19:737–743

18.

Contreras-Torres FF, Basiuk VA (2006) J Phys Chem A 110:7431–7440

19.

Bethencourt L, Núñez O (2008) J Org Chem 73:2105–2113

20.

Tsien RY (1998) Ann Rev Biochem 67:509–544

21.

http://nobelprize.org/nobel_prizes/chemistry/laureates/2008/. Accessed 21 Oct 2011

22.

Gaussian 09 (2009), Revision A.1, Frisch MJ, Trucks GW, Schlegel HB, Scuseria GE, Robb MA, Cheeseman JR, Scalmani G, Barone V, Mennucci B, Petersson GA, Nakatsuji H, Caricato M, Li X, Hratchian HP, Izmaylov AF, Bloino J, Zheng G, Sonnenberg JL, Hada M, Ehara M, Toyota K, Fukuda R, Hasegawa J, Ishida M, Nakajima T, Honda Y, Kitao O, Nakai H, Vreven T, Montgomery Jr., JA, Peralta JE, Ogliaro F, Bearpark M, Heyd JJ, Brothers E, Kudin KN, Staroverov VN, Kobayashi R, Normand J, Raghavachari K, Rendell A, Burant JC, Iyengar SS, Tomasi J, Cossi M, Rega N, Millam NJ, Klene M, Knox JE, Cross JB, Bakken V, Adamo C, Jaramillo J, Gomperts R, Stratmann RE, Yazyev O, Austin AJ, Cammi R, Pomelli C, Ochterski JW, Martin RL, Morokuma K, Zakrzewski VG, Voth GA, Salvador P, Dannenberg JJ, Dapprich S, Daniels AD, Farkas Ö, Foresman JB, Ortiz JV, Cioslowski J, Fox DJ. Gaussian, Inc., Wallingford

23.

Becke AD (1988) Phys Rev A 38:3098–3100

24.

Becke AD (1993) J Chem Phys 98:5648–5652

25.

Lee C, Yang W, Parr RG (1988) Phys Rev B 37:785–789

26.

Hariharan PA, Pople JA (1973) Theor Chim Acta 28:213–222

27.

McIver JW, Komornicki AK (1972) J Am Chem Soc 94:2625–2633

28.

Rothe M, Steffen KD, Rothe I (1965) Angew Chem Int Ed 4:356

29.

Manjula G, Ramakrishnan C, Sarathy KP (1977) Proc Indian Acad Sci 86:443–454

30.

Jeremic T, Linden A, Moehle K, Heimgartner H (2005) Tetrahedron 61:871–883

31.

Umezawa K, Ikeda Y, Uchihata Y, Naganawa H, Kondo S (2000) J Org Chem 65:459–463

32.

Oelke AJ, Antonietti F, Bertone L, Cranwell PB, France DJ, Goss JMR, Hofmann T, Knauer S, Moss SJ, Skelton PC, Turner RM, Wuitschik G, Ley SV (2011) Chem Eur J 17:4183–4194
Acknowledgments
We thank the Ministerio de Ciencia e Innovación (Project No. CTQ2009-13129-C02-02) and the Comunidad Autónoma de Madrid (Project MADRISOLAR2, ref. S2009/PPQ-1533) for continuing support. Thanks are given to the CTI (CSIC) for an allocation of computer time.
About this article
Cite this article
Alkorta, I., Sánchez-Sanz, G., Trujillo, C. et al. A theoretical reappraisal of the cyclol hypothesis. Struct Chem 23, 873–877 (2012). https://doi.org/10.1007/s11224-012-9947-8
Received:

Accepted:

Published:

Issue Date:
Keywords
Peptides

Cyclol

Green fluorescent protein

B3LYP/6-31G(d)

Energy profile