Abstract
The photochromic behaviors of four Schiff bases derived from (R)-3-phenyl-2-phthalimidopropionic acid were studied to reveal the substituent effect on the photosensitivity. Upon ultraviolet light radiation, all of compounds 1–4 exhibit photochromic behavior in solution through intramolecular hydrogen atom transfer. In solid state, only compound 2 is photochromic, which may be due to the presence of meta-site methoxyl. In solution, the photochromic behavior of compound 3 is remarkable than the other compounds, which may be ascribed to the presence of para-site hydroxyl. Only compound 4 exhibits solvatochromism, which may be ascribed to the large dissociation tendency of the naphthol hydroxyl. The influences of acidity on the UV–Vis absorption spectra of the title compounds were also studied.
This is a preview of subscription content, log in to check access.
Access options
Buy single article
Instant access to the full article PDF.
US$ 39.95
Price includes VAT for USA
Subscribe to journal
Immediate online access to all issues from 2019. Subscription will auto renew annually.
US$ 99
This is the net price. Taxes to be calculated in checkout.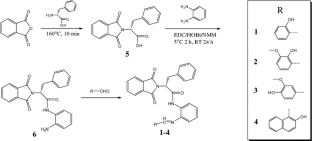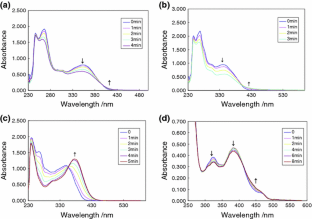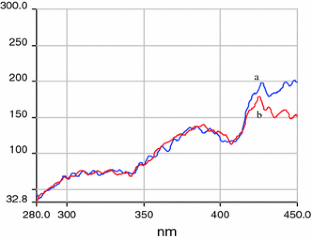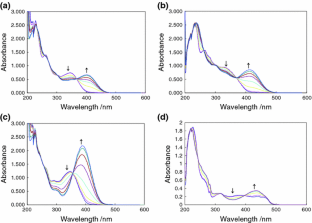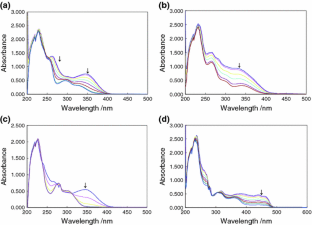 References
1.

Kobatake S, Takami S, Muto H, Ishikawa T, Irie M (2007) Nature 446:778–781

2.

Hadjoudis E, Mavridis IM (2004) Chem Soc Rev 33:579–588

3.

Gust D, Moore TA, Moore AL (2001) Acc Chem Res 34:40–48

4.

Takami S, Kuroki L, Irie M (2007) J Am Chem Soc 129:7319–7326

5.

Ogawa K, Harada J (2003) J Mol Struct 647:211–216

6.

Tian H, Yang S (2004) Chem Soc Rev 33:85–97

7.

Tanaka K, Tomomori A, Scott JL (2005) Bull Chem Soc Jpn 78:294–299

8.

Moorthy JN, Mal P, Singhal N (2004) J Org Chem 69:8459–8466

9.

Yam V, Ko C, Zhu N (2004) J Am Chem Soc 126:12734–12735

10.

Desiraju GR (1995) Angew Chem Int Ed Engl 34:2311–2327

11.

Elmali A, Kabak M, Kavlakoglu E, Elerman Y, Durlu TN (1999) J Mol Struct 510:207–214

12.

Naumov P, Sekine A, Uekusa H, Ohashi Y (2002) J Am Chem Soc 124:8540–8541

13.

Fukuda H, Amimoto K, Koyama H, Kawato T (2009) Tetrahedron Lett 50:5376–5378

14.

Antonov L, Kawauchi S, Satoh M (1998) Dyes Pigment 38:157–164

15.

Ohshima A, Momotake A, Arai T (2004) J Photochem Photobio A 162:473–479

16.

Schmidt GMJ (1967) Reactivity of the photoexcited organic molecule. Interscience, London

17.

Amimoto K, Kawato TJ (2005) J Photochem Photobio C 6:207–226

18.

Herzfeld R, Nagy P (2001) Curr Org Chem 5:373–394

19.

Harada J, Uekusa H, Ohashi Y (1999) J Am Chem Soc 121:5809–5810

20.

Kawato T, Koyama H, Kanatomi H (1994) J Photochem Photobio A 78:71–77

21.

Wang Q, Cai L, Gao F, Zhou Q (2010) J Mol Struct 977:274–278
Acknowledgments
This work was supported by the Natural Science Foundation of Fujian, PR China (2008J0237)
About this article
Cite this article
Wang, Q., Qiu, W., Wu, J. et al. Schiff base compounds derived from (R)-3-phenyl-2-phthalimidopropionic acid: photochromism, solvatochromism, and fluorescence. Struct Chem 24, 295–301 (2013). https://doi.org/10.1007/s11224-012-0079-y
Received:

Accepted:

Published:

Issue Date:
Keywords
Photochromism

Solvatochromism

Fluorescence

Schiff base

Tautomerism

Synthesis