Abstract
The cation radicals of DNA constituents generated by the ionizing radiation initiate the alteration of the bases, which is one main type of cytotoxic DNA lesions. These cation radical spices are known for their role in producing nucleic acid strand break, and it is important to identify the cation radical formation at particular atomic site in these molecules so that the major pathway for the nucleic acid damage may be trapped. In the present study, we explored theoretically energetic, structural, and electronic properties of the possible radicals formed via proton atom abstraction at various sites of sugar part of deoxycytidine cation radical by employing density functional theory at B3LYP/6-311++G (d,p) level. The computation revealed 0.0–22.6 kcal/mol energy disparity in these radicals. Radical-centered carbon increases the extent of bonding with its adjacent atoms. This tendency should be important in predicting the reactivity of sugar-based radicals. Based on DFT calculations, sugar radicals of deoxycytidine have following stability order: raH1′ > raH2′ > raH4′ > raH3′ > raH5′ > raO5′H > raO3′H. Furthermore, influence of cation radical formation on acidities of multiple sites in deoxycytidine nucleosides was investigated. For instance upon cation radical formation, ΔHacidity of O3′H and O5′H sites of deoxycytidine varies from 348.6 and 351.5 to 228.8 and 227.5 kcal/mol, respectively.
This is a preview of subscription content, log in to check access.
Access options
Buy single article
Instant access to the full article PDF.
US$ 39.95
Price includes VAT for USA
Subscribe to journal
Immediate online access to all issues from 2019. Subscription will auto renew annually.
US$ 99
This is the net price. Taxes to be calculated in checkout.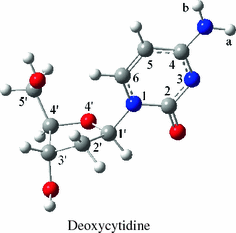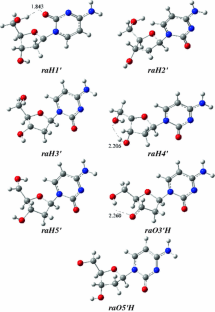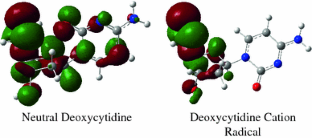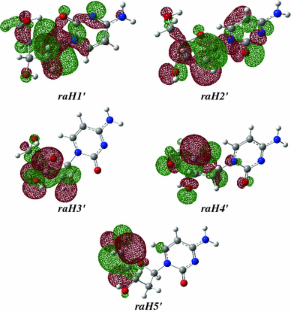 Notes
1.

Presented in the proceeding of the spring 2010 meeting of the ACS division of Carbohydrate Chemistry.
References
1.

Von Sonntag C (2006) Free-radical-induced DNA damage and its repair. Springer, Berlin

2.

Yan M, Becker D, Summerfield S, Renke P, Sevilla MD (1992) J Phys Chem 96:1983

3.

Little JB (2000) Carcinogenesis 21:397

4.

Von Sonntag C (1991) In: Glass WA, Varma MN (eds) Physical and chemical mechanism in molecular radiation biology. Plenum Press, New York, p 287

5.

Steenken S (1989) Chem Rev 89:503

6.

Pogozelski WK, Tullius TD (1998) Chem Rev 98:1089

7.

Tronche C, Goodman BK, Greenberg MM (1998) Chem Biol 5:263

8.

Von Sonntag C (1987) The chemical basis of radiation biology. Taylor and Francis, London

9.

Adhikary A, Collins S, Koppen J, Becker D, Sevilla MD (2006) Nucleic Acid Res 34:1501

10.

Becker D, Bryant-Friedrich A, Trzasko C, Sevilla MD (2003) Radiat Res 160:174

11.

Becker D, Razskazovskii Y, Callaghan MU, Sevilla MD (1996) Radiat Res 146:361

12.

Shukla LI, Pazdro R, Huang J, De Vreugd C, Becker D, Sevilla MD (2004) Radiat Res 161:582

13.

Adhikary A, Malkhasian AYS, Collins S, Koppen J, Becker D, Sevilla MD (2005) Nucleic Acids Res 33:5553

14.

Adhikary A, Kumar A, Sevilla MD (2006) Radiat Res 165:479

15.

Kumar A, Sevilla MD (2006) J Phys Chem B 110:24181

16.

Adhikary A, Collins S, Khanduri D, Sevilla MD (2007) J Phys Chem B 111:7415–7421

17.

Becker D, Adhikary A, Sevilla MD (2007) In: Rao BSM, Wishart J (eds) Recent trends in radiation chemistry. World Scientific Publishing Co, Singapore

18.

Kumar A, Sevilla MD (2007) In: Shukla MK, Leszczynski J (eds) Radiation induced molecular phenomena in nucleic acid: a comprehensive theoretical and experimental analysis. Springer, Berlin

19.

Henderson PT, Jones D, Hampikian G, Kan Y, Schuster GB (1999) Proc Natl Acad Sci USA 96:8353

20.

O'Neill MA, Barton JK (2004) J Am Chem Soc 126:11471

21.

Lewis FD, Letinger RL, Wasielewski MR (2001) Acc Chem Res 34:159

22.

Giese B, Amaudrut J, Kohler AK, Spomann M, Wessely S (2001) Nature 412:318

23.

Shafirovich V, Cadet J, Gasparutto D, Dourandin A, Huang W, Geacintov NE (2001) J Phys Chem B 105:586

24.

Takada T, Kawai K, Fujitsuka M, Majima T (2004) Proc Natl Acad Sci USA 101:14002

25.

Steenken S (1992) Free Radical Res Commun 16:349

26.

Steenken S (1997) Biol Chem 378:1293

27.

Colson A, Besler B, Close DM, Sevilla MD (1992) J Phys Chem 96:661

28.

Bertran J, Oliva A, Rodriguez-Santiago L, Sodupe M (1998) J Am Chem Soc 120:8159

29.

Nelson WH, Sagstuen E, Hole EO, Close DM (1998) Radiat Res 149:75

30.

Hwang CT, Stumpf CL, Yu YQ, Kenttamaa HI (1999) Int J Mass Spectrom 183:253

31.

Liu J, Crawford K, Petzold CJ, Kenttamaa HI (2001) Proceedings of the 49th ASMS conference on mass spectrometry and allied topics, Chicago 2001. American society for mass spectrometry: Santa Fe, New Mexico, Presentation No. ThPB 038

32.

Harrison AG (1997) Mass Spectrom Rev 16:201

33.

Lias SG (1988) Ionization energy evaluation, NIST standard reference database number 69. In: Mallard WG, Linstrom PJ (eds) National Institute of Standards and Technology, Gathersburg MD, 20899 (http://webbook.nist.gov)

34.

Spartan '06V102'. Wavefunction, Inc.: Irvine, CA

35.

Becke AD (1993) J Chem Phys 98:5648

36.

Lee C, Yang W, Parr RG (1988) Phys Rev B 37:785

37.

Reed AE, Weinhold F (1985) J Chem Phys 83:1736

38.

Reed AE, Weinstock RB, Weinhold F (1985) J Chem Phys 83:735

39.

Reed AE, Weinhold F (1983) J Chem Phys 78:4066

40.

Foster JP, Weinhold F (1980) J Am Chem Soc 102:7211

41.

Chocholousova J, Vladimir Spirko V, Hobza P (2004) Phys Chem Chem Phys 6:37

42.

Altona C, Sundaralingam M (1972) J Am Chem Soc 94:8205

43.

Saenger W (1984) Principles of nucleic acid structure. Springer, New York

44.

Shishkin OV, Pelmenschikov A, Hovorun DM, Leszczynski J (2000) J Mol Struct (Theochem) 526:329

45.

Knowles D, Foloppe N, Matassova BN, Murchie A (2002) Curr Opin Pharmacol 2:501

46.

Brameld KA, Goddard WA (1999) J Am Chem Soc 121:985

47.

Hernandez B, Elass A, Navarro R, Vergoten G, Hernanz A (1998) J Phys Chem B 102:4233

48.

Grana AM, Rios MA (1995) J Mol Struct (Theochem) 334:37

49.

Hocquet A (2001) Phys Chem Chem Phys 3:3192

50.

Louit G, Hocquet A, Ghomi M (2002) Phys Chem Chem Phys 4:3843

51.

Zhang C, Xue Y (2007) J Mol Struct (Theochem) 802:35

52.

Dougherty RC (1968) J Am Chem Soc 90:5780

53.

Tomasi J, Persico M (1994) Chem Rev 94:2027

54.

Pena DA, Uphade BS, Reddy EP, Smirniotis PG (2004) J Phys Chem B 108:9927

55.

Kennedy JW, Hall DG (2002) J Am Chem Soc 124:11586

56.

Tian Zh, Fattahi A, Lis L, Kass SR (2009) J Am Chem Soc 131:16984

57.

Wang XB, Nicholas JB, Wang LS (2000) J Phys Chem A 104:504
Acknowledgment
Support from Sharif University of Technology is gratefully acknowledged.
About this article
Cite this article
Jebeli Javan, M., Aliakbar Tehrani, Z. & Fattahi, A. Structural behavior of sugar radicals formed by proton transfer reaction of deoxycytidine cation radical: detailed view from NBO analysis. Struct Chem 23, 1185–1192 (2012). https://doi.org/10.1007/s11224-011-9942-5
Received:

Accepted:

Published:

Issue Date:
Keywords
Deoxycytidine

Cation radical

Hydrogen atom abstraction

Sugar puckering mode

NBO analysis