Abstract
The proton affinities of all the potential sites of oxazolidinone (OXA) and formyl substituted OXA have been evaluated using ab initio and DFT methods. N4- and C5-formyl oxazolidinone isomers and their protonated structures have been analyzed for relative stabilities. The proton affinity (PA) of carbonyl oxygen of oxazolidinone is observed to be highest in un-substituted and formyl substituted OXA molecules. The PA values decrease for the potential sites in the range 0.5–15.51 kcal/mol as a result of the presence of the formyl substituent. Atomic charges and electron delocalization of neutral and protonated species have been analyzed with the application of NBO. The various factors such as variation in geometrical parameters, atomic charge redistribution, alterations in conjugative interactions, effect of formyl substituent, the presence of intramolecular hydrogen bonding and electronic effects have been explored to rationalize the relative stabilities and proton affinities of OXA and its N,C5 formyl derivatives.
This is a preview of subscription content, log in to check access.
Access options
Buy single article
Instant access to the full article PDF.
US$ 39.95
Price includes VAT for USA
Subscribe to journal
Immediate online access to all issues from 2019. Subscription will auto renew annually.
US$ 99
This is the net price. Taxes to be calculated in checkout.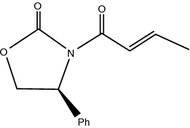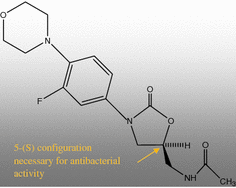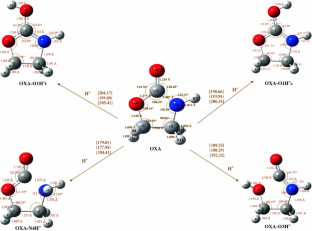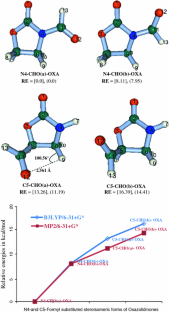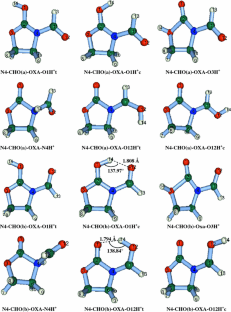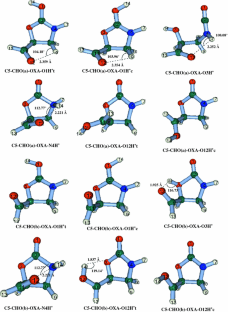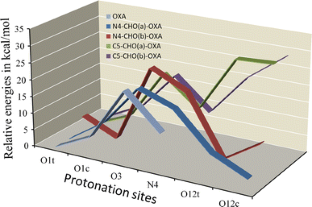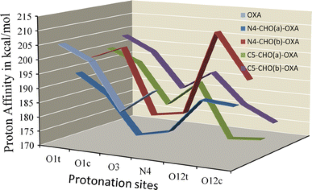 References
1.

Kearney JA, Barbadora K, Mason EO, Wald ER, Green M (1999) Int J Antimicrob Agents 12:141

2.

Kakeya H, Morishita M, Koshino H, Morita TI, Kobayashi K, Osada H (1999) J Org Chem 64:1052

3.

Adams JB, Hockessin D, Geffken D, Rayner DR (1993) In: Fungicidal oxazolidinones. US Patent no. 5,223,523

4.

Middleton WJ, Wilmington D (1972) In: 2,2,5,5-Tetrakis(Polyhalomethyl),4-Oxazolidinone Herbicides. US Patent no. 3,690,862

5.

Fraunhoffer KJ, White MC (2007) J Am Chem Soc 129:7274

6.

Morita T, Nagasawa Y, Yahiro S, Matsunaga H, Kunieda T (2001) Org Lett 3:897

7.

Evans DA, Bartroli J, Shih TL (1981) J Am Chem Soc 103:2127

8.

Farina V, Reeves JT, Senanayake CH, Song JJ (2006) Chem Rev 106:2734

9.

Froehlich TE, Lanphear BP, Epstein JN, Barbaresi WJ, Katusic SK, Kahn RS (2007) Arch Pediatr Adolesc Med 161:857

10.

Sarma KS, Sureshbabu VV, Venkataramanarao R, Hemantha HP, Narendra N (2007) In: Proceedings of the 4th international peptide symposium in conjunction with the 7th Australian peptide conference and the 2nd Asia-pacific international peptide symposium, Cairns

13.

Bordwell FG (1988) Acc Chem Res 21:456

14.

Berthelot M, Decouzon M, Gal J-F, Laurence C, Le Questel J-Y, Maria P-C, Tortajada J (1991) J Org Chem 56:4490

15.

Szulejko JE, McMahon TB (1993) J Am Chem Soc 115:7839

16.

Wieczorek R, Dannenberg JJ (2004) J Am Chem Soc 126:12278

17.

Van Beelen SE, Koblenz TA, Ingemann S, Hammmerum S (2004) J Phys Chem A 108:2787

18.

Dixon DA, Gole JL, Komornicki A (1988) J Phys Chem 92:2134

19.

Frisch MJ, Trucks GW, Schlegel HB, Scuseria GE, Robb MA, Cheeseman JR, Scalmani G, Barone V, Mennucci B, Petersson GA, Nakatsuji H, Caricato M, Li X, Hratchian HP, Izmaylov AF, Bloino J, Zheng J, Sonnenberg JL, Hada M, Ehara M, Toyota K, Fukuda R, Hasegawa J, Ishida M, Nakajima T, Honda Y, Kitao O, Nakai H, Vreven T, Montgomery JA, Peralta JE, Ogilaro F, Bearpark M, Heyd J, Brothers E, Kudin VN, Straoverov N, Kobayashi R, Normand J, Raghavachari K, Rendell A, Burant JC, Iyengar SS, Tomasi J, Cossi M, Rega N, Millam JM, Klene M, Knox JE, Cross JB, Bakken V, Adamo C, Jaramillo J, Gomperts R, Stratman RE, Yazyev O, Austin JA, Cammi R, Pomelli C, Ochterski JW, Martin RL, Morokuma K, Zakrzewski G, Voth GA, Salvador P, Dannenberg JJ, Dapprich S, Daniels AD, Farkas O, Foresman JB, Ortiz JV, Cioslowski J, Fox DJ (2009) In: Gaussian Inc., Wallingford

20.

Parr RG, Yang W (1989) Density-functional theory of atoms and molecules. Oxford University Press, New York

21.

Bartolorri LJ, Fluchick K (1995) In: Reviews in computational chemistry, vol 7, VCH, New York

22.

Hehre WJ, Radom L, Schleyer PVR, Pople JA (1986) Ab initio molecular orbital theory. Wiley, New York

23.

Forseman JB, Frisch E (1996) Exploring chemistry with electronic structure methods, 2nd edn. Gauusian Inc., Pittsburgh

24.

Merrick JP, Moran D, Radom L (2007) J Phys Chem A 111:11683

25.

Wang Z, Chu K, Rodriquez CF, Hopkinson AC, Michael Siu KW (1999) J Phys Chem 103:8700

26.

Bharatam PV, Iqbal P, Malde A, Tiwari R (2004) J Phys Chem A 108:10509

27.

Reed AE, Weinstock RB, Weinhold FJ (1985) Chem Phys 83:735

28.

Reed AE, Curtiss LA, Weinhold F (1988) Chem Rev 88:899

29.

Wouters J, Ooms F, Durant F (1997) Acta Cryst C53:895
Acknowledgment
The authors are highly thankful to UGC for financial assistance.
Electronic supplementary material
Below is the link to the electronic supplementary material.
About this article
Cite this article
Kaur, D., Sharma, R. Factors affecting relative stabilities and proton affinities of oxazolidinone and its N,C5-formyl derivatives. Struct Chem 23, 905–919 (2012). https://doi.org/10.1007/s11224-011-9938-1
Received:

Accepted:

Published:

Issue Date:
Keywords
Oxazolidinone

Proton affinity

Formyl

Substituent

Relative stability

NBO

Conjugative interactions