Abstract
The crystal structures of valerophenone diperoxides trans-1 and cis-1 were elucidated by X-ray crystallographic analysis. The 1,2,4,5-tetraoxane rings of both compounds adopt chair conformations. Intermolecular CH···O hydrogen bond, π–π, and CH/π interactions exist in cis-1, whereas only CH/π interactions exist in trans-1. In the asymmetric unit of the crystal, a half molecule exists for trans-1, while one molecule for cis-1 which shows whole-molecule disorder. Solid-state photolysis (at 254 nm) or solution-state thermolysis (at 150 °C) of trans-1 and cis-1 produced valerophenone (2) and butyl benzoate (3). Rationalization of the solid-state photoreactivity of the diperoxides by their crystal structures was attempted.
Index abstract
The crystal structure of cis-valerophenone diperoxide (cis-1) shows whole molecule disorder. Its lower photoreactivity in the solid state is explained by the locally narrow and rigid reaction cavity due to the Ph–Ph π–π overlap.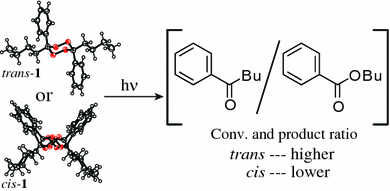 This is a preview of subscription content, log in to check access.
Access options
Buy single article
Instant access to the full article PDF.
US$ 39.95
Price includes VAT for USA
Subscribe to journal
Immediate online access to all issues from 2019. Subscription will auto renew annually.
US$ 99
This is the net price. Taxes to be calculated in checkout.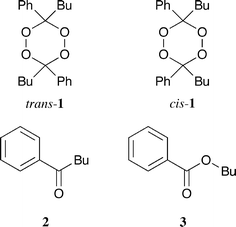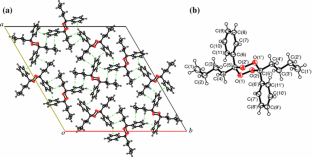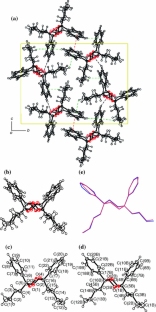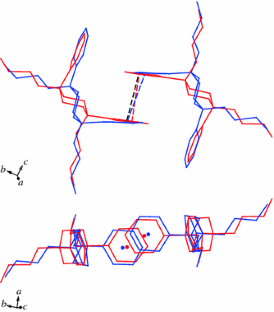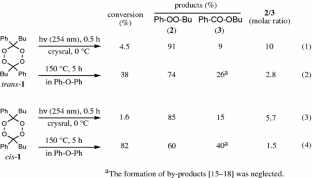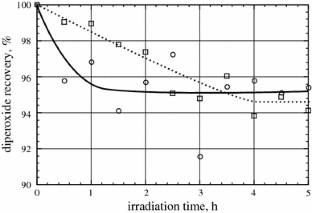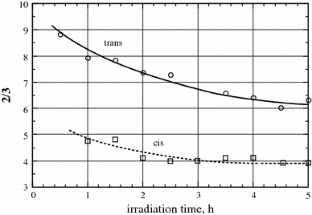 Notes
1.

Referring to the Cambridge Crystallographic Database (CSD Ver. 5.32), 21 crystals containing 1,2,4,5-tetraoxane have been reported. Their refcodes are as follows: AROZEM, BMTTRX, CEDDOE, DPTOCH, GAGTEO, GAGTIS, GAHXIW, IBEJAA, LEVSOV, LEVSUB, MUPTEW, QINDAS, QINDEW, QINDIA, SCHOCH10, SCHOHX10, SIFGAQ, SPOCTC10, SPOCTC10, VIBHIX, and YIZFET. We calculated the average bond lengths by using these data.
References
1.

Ihmels H, Scheffer JR (1999) Tetrahedron 55:885–907

2.

Braga D, Chen S, Filson H, Maini L, Netherton MR, Patrick BO, Scheffer JR, Scott C, Xia W (2004) J Am Chem Soc 126:3511–3520

3.

Scheffer JR, Xia WJ (2005) Top Curr Chem 254:233–262

4.

Tanaka K, Toda F (2000) Chem Rev 100:1025–1074

5.

Toda F, Tanaka K, Miyamoto H (2001) In: Schanze KS (ed) Understanding and manipulating excited-state processes, vol 8. Marcel Dekker, New York, 2001, p. 385

6.

MacGillivray LR (2008) J Org Chem 73:3311–3317

7.

MacGillivray LR, Papaefstathiou GS, Friscic T, Hamilton TD, Bucar DK, Chu Q, Varshney DB, Georgiev IG (2008) Acc Chem Res 41:280–291

8.

Georgiev IG, MacGillivray LR (2007) Chem Soc Rev 36:1239–1248

9.

Lauher JW, Fowler FW, Goroff NS (2008) Acc Chem Res 41:1215–1229

10.

Kim HS, Shibata Y, Wataya Y, Tsuchiya K, Masuyama A, Nojima MJ (1999) J Med Chem 42:2604–2609

11.

Vennerstrom JL, Fu HN, Ellis WY, Ager AL Jr, Wood JK, Andersen SL, Gerena L, Milhous WK (1992) J Med Chem 35:3023–3027

12.

O'Neill PM, Amewu RK, Nixon GL, ElGarah FB, Mungthin M, Chadwick J, Shone AE, Vivas L, Lander H, Barton V, Muangnoicharoen S, Bray PG, Davies J, Park BK, Wittlin S, Brun R, Preschel M, Zhang K, Ward SA (2010) Angew Chem Int Ed 49:5693–5697

13.

Kim HS, Tsuchiya K, Shibata Y, Wataya Y, Ushigoe Y, Masuyama A, Nojima M, McCullough KJ (1999) J Chem Soc Perkin Trans 1(13):1867–1870

14.

Badawi HM, Al-Saadi AA, Ali AS (2010) J Mol Struct 969:197–203

15.

Ito Y, Konishi M, Matsuura T (1979) Photochem Photobiol 30:53–57

16.

Ito Y, Matsuura T, Yokoya H (1979) J Am Chem Soc 101:4010–4011

17.

Ito Y, Yokoya H, Umehara Y, Matsuura T (1980) Bull Chem Soc Jpn 53:2407–2408

18.

Ito Y, Tone M, Yokoya H, Matsuura T, Schuster GB (1986) J Org Chem 51:2240–2245

19.

Altomare A, Burla M, Camalli M, Cascarano G, Giacovazzo C, Guagliardi A, Moliterni A, Polidori G, Spagna R (1999) J Appl Crystallogr 32:115–119

20.

Sheldrick GM (2008) Acta Crystallogr A 64:112–122

21.

CrystalStructure 3.8, Crystal Structure Analysis Package; Rigaku and Rigaku Americas (2000–2007): 9009 New Trails Dr., The Woodlands, TX 77381, USA

22.

Kabuto C, Akine S, Nemoto T, Kwon E (2009) J Cryst Soc Jpn 51:218–224

23.

Macrae CF, Edgington PR, McCabe P, Pidcock E, Shields GP, Taylor R, Towler M, van de Streek J (2006) J Appl Crystallogr 39:453–457

24.

Spek AL (2009) Acta Crystallogr D 65:148–155

25.

Ito Y (1998) Synthesis 1:1–32

26.

Ito Y (1999) In: Ramamurthy V, Schanze KS (eds) Molecular and supramolecular photochemistry, vol 3. Marcel Dekker, New York, pp 1–70

27.

Cremer D, Pople JA (1975) J Am Chem Soc 97:1354–1358

28.

Mackay AL (1984) Acta Crystallogr A 40:165–166

29.

Fischer RX, Tillmanns E (1988) Acta Crystallogr C 44:775–776

30.

Wagner PJ (1971) Acc Chem Res 4:168–177

31.

McCullough KJ, Morgan AR, Nonhebel DC, Pauson PL (1980) J Chem Res (S) 35–37

32.

Miura M, Nojima M, Kusabayashi S (1980) JCS Perkin 1:1950–1954

33.

Cafferata LFR, Eyler GN, Mirifico MV (1984) J Org Chem 49:2107–2111

34.

Cafferata LFR, Eyler GN, Svartman EL, Canizo AI, Borkowski EJ (1990) J Org Chem 55:1058–1061

35.

Ishiguro K, Nojima T, Sawaki Y (1997) J Phys Org Chem 10:787–796

36.

Ito Y, Ito H, Ino M, Matsuura T (1988) Tetrahedron Lett 29:3091–3094

37.

Matsuura T, Meng J, Ito Y, Irie M, Fukuyama K (1987) Tetrahedron 43:2451–2456

38.

Ito Y (1989) In: Anpo M, Matsuura T (eds) Photochemistry on solid surfaces. Elsevier, Amsterdam, pp 469–480

39.

Ito Y, Borecka B, Scheffer JR, Trotter J (1995) Tetrahedron Lett 36:6083–6086

40.

Ito Y, Borecka B, Olovsson G, Trotter J, Scheffer JR (1995) Tetrahedron Lett 36:6087–6090

41.

Ito Y (1996) Mol Cryst Liq Cryst 277:247–253

42.

Ito Y, Olovsson G (1997) J Chem Soc Perkin Trans 1(11):127–133

43.

Ito Y, Hosomi H, Ohba S (2000) Tetrahedron 56:6833–6844

44.

Ohba S, Hosomi H, Ito Y (2001) J Am Chem Soc 123:6349–6352

45.

Ito Y, Kitada T, Horiguchi M (2003) Tetrahedron 59:7323–7329

46.

Horiguchi M, Ito Y (2006) J Org Chem 71:3608–3611

47.

Ito Y, Takahashi H, Hasegawa J, Turro NJ (2009) Tetrahedron 65:677–689

48.

Garcia-Garibay MA (2003) Acc Chem Res 36:491–498

49.

Garcia-Garibay MA (2007) Angew Chem Int Ed 46:8945–8947

50.

Kuzmanich G, Natarajan A, Chin K, Veerman M, Mortko CJ, Garcia-Garibay MA (2008) J Am Chem Soc 130:1140–1141

51.

Lebedeva NV, Tarasov VF, Resendiz MJE, Garcia-Garibay MA, White RC, Forbes MDE (2010) J Am Chem Soc 132:82–84
Acknowledgments
The authors are indebted to Professor Yoshiki Matsuura (Osaka University), who first solved the crystal structure of trans-1. We also thank Dr. Sadayuki Asaoka for his assistance in doing photolysis experiments.
About this article
Cite this article
Takahashi, H., Ito, Y. Crystal structures and photoreactivity of trans- and cis-valerophenone diperoxides. Struct Chem 23, 441–449 (2012). https://doi.org/10.1007/s11224-011-9887-8
Received:

Accepted:

Published:

Issue Date:
Keywords
1,2,4,5-Tetraoxane

X-ray analysis

Intermolecular interaction

Photolysis

Thermolysis