Abstract
A new tridentate pyridyl Schiff base, N-isopropyl-N′-(1-pyridin-2-ylethylidene)ethane-1,2-diamine (L), was used to synthesize two dinuclear cadmium(II) complexes, [Cd2L2(μ 1,1-N3)2(N3)2] (1) and [Cd2L2(μ 1,3-NCS)2(NCS)2] (2). X-ray single crystal structure determination reveals that in both centrosymmetric complexes, the Cd atom is in a distorted octahedral coordination. In the crystal structures of 1 and 2, the dinuclear cadmium(II) complex molecules are linked, respectively, through intermolecular N–H···N and N–H···S hydrogen bonds to form infinite 1D chains. The preliminary fluorescence properties of the complexes were investigated.
This is a preview of subscription content, log in to check access.
Access options
Buy single article
Instant access to the full article PDF.
US$ 39.95
Price includes VAT for USA
Subscribe to journal
Immediate online access to all issues from 2019. Subscription will auto renew annually.
US$ 99
This is the net price. Taxes to be calculated in checkout.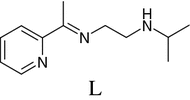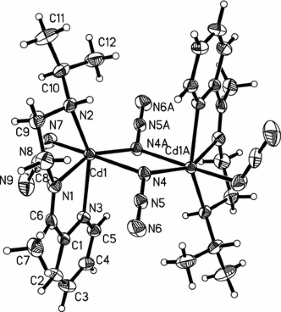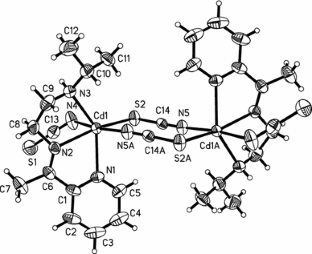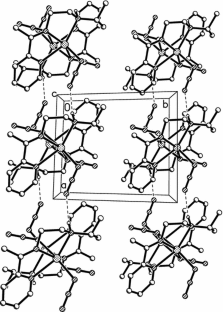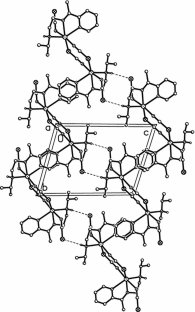 References
1.

Gustafsson M, Fischer A, Ilyukhin A, Maliarik M, Nordblad P (2010) Inorg Chem 49:5359

2.

Ambrosi G, Formica M, Fusi V, Giorgi L, Macedi E, Micheloni M, Paoli P, Rossi P (2009) Inorg Chem 48:10424

3.

Staszak Z, Krojcer A, Kubiak M, Puszko A, Maciejewska G, Cieslak-Golonka M (2010) Struct Chem 21:305

4.

Papaefstathiou GS, Escuer A, Raptopoulou CP, Terzis A, Perlepes SP, Vicente R (2001) Eur J Inorg Chem 1567

5.

Liu G, Jing H, Xue D (2008) Struct Chem 19:81

6.

Shen L, Feng XW (2002) Struct Chem 13:437

7.

Wang DH, Zhang XL, He C, Duan CY (2010) Org Biomol Chem 8:2923

8.

Song CX, Zhang XL, Jia CY, Zhou P, Quan X, Duan CY (2010) Talanta 81:643

9.

Fang ZL, Nie QX (2010) J Coord Chem 63:2328

10.

Majumder A, Rosair GM, Mallick A, Chattopadhyay N, Mitra S (2006) Polyhedron 25:1753

11.

Bruker (2007) SMART (Version 5.625) and SAINT (Version 6.01). Bruker AXS Inc, Madison, WI

12.

Sheldrick GM (1996) SADABS program for empirical absorption correction of area detector. University of Göttingen, Germany

13.

Sheldrick GM (1997) SHELXTL V5.1 software reference manual. Bruker AXS, Inc, Madison, WI

14.

Geary WJ (1971) Coord Chem Rev 7:81

15.

You Z-L, Han X, Zhang G-N (2008) Z Anorg Allg Chem 634:142

16.

Chowdhury H, Ghosh R, Rahaman SH, Ghosh BK (2007) Polyhedron 26:5230

17.

You Z-L, Jiao Q-Z, Niu S-Y, Chi J-Y (2006) Z Anorg Allg Chem 632:2486

18.

Rahaman SH, Ghosh R, Ghosh BK (2006) Inorg Chem Commun 9:1011

19.

Basak S, Sen S, Marschner C, Baumgartner J, Batten SR, Turner DR, Mitra S (2008) Polyhedron 27:1193

20.

Das D, Chand BG, Sarker KK, Dinda J, Sinha C (2006) Polyhedron 25:2333
Acknowledgment
This study was supported by the National Natural Science Foundation of China (20901036).
About this article
Cite this article
You, Z., Wang, X., Zhang, J. et al. Synthesis, crystal structures, and fluorescence properties of two dinuclear cadmium(II) complexes derived from N-isopropyl-N′-(1-pyridin-2-ylethylidene)ethane-1,2-diamine. Struct Chem 22, 1297–1302 (2011). https://doi.org/10.1007/s11224-011-9825-9
Received:

Accepted:

Published:

Issue Date:
Keywords
Synthesis

Crystal structure

Schiff base

Cadmium complex

Fluorescence