Abstract
The base-pairing energies of eleven oxidized G:C base pairs were characterized by Møller–Plesset perturbation theory. The analysis was focused on the base pairs consisting of guanine and one of the following cytosine derivatives: G:C1 (5-hydroxycytosine); G:C2 (5-hydroxyuracil); G:C3 (5,6-dihydroxy-cytosine); G:C4 (5,6-dihydroxy-uracil); G:C5 (cytosine glycol);G:C6 (isodialuric acid); G:C7 (uracil glycol), and the base pairs between cytosine and one of the following guanine derivatives: G8:C (8-oxo-guanine); G9:C (6-enol-8-keto-guanine); G10:C (xantho-sine); and G11:C (8-hydroxy-guanine). Full geometry optimizations have been performed for the studied complexes by MP2 method. The interaction energies were corrected for the basis-set superposition error (BSSE), using the full Boys-Bernardi counterpoise correction scheme. The results obtained show that the interaction energies of the base pairs decrease in the following order: G8:C > G:C5 ~ G:C1 > G:C3 ~ G:C ~ G11:C > G:C2 > G:C4 > G:C7 > G:C6 > G10:C > G9:C.
This is a preview of subscription content, log in to check access.
Access options
Buy single article
Instant access to the full article PDF.
US$ 39.95
Price includes VAT for USA
Subscribe to journal
Immediate online access to all issues from 2019. Subscription will auto renew annually.
US$ 99
This is the net price. Taxes to be calculated in checkout.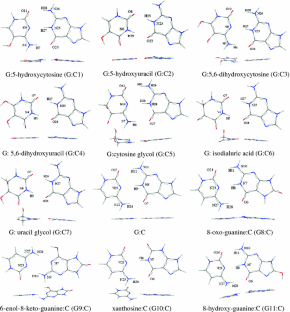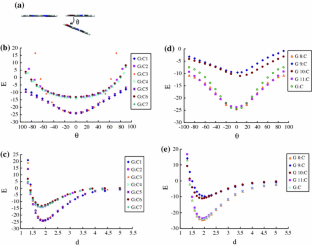 References
1.

Watson JD, Crick FHC (1953) Nature 171:737–738. doi:10.1038/171738a0

2.

Parthasarathi R, Subramanian V (2006) Chem Phys Lett 418:530–534. doi:10.1016/j.cplett.2005.10.153

3.

Dkhissi A, Blossey R (2007) Chem Phys Lett 439:35–39. doi:10.1016/j.cplett.2007.03.065

4.

Thiviyanathan V, Somasunderam A, Volk DE, Hazra TK, Mitra S, Gorenstein DG (2008) Biochem Biophys Res Commun 366:752–757. doi:10.1016/j.bbrc.2007.12.010

5.

Padermshoke A, Katsumoto Y, Masaki R, Aida M (2008) Chem Phys Lett 457:232–236. doi:10.1016/j.cplett.2008.04.029

6.

Yang C, Wang HJ (2008) Struct Chem 19:843–847. doi:10.1007/s11224-008-9374-z

7.

Villani G (2006) Chem Phys 324:438–446. doi:10.1016/j.chemphys.2005.11.006

8.

Grunenberg J (2004) J Am Chem Soc 126:16310–16311. doi:10.1021/ja046282a

9.

Bhattacharyya D, Koripella SC, Mitra A, Rajendran VB, Sinha B (2007) J Biosci 32:809–825. doi:10.1007/s12038-007-0082-4

10.

Danilov VI, Anisimov VM, Kurita N, Hovorun D (2005) Chem Phys Lett 412:285–293. doi:10.1016/j.cplett.2005.06.123

11.

Šponer J, Leszczynski J, Hobza P (2001) Biopolymers 61(1):3–31. doi:10.1002/1097-0282(2001)61:1<3:AID-BIP10048>3.0.CO;2-4

12.

Šponer J, Leszczynski J, Hobza P (1996) J Phys Chem 100:1965–1974. doi:10.1021/jp952760f

13.

Šponer J, Leszczynski J, Hobza P (1996) J Biomol Struct Dyn 14(1):117–135

14.

Gorb L, Podolyan Y, Dziekonski P, Sokalski WA, Leszczynski J (2004) J Am Chem Soc 126:10119–10129. doi:10.1021/ja049155n

15.

Florián J, Leszczynski J (1996) J Am Chem Soc 118:3010–3017. doi:10.1021/ja951983g

16.

Zelený T, Hobza P, Kabeláč M (2009) Phys Chem Chem Phys 11:3430–3435. doi:10.1039/b819350a

17.

Olinski R, Zastawny T, Budzbon J, Skokowski J, Zegarski W, Dizdaroglu M (1992) FEBS Lett 309:193–198. doi:10.1016/0014-5793(92)81093-2

18.

Akman SA, Doroshow JH, Dizdaroglu M (1990) Arch Biochem Biophys 282:202–205. doi:10.1016/0003-9861(90)90105-8

19.

Castro GD, Stamato CJ, Castro JA (1995) Free Radic Res 23:431–442. doi:10.3109/10715769509065264

20.

Cysewski P, Oliński R (1999) J Mol Struct (Theochem) 490:69–79. doi:10.1016/S0166-1280(99)00069-X

21.

Kasprzak KS, Jaruga P, Zastawny TH, North SL, Riggs CW, Olinski R, Dizdaroglu M (1997) Carcinogenesis 18:271–277. doi:10.1093/carcin/18.2.251

22.

Cysewski P (1998) J Chem Soc 94:3117–3125. doi:10.1039/a804512g

23.

Yu B, Slepak Z, Simon M (1997) J Biol Chem 272:18015–18019. doi:10.1074/jbc.272.29.18015

24.

Nakae D, Andoh N, Mizumoto Y, Endoh T, Shimoji N, Horiguchi K, Shiraiwa K, Tamura K, Denda A, Konishi Y (1994) Cancer Lett 83:97–103. doi:10.1016/0304-3835(94)90304-2

25.

Salganik RI, Dianov GL (1992) Mut Res 266:163–170. doi:10.1016/0027-5107(92)90183-3

26.

Cysewski P, Jeziorek P, Oliński R (1999) J Mol Struct (Theochem) 459:1–14. doi:10.1016/S0166-1280(98)00205-X

27.

Cysewski P, Bira D, Bialkowski K (2004) J Mol Struct (Theochem) 678:77–81. doi:10.1016/j.theochem.2004.03.010

28.

Frisch MJ, Trucks GW, Schlegel HB, Scuseria GE, Robb MA, Cheeseman JR, Montgomery JA Jr, Vreven T, Kudin KN, Burant JC, Millam JM, Iyengar SS, Tomasi J, Barone V, Mennucci B, Cossi M, Scalmani G, Rega N, Petersson GA, Nakatsuji H, Hada M, Ehara M, Toyota K, Fukuda R, Hasegawa J, Ishida M, Nakajima T, Honda Y, Kitao O, Nakai H, Klene M, Li X, Knox JE, Hratchian HP, Cross JB, Adamo C, Jaramillo J, Gomperts R, Stratmann RE, Yazyev O, Austin AJ, Cammi R, Pomelli C, Ochterski JW, Ayala PY, Morokuma K, Voth GA, Salvador P, Dannenberg JJ, Zakrzewski VG, Dapprich S, Daniels AD, Strain MC, Farkas O, Malick DK, Rabuck AD, Raghavachari K, Foresman JB, Ortiz JV, Cui Q, Baboul AG, Clifford S, Cioslowski J, Stefanov BB, Liu G, Liashenko A, Piskorz P, Komaromi I, Martin RL, Fox DJ, Keith T, Al-Laham MA, Peng CY, Nanayakkara A, Challacombe M, Gill PMW, Johnson B, Chen W, Wong MW, Gonzalez C, Pople JA (2003) Gaussian03. Gaussian Int, Pittsburgh, PA

29.

Hobza P, Zahradnik R (1988) Intermolecular complexes. Elsevier, Amsterdam

30.

van Duijneveldt FB, de Rijdt JGCM, van Lenthe JH (1994) Chem Rev 94:1873–1885. doi:10.1021/cr00031a007

31.

Alkorta I, Rozas I, Elguero J (1998) Struct Chem 9:243–247. doi:10.1023/A:1022424228462

32.

Bader RFW (1991) Chem Rev 91:893–928. doi:10.1021/cr00005a013

33.

Bader RFW (1998) J Phys Chem A 102:7314–7323. doi:10.1021/jp981794v
Acknowledgment
Supported by the National Natural Science Foundation of China (20875038).
About this article
Cite this article
Qiu, Z., Wang, H. & Xia, Y. The effect of oxidation on the stability of G:C base pair: a MP2 study. Struct Chem 21, 931–937 (2010). https://doi.org/10.1007/s11224-010-9629-3
Received:

Accepted:

Published:

Issue Date:
Keywords
MP2

DNA bases

Hydrogen bond

Interaction energy