Abstract
This article focuses on the influence of the geometric structure of the polymer chain on the physical properties of polymers. It is shown that for polyheteroarylenes the Kuhn segment calculated based on the geometric structure of the polymer chain has a good correlation with the physical properties of those polymers. For aliphatic polymers, a volume factor is suggested that equals the ratio of the Van der Waals volume of pendant substitute to the volume of the whole polymer chain. It is shown that the properties of aliphatic polymers that depend on free volume are well described by this value.
This is a preview of subscription content, log in to check access.
Access options
Buy single article
Instant access to the full article PDF.
US$ 39.95
Price includes VAT for USA
Subscribe to journal
Immediate online access to all issues from 2019. Subscription will auto renew annually.
US$ 99
This is the net price. Taxes to be calculated in checkout.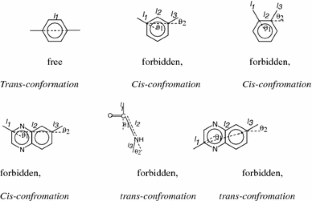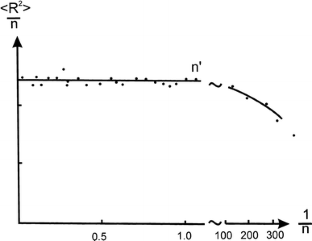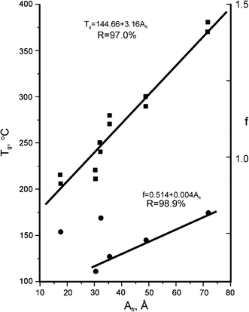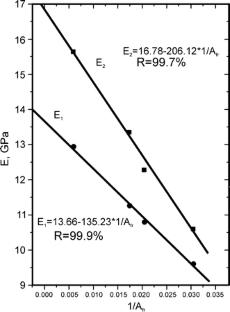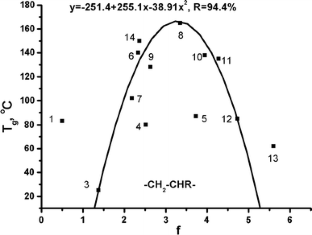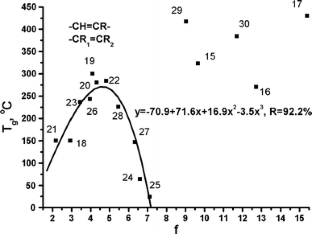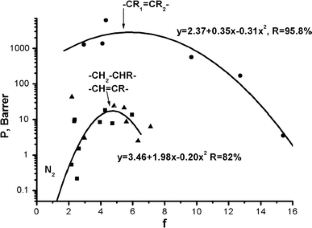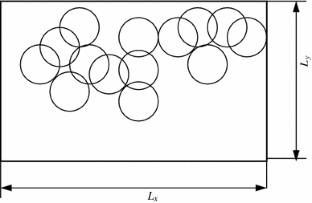 References
1.

Flory J (1969) Statistical mechanics of chain molecules. Interscience, New York

2.

Sava Ion, Bruma Maria, Ronova Inga (2004) High Perform Polym 16:446

3.

Aharoni SM (1977) J Macromol Sci Phys B13(2):173

4.

Pavlova SSA, Ronova IA, Timofeeva GI, Dubrovina LV (1993) J Polym Sci Polym Phys Ed 31:725

5.

Allen G, Mc-Ainsh J, Straziella G (1969) Eur Polym J 5(2):319

6.

Pavlova SSA, Dubrovina LV, Ronova IA, Kobak NJu (1988) Vysokomol Soed Ser A 30(7):1505

7.

Korshak VV, Pavlova SSA, Dubrovina LV, Vasnev VA, Vinogradova SV, Vasiliev AV (1972) Russ Chem Bull Ser Chem N6:1409

8.

Pogodina NV, Mel'nikov AB, Bogatova IN, Tsvetkov NV, Korshak VV, Vinogradova SV, Rusanov AL, Ponomarev II, Margalitadze JuN (1989) Vysokomol Soed Ser A 31(1):73

9.

Pavlova SSA, Timofeeva GI, Ronova IA (1980) J Polym Sci Polym Phys Ed 18(12):1175

10.

Smirnova VN, Ronova IA, Prozorova GE, Okromchedlidze NP, Iovleva MM (1987) Vysokomol Soed Ser B 29(9):710

11.

Pavlova SSA, Timofeeva GI, Ronova IA, Pancratova LA (1980) J Polym Sci Polym Phys Ed 18(1):1

12.

Lavrenko PN, Okatova OV, Korshak VV, Vinogradova SV, Rusanov AL, Ponomarev II et al (1990) Vysokomol Soed Ser A 32(6):1209

13.

Kojima T, Yokota R, Kochi M, Kambe H (1980) J Polym Sci Polym Phys Ed 18(8):11673

14.

Pavlova SSA, Timofeeva GI, Ronova IA, Krojan SA, Korshak VV, Travnikova AP, Krongaus ES (1980) Vysokomol Soed Ser A 22(8):1698

15.

Eskin VE, Baranovskaja IA, Kotton MM, Kudrjavtsev VV, Sklizkova VP (1977) Faserforsch und Textiltech 11:617

16.

Baranovskaja IA, Kydrjavtsev VV, D'jakonova NV, Sklizkova VP, Kotton MM (1985) Vysokomol Soed Ser A 27(3):604

17.

Zubkov VL, Birstein TM, Milevskaya IS (1974) Vysokomol Soed Ser A 16(11):2438

18.

Zubkov VA, Birstein TM, Milevkaya IS (1975) Mol Struct 27(1):139

19.

Coulter P, Windle AH (1989) Macromolecules 22(3):1129

20.

Lautenschlager P, Brickman J, Ruiten I, Maier RJ (1991) Macromolecules 24(6):2841

21.

Hald A (1952) Statistical theory with engineering application. Interscience, New York

22.

Hudson DJ (1964) Statistics (Lectures on elementary statistics and probability), Geneva

23.

Ronova IA, Pavlova SSA (1998) High Perform Polym 10:309

24.

Hamchiuc C, Hamchiuc E, Ronova IA, Bruma M (1997) High Perform Polym 9:177

25.

Hamciuc C, Bruma M, Szesztay M, Ronova I (2000) J Macromol Sci A Pure Appl Chem A 37(11):1407

26.

Bruma Maria, Hamciuc Corneliu, Hamciuc Elena, Ronova IA, Schulz Burkhard (2000) Rev Roumaine Chim 45(78):677 Chem Abst 135 (10)

27.

Ronova IA, Elshina LB, Vasilyuk AN, Rusanov AL, Bulycheva EG (2002) Russ Chem Bull 51(5):820

28.

Ronova IA, Vasilyuk AN, Gaina C, Gaina V (2002) High Perform Polym 14:195

29.

Hamciuc C, Hamciuc E, Bruma M, Ronova IA (2003) Rev Roum Chim 48(2):153

30.

Iosip MD, Bruma M, Ronova I, Szesztay M, Muller P (2003) Eur Polym J 39(10):2011

31.

Sava I, Bruma M, Ronova I (2004) High Perform Polym 16:435

32.

Sava I, Bruma M, Ronova IA (2004) Mol Cryst Liq Cryst 416:457

33.

Hamciuc C, Hamciuc E, Bruma M, Ronova IA (2005) J Macromol Sci A 42:61

34.

Hamciuc C, Hamciuc E, Ronova IA (2006) High Perform Polym 18(1):45

35.

Sava I, Ronova I, Bruma M (2006) Polym J (Jpn) 38(9):940

36.

Ponomarev II, Nikol'skii OG, Volkova YuA, Zakharov AV (1994) Vysokomol Soed Ser A 36(6):1429

37.

Dashevskii VG (1987) Conformational analyze of macromolecules. Nauka, Moscow

38.

Chiang R (1965) J Phys Chem 69:1645

39.

Inagaki H, Miyamoto T, Ohta S (1963) J Phys Chem 70:3420

40.

Fax TG Jr, Flory PJ (1951) J Am Chem Soc 73:1909

41.

Mark JE, Flory PJ (1965) J Am Chem Soc 87:1423

42.

Orofino TA, Mickey JW (1963) J Chem Phys 38:2513

43.

Shultz AR (1954) J Am Chem Soc 76:3422

44.

Fax TG Jr (1962) Polymer 3:111

45.

Mark JE, Wessling RA, Hughes RE (1966) J Phys Chem 70:1909

46.

Rozhkov EM, Schukin BV, Ronovaz IA (2003) Central Eur J Chem (Central Eur Sci J) 1(4):402

47.

Dewar MJS, Zoebisch EF, Healy EF, Stewart JJ (1985) J Am Chem Soc 107:3903

48.

Tikhomirov BP, Hopfenberg HB, Stannett VT, Williams JL (1968) Macromol Chem 118:177

49.

Allen SM, Fujii M, Stannett V, Hopfenberg HB, Williams JL (1977) J Membr Sci 2:153

50.

Meares P (1954) J Am Chem Soc 76:3415

51.

Hirose T, Mizoguchi K, Kamiya Y (1985) J Appl Polym Sci 30:401

52.

Hirose T, Mizoguchi K, Terada K (1995) J Appl Polym Sci 58:1031

53.

Khotimsky S, Tchirkova MV, Litvinova EG, Antipov EM, Rebrov AI (2001) Polym Sci 43:577

54.

Puleo AC, Muruganandam N, Paul DR (1989) J Polym Sci B Polym Phys 27:2385

55.

Khotimskii VS, Filippova VG, Bryantseva IS, Bondar VI, Shantarovich VP, Yampolskii YuP (2000) J Appl Polym Sci 78:1612

56.

Nagasaki Y, Hashimoto Y, Kato M, Kimijima T (1996) J Membr Sci 110:91

57.

Teplyakov V, Durgaryan S (1984) Vysokomol Soed A 26:2159

58.

Yamposkii Yu, Novitskii E, Durgaryan S (1978) Vysokomol Soed B 20:632

59.

Toy LG, Nagai K, Freeman BD, Pinnau I, He Z, Masuda T, Teraguchi M, Yampolskii Yu (2000) Macromolecules 33:2516

60.

Yampolskii YuP, Korikov AP, Shantarovich VP, Nagai K, Freeman BD, Masuda T, Teraguchi M, Kwak G (2001) Macromolecules 34:1788

61.

Nagai K, Toy LG, Freeman BD, Teraguchi M, Masuda T, Pinnau I (2000) J Polym Sci B Polym Phys 38:1474

62.

Morisato A, Pinnau I (1996) J Membr Sci 121:243

63.

Masuda T, Iguchi Y, Tang B-Z, Higashimura T (1988) Polymer 29:2041

64.

Srinivasan R, Auvil SR, Burban PM (1994) J Membr Sci 86:67

65.

Plate NA, Bokarev AK, Kaliuzhnyi NE, Litvinova EG, Khotimskii VS, Volkov VV, Yampolskii YuP (1991) J Membr Sci 60:13

66.

Savoca AC, Surnamer AD, Tien C (1993) Macromolecules 26:6211

67.

Merkel C, Bondar V, Nagai K, Freeman BD (2000) J Polym Sci B Polym Phys 38:273

68.

Pinnau I, Toy LG (1996) J Membr Sci 116:199

69.

Starannikova LE, Teplyakov VV (1997) Vysokomol Soed 39:1690

70.

Takada K, Matsuya H, Masuda T, Higashimura T (1985) J Appl Polym Sci 30:1605

71.

Yoshida T, Abe Y, Masuda T, Higashimura T (1996) J Polym Sci A Polym Chem 34:2229

72.

Teraguchi M, Masuda T (1999) J Polym Sci A Polym Chem 37:4546

73.

Askadskii AA (2003) Computational materials science of polymers. Cambridge International Science Publishing, Cambridge
About this article
Cite this article
Ronova, I. Structural aspects in polymers: interconnections between conformational parameters of the polymers with their physical properties. Struct Chem 21, 541–553 (2010). https://doi.org/10.1007/s11224-010-9584-z
Received:

Accepted:

Published:

Issue Date:
Keywords
Polyheteroarylenes

Kuhn segment

Aliphatic polymers

Volume factor