Abstract
The bis(N-2-pyridyl-salicylaldiminato)cobalt(II) complex ([Co(sap)2]), a reddish-pink crystalline compound has been characterized by elemental analysis, molar conductivity, cyclic voltammetry, and Vis–NIR spectroscopy. Combination of all techniques indicates a tetrahedral geometry for the complex in solid state and in the solvents used. Electronic spectroscopy was used to determine the ligand–field parameters as well as chromaticity coordinates; for discrimination of color changes CIE and CIELAB color spaces have been applied.
This is a preview of subscription content, log in to check access.
Access options
Buy single article
Instant access to the full article PDF.
US$ 39.95
Price includes VAT for USA
Subscribe to journal
Immediate online access to all issues from 2019. Subscription will auto renew annually.
US$ 99
This is the net price. Taxes to be calculated in checkout.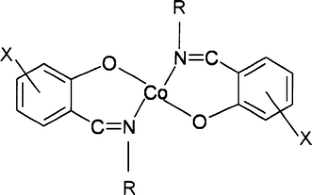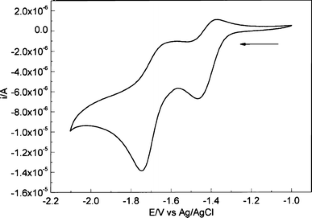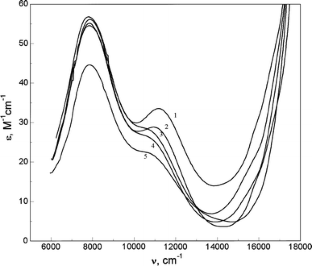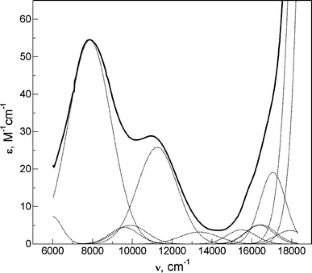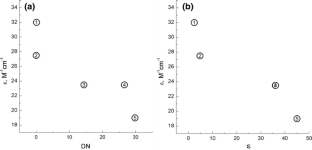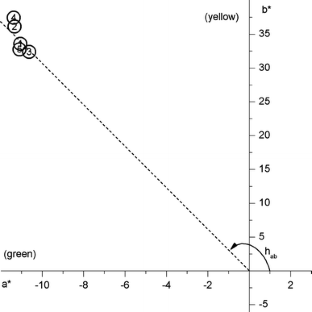 References
1.

Hitchman MA (1977) Inorg Chem 16:1985

2.

Sacconi L, Ciampolini M, Maggio F, Cavasino FP (1962) J Am Chem Soc 84:3246

3.

Kogan VA, Osipov OA, Lempert LE (1967) Zh Neorg Khim 12:3081 (Russ J Inorg Chem 12:1630)

4.

Nishikawa H, Yamada S (1964) Bull Chem Soc Jpn 37:1154

5.

Csaszar J (1982) Acta Phys Chem 28:59

6.

Kurzak K, Kuźniarska-Biernacka I, Żurowska B (1999) J Solution Chem 28:133

7.

Kuźniarska-Biernacka I, Bartecki A, Kurzak K (2003) Polyhedron 22:997

8.

Kuźniarska-Biernacka I, Kurzak K (2003) Polish J Chem 77:13

9.

Perrin DD, Armarego WLF (1988) Purification of laboratory chemicals, 3rd edn. Pergamon Press, Oxford

10.

Kurzak K, Kuźniarska-Biernacka I (1997) Spectrosc Lett 30:609

11.

Bartecki A (1993) The colour of metal compounds. University of Technology Press, Wrocław (in Polish)

12.

Billmeyer FW Jr, Saltzman M (1981) Principles of colour technology. Wiley, New York

13.

Hunt RW (1987) Measuring colour. Ellis Horwood Limited, Chichester

14.

Felhorski W, Stanioch W (1973) Kolorymetria trójchromatyczna. Wydawnictwo Naukowo-Techniczne, Warszawa

15.

Kortüm G (1969) Reflectance spectroscopy. Principles, methods, applications (translated from the German by Lohr JE, Philadelphia). Springer, New York

16.

Bartecki A, Sołtowski J, Kurzak K (1983) Comput Enhanced Spectrosc 1:31

17.

Kurzak K (1991) Spectrochim Acta 47A:1041

18.

Kurzak K (2000) Comput Chem 24:519

19.

Lever ABP (1984) Inorganic electronic spectroscopy. Elsevier, Amsterdam

20.

Deeth RJ, Duer MJ, Gerloch M (1987) Inorg Chem 26:2573

21.

Yamada S, Yamanouchi K (1969) Bull Chem Soc Jpn 42:2562

22.

Faulkner LR, Bard AJ (2000) Electrochemical methods: fundamentals and applications. Wiley, New York

23.

Isse AA, Gennaro A, Vianello E (1993) J Chem Soc, Dalton Trans 2091

24.

Holm RH, Everett GW, Chakravorty A Jr (1966) Prog Inorg Chem 7:83

25.

Gutmann V (1968) Coordination chemistry in non-aqueous solutions. Springer, Wien

26.

Abboud J-LM, Notario R (1999) Pure Appl Chem 71:645
Additional information
Dedicated to Professor Adam Bartecki on the occasion of his 90th birthday.
About this article
Cite this article
Kurzak, K., Kuźniarska-Biernacka, I. & Freire, C. Solution properties and solvatochromism of bis(N-2-pyridyl-salicylaldiminato)cobalt(II). Struct Chem 21, 377–383 (2010). https://doi.org/10.1007/s11224-009-9536-7
Received:

Accepted:

Published:

Issue Date:
Keywords
Schiff base

Cobalt(II) complexes

Ligand–field parameters

Electronic spectra

Solvatochromism