Abstract
The Fourier transform Raman and Fourier transform infrared spectra of fenbufen (γ-oxo [1,1′-biphenyl]-4-butanoic acid) were recorded in the solid phase. The gas-phase structure and conformational properties of fenbufen were determined by quantum-chemical calculations (HF and DFT/B3LYP with 6-311++G(d,p) basis set). The harmonic wave numbers were calculated by the density functional theory (DFT) calculations with B3LYP functional and 6-311++G(d,p) basis set, and the scaled values were in good agreement with the majority of the experimental observations. A complete assignment of the fundamentals was proposed based on the total energy distribution (TED) calculation. The possible interaction between fenbufen and ofloxacin which is a synthetic antimicrobial agent was investigated. The changes observed in some bands of mixed drug indicated that there is an interaction between the two drug molecules.
This is a preview of subscription content, log in to check access.
Access options
Buy single article
Instant access to the full article PDF.
US$ 39.95
Price includes VAT for USA
Subscribe to journal
Immediate online access to all issues from 2019. Subscription will auto renew annually.
US$ 99
This is the net price. Taxes to be calculated in checkout.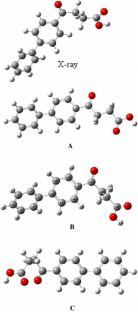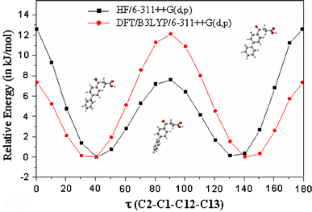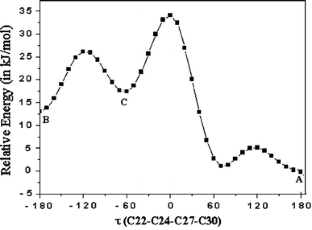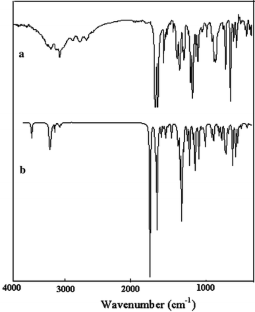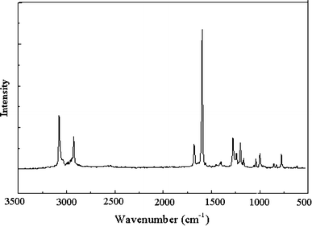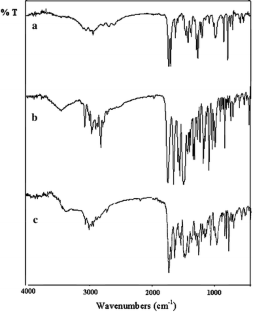 References
1.

Srinivas Ch, Haricharan CM, Acharyulu PVR (2004) Organ Process Res Dev 8:291–292

2.

Kerwar SS (1983) Am J Med 75(4B):62–69

3.

Navaratnam S, Jones SA (2000) J Photochem Photobiol A: Chem 132:175–180

4.

Vane JR (1971) New Biol, Nat (London) 231:232–235

5.

Kim YB, Park IY, Park YH (1988) Arch Pharm Res 11(2):127–133

6.

Di Martino P, Barthelemy C, Piva F, Joiris E, Palmieri GF, Martelli S (1999) Drug Dev Indus Pharm 25(10):1073–1081

7.

Bingxin Li, Jing He, Evans GD, Xue Duan (2004) Appl Clay Sci 27:199–207

8.

Tian L, Yu Q, Zheng X, Shang Z, Liu X, Qian B (2005) Appl Organometal Chem 19:672–676

9.

Jubert A, Massa NE, Tevez L, Okulik NB (2006) J Mol Struct 783(1–3):34–51

10.

Janknegt R (1986) Pharm Weekbl Sci Ed 8:1–21

11.

Sagdinc S, Bayari S (2004) J Mol Struct (Theochem) 668:93–99

12.

Sagdinc S, Bayari S (2004) J Mol Struct 691:107–113

13.

Sagdinc S, Bayari S (2005) J Mol Struct 744–747:369–376

14.

Halliwell RF, Davey PG, Lambert JJ (1991) J Antimic Chemother 27:209–218

15.

Frisch MJ, Trucks GW, Schlegel HB, Scuseria GE, Robb MA, Cheeseman JR, Montgomery JA Jr, Vreven T, Kudin KN, Burant JC, Millam JM, Iyengar SS, Tomasi J, Barone V, Mennucci B, Cossi M, Scalmani G, Rega N, Petersson GA, Nakatsuji H, Hada M, Ehara M, Toyota K, Fukuda R, Hasegawa J, Ishida M, Nakajima T, Honda Y, Kitao O, Nakai H, Klene M, Li X, Knox JE, Hratchian HP, Cross JB, Adamo C, Jaramillo J, Gomperts R,Stratmann RE, Yazyev O, Austin AJ, Cammi R, Pomelli C, Ochterski JW, Ayala PY, Morokuma K, Voth GA, Salvador P,Dannenberg JJ, Zakrzewski VG, Dapprich S, Daniels AD, Strain MC, Farkas O, Malick DK, Rabuck AD, Raghavachari K,Foresman JB, Ortiz JV, Cui Q, Baboul AG, Clifford S, Cioslowski J, Stefanov BB, Liu G, Liashenko A, Piskorz P,Komaromi I, Martin RL, Fox DJ, Keith T, Al-Laham MA, Peng CY, Nanayakkara A, Challacombe M, Gill PMW, Johnson B,Chen W, Wong MW, Gonzalez C, Pople JA (2003) GAUSSIAN 03, Revision B. 04, Gaussian, Inc., Pittsburgh PA

16.

Cambridge Crystallographic Database. Cambridge Crystallographic Data Center: Cambridge UK: Coden: SAFNIW

17.

Baker J, Jarzecki AA, Pulay P (1998) J Phys Chem A 102:1412–1424

18.

Tsuzuki S, Tanabe K (1991) J Phys Chem 95:139–144

19.

Karpfen A, Choi CH, Kertesz M (1997) J Phys Chem A 101:7426–7433

20.

Mannfors B, Koskinen JT, Pietila L-O, Ahjopalo L (1997) J Mol Struct (Theochem) 393:39–58

21.

Alyar H, Bahat M, Kasap E, Kantarcı Z (2006) Czechoslovak J Phys 56(4):349–358

22.

Göller A, Grummt UW (2000) Chem Phys Lett 321:399–405

23.

Bastiansen O, Samdal S (1985) J Mol Struct 128:115–128

24.

Almenningen A, Bastiansen O, Fernholt L, Cyvin BN, Cyvin SJ, Samdal S (1985) J Mol Struct (Theochem) 128:59–76

25.

Agostinha M, Matos R, Miranda MS, Martins Diana VSS, Pinto Natália AB, Morais Victor MF, Liebman Joel F (2004) Org Biomol Chem 2:1353–1358

26.

Thomas JR, DeLeeuw BJ, Vacek G, Crawford TD, Yamagucki Y, Schaefer HF (1993) J Chem Phys 99:403–416

27.

Halls MD, Schlegel HB (1998) J Chem Phys 109(24):10587–10593

28.

Zerbi G, Sandroni S (1968) Spectrochim Acta Part A 24(5):483–510

29.

Wilson EB, Decius JC, Cross PC (1955) Molecular vibrations. McGraw-Hill, New York

30.

Colthup NB, Daly LH, Wiberley SE (1990) Introduction to infrared and Raman spectroscopy, Acedemic Press

31.

Bellamy LJ (1978) The infra-red spectra of complex molecules, 3rd edn. John Wiley & Sons Inc., New York

32.

Katagiri Y, Naora K, Ichikawa N, Hayashibara M, Iwamoto K (1989) J Pharm Pharmacol 44(11):915–920

33.

Naora K Katagiri Y, Ichikawa N, Hayashibara M, Iwamoto K (1990) J Pharmacobiodyn 13(2):90–906

34.

Akahane K, Kimura Y, Tsumoti Y, Hayakawa I (1994) Antimicrob Agents Chemother 38(10):2323–2329

35.

Nakamoto K (1997) Infrared and raman spectra of inorganic and coordination compounds. Part B, 5th. edn. John Wiley & Sons Inc.
Acknowledgment
The authors gratefully acknowledge Professor Süleyman Patır for providing the samples.
About this article
Cite this article
Haman Bayari, S., Sagdinc, S. Molecular structure and vibrational spectra of γ-oxo [1,1′-biphenyl]-4-butanoic acid (fenbufen) and its interaction with ofloxacin. Struct Chem 19, 381–390 (2008). https://doi.org/10.1007/s11224-008-9292-0
Received:

Accepted:

Published:

Issue Date:
Keywords
Fenbufen

Infrared and Raman spectra

Conformational analysis

HF

DFT

Ofloxacin