Abstract
Solid-state nuclear magnetic resonance (NMR) parameters of 17O, 14N/15N, and 2H/1H nuclei were evaluated in two available neutron crystalline structures of N-methylacetamide (NMA) at 250 and 276 K, NMA-I and NMA-II, respectively. Density functional theory calculations were performed by B3LYP method and 6-311++G** and IGLO-II type basis sets to calculate the electric field gradient (EFG) and chemical shielding (CS) tensors at the sites of mentioned nuclei. In order to investigate hydrogen bonds (HBs) effects on NMR tensors, calculations were performed on four-model systems of NMA: an optimized isolated gas-phase, crystalline monomers, crystalline dimers, and crystalline trimers. Comparing the calculated results reveal the influence of N–H···O=C and C–H···O=C HB types on the NMR tensors which are observable by the evaluated parameters including quadrupole coupling constant, C Q, and isotropic CS, σ iso. Furthermore, the results demonstrate more influence of HB on the EFG and CS tensors of NMA at 276 K rather than that of 250 K.
This is a preview of subscription content, log in to check access.
Access options
Buy single article
Instant access to the full article PDF.
US$ 39.95
Price includes VAT for USA
Subscribe to journal
Immediate online access to all issues from 2019. Subscription will auto renew annually.
US$ 99
This is the net price. Taxes to be calculated in checkout.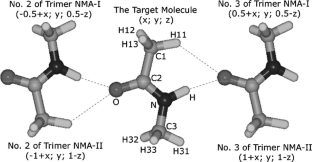 References
1.

Whitford D (2005) Proteins: structure and function. Wiley

2.

Bounouar M, Scheurer Ch (2006) Chem Phys 323:87

3.

Woutersen S, Mu Y, Stock G, Hamm P (2001) Chem Phys 266:137

4.

Whitfield TW, Martyna GJ, Allison S, Bates SP (2005) Crain J Chem Phys Lett 414:210

5.

Hiramatsu H, Hamaguchi H (2002) Chem Phys Lett 361:457

6.

Rocha WR, De Almeida KJ, Coutinho K, Canuto S (2001) Chem Phys Lett 345:171

7.

Qian W, Mirkin NG, Krimm S (1999) Chem Phys Lett 315:125

8.

Whitfield TW, Martyna GJ, Allison S, Bates SP, Vass H, Crain J (2006) J Phys Chem B 110:3624

9.

DeCamp MF, DeFlores L, McCracken JM, Tokmakoff A, Kwac K, Cho M (2005) J Phys Chem B 109:11016

10.

Mennucci B, Martínez JM (2005) J Phys Chem B 109:9830

11.

Czarnecki MA; Haufa KZ (2005) J Phys Chem A 109:1015

12.

Weise CF, Weisshaar JC (2003) J Phys Chem B 107:6552

13.

Martínez AG, Vilar ET, Fraile AG, Martínez-Ruiz P (2002) J Phys Chem A 106:4942

14.

Ludwig R, Weinhold F, Farrar TC (1997) J Phys Chem A 101:8861

15.

Das TP, Han EL (1958) Nuclear quadrupole resonance spectroscopy. Academic Press, NY

16.

Bovey FA (1988) Nuclear magnetic resonance spectroscopy. Academic Press, San Diego

17.

Eckert J, Barthes M, Klooster WT, Albinati A, Aznar R, Koetzle TF (2001) J Phys Chem B 105:19

18.

Ida R, Clerk MD, Wu G (2006) J Phys Chem A 110:1065

19.

Mirzaei M, Hadipour NL (2006) J Phys Chem A 110:4833

20.

Becke AD (1993) J Chem Phys 98:5648

21.

Lee C, Yang W, Parr RG (1988) Phys Rev B: Condens Matter 37:785

22.

Frisch MJ et al (1998) Gaussian 98. Revision A7. Gaussian Inc., Pittsburgh, PA

23.

Krishnan R, Binkley JS, Seeger R, Pople JA (1980) J Chem Phys 72:650

24.

Clark T, Chandrasekhar J, Schleyer PvR (1983) J Comp Chem 4:294

25.

Kutzelnigg W, Fleischer U, Schindler M (1990) The IGLO-method: ab initio calculation and interpretation of NMR chemical shifts and magnetic susceptibilities, vol 23. Springer-Verlag, Heidelberg

26.

Huzinaga S (1965) J Chem Phys 42:1293

27.

Schindler M, Kutzelnigg W (1983) J Am Chem Soc 105:1360

28.

Fleischer U, Kutzelnigg W, Bleiber A, Sauer J (1993) J Am Chem Soc 115:7833

29.

Mirzaei M, Hadipour NL (2007) Chem Phys Lett 438:304

30.

Fängström T, Lunell S, Kasai PH, Eriksson LA (1998) J Phys Chem A 102:1005

31.

Wolinski K, Hinton JF, Pulay P (1990) J Am Chem Soc 112:8251

32.

Drago RS (1992) Physical methods for chemists, 2nd edn. Saunders College Publishing, FL

33.

Pyykkö P (2001) Mol Phys 99:1617

34.

Wasylishen RE, Bryce DL (2002) J Chem Phys 117:10061

35.

Jameson CJ, Mason J (1987) Multinuclear NMR. Plenum Press, NY, p 56

36.

Gobetto R, Nervi C, Valfrè E, Chierotti MR, Braga D, Maini L, Grepioni F, Harris RK, Ghi PY (2005) Chem Mater 17:1457

37.

Xu X-P, Au-Yeung SCF (2000) J Phys Chem B 104:5641

38.

Raymo FM, Bartberger MD, Houk KN, Stoddart JF (2001) J Am Chem Soc 123:9264

39.

Vargas R, Garza J, Friesner RA, Stern H, Hay BP, Dixon DA (2001) J Phys Chem A 105:4963

40.

Wang B, Hinton JF, Pulay P (2003) J Phys Chem A 107:4683

41.

Zhang R, Li H, Lei Y, Han S (2004) J Phys Chem B 108:12596

42.

Gavezzotti A, Filippini G (1994) J Phys Chem A 98:4831

43.

Smirnov SN, Golubev NS, Denisov GS, Benedict H, Schah-Mohammedi P, Limbach H-H (1996) J Am Chem Soc 118:4094

44.

Bordallo HN, Argyriou DN, Barthe`s M, Kalceff W, Rols S, Herwig KW, Fehr C, Juranyi F, Seydel T (2007) J Phys Chem B 111:7725
Acknowledgment
The authors gratefully thank the Research Council of Tarbiat Modares University for financial supports.
About this article
Cite this article
Mirzaei, M., Hadipour, N.L. Study of hydrogen bonds in N-methylacetamide by DFT calculations of oxygen, nitrogen, and hydrogen solid-state NMR parameters. Struct Chem 19, 225–232 (2008). https://doi.org/10.1007/s11224-007-9276-5
Received:

Accepted:

Published:

Issue Date:
Keywords
DFT

NMR

N-Methylacetamide

Hydrogen bond

Electric field gradient

Chemical shielding